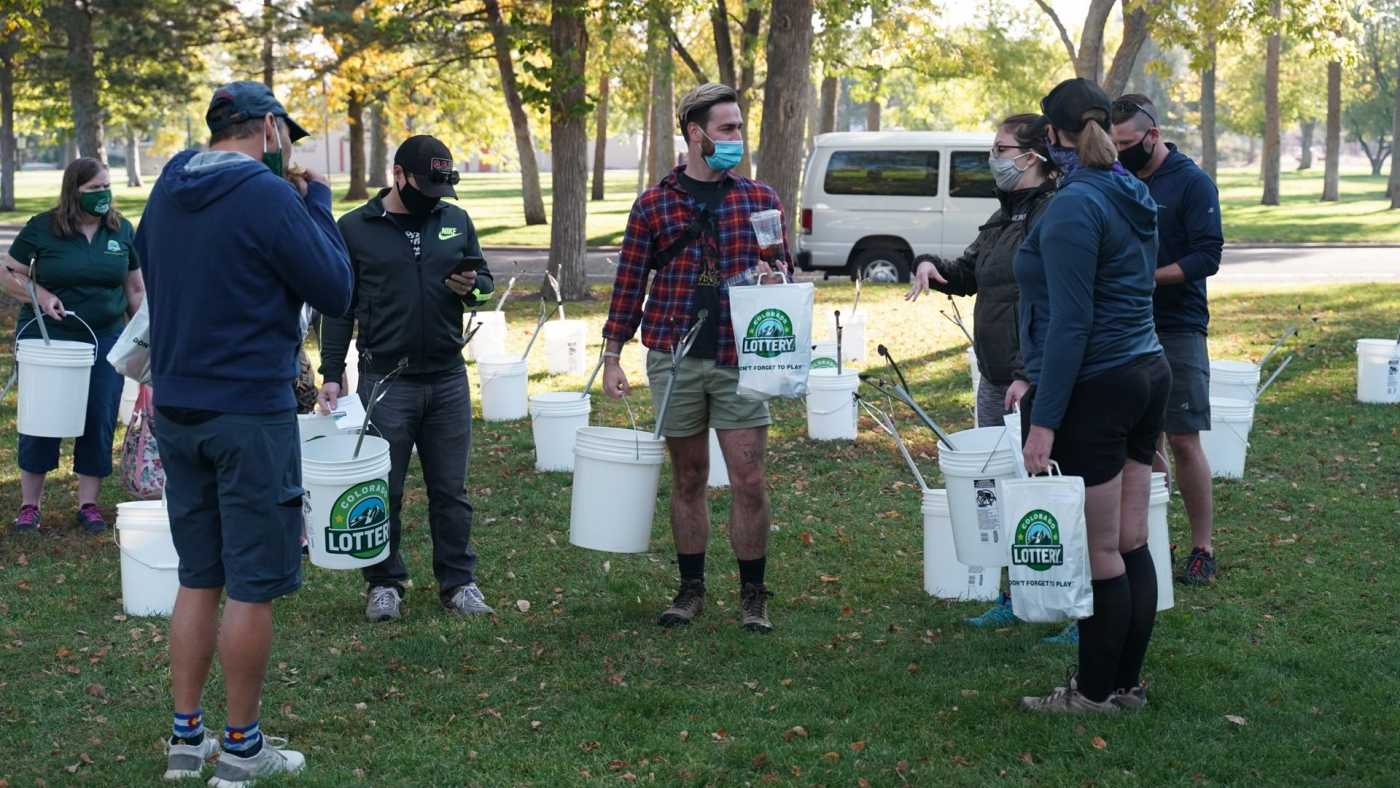 A group of volunteers at the Runyon to the Res cleanup event. Photo courtesy of the Colorado Lottery.
By Tom Seaver, director of the Colorado Lottery
Since 1992, the Colorado Lottery has been growing revenue to increase funding to GOCO and its other proceeds beneficiaries. In recent years, the Lottery has also elevated its commitment to conservation by continuing to fully fund GOCO up to its constitutional cap, as well as implementing a more hands-on approach to conservation and environmental stewardship in Colorado.
GOCO receives up to half of Colorado Lottery proceeds annually to invest in land conservation and outdoor recreation. Other beneficiaries include the Conservation Trust Fund, which receives 40%, and Colorado Parks and Wildlife (CPW), which receives 10%. If proceeds exceed the GOCO cap, these funds are invested in Building Excellent Schools Today (BEST), a capital construction program through the Colorado Department of Education.
We're getting our hands dirty. Last weekend, as part of Colorado Lottery Conservation Month, we hosted our second annual conservation and stewardship event in Pueblo, where the Lottery's headquarters are located. The event, dubbed "Runyon to the Res: Arkansas River Clean Up," attracted 200 volunteers in its inaugural year and nearly 90 this year, despite having to limit the size due to COVID-19 safety protocols. This year, the event consisted of 10 teams of 10 people in each group and incorporated safety precautions like social distancing, health screening, masks and grab-and-go meals.
Here's a taste of the full experience in this short video.
Along with our partners, CPW, the City of Pueblo Parks and Recreation, and the Nature and Wildlife Discovery Center, volunteers picked up 2,600 pounds of trash along a heavily used 7.5 mile stretch of the Arkansas River where people run, bike, fish and otherwise enjoy the outdoors.
Since it began 37 years ago, the Lottery has contributed more than $3.5 billion to our parks, trails, and open spaces through our proceeds beneficiaries like GOCO. And through events like Runyon to the Res, the Lottery takes its commitment to conservation to the next level, ensuring that the places where Coloradans love to play are preserved for future generations.