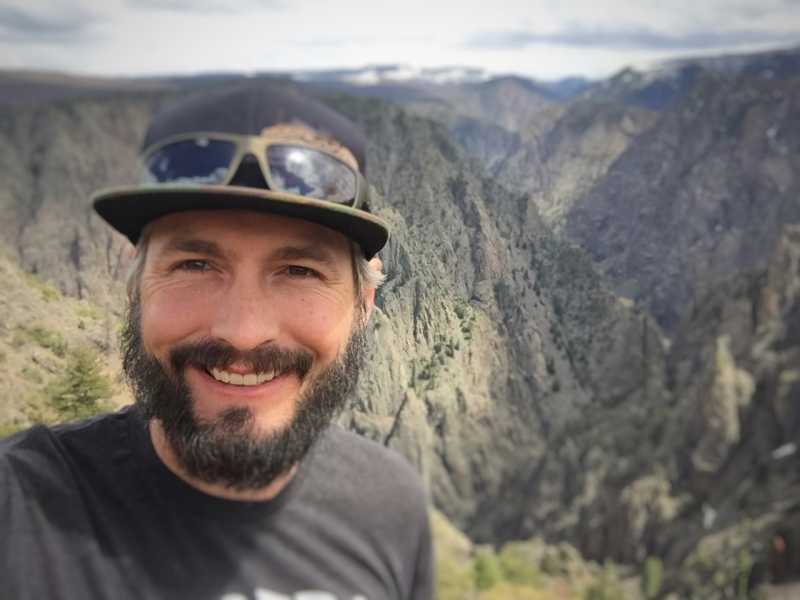 What did you do before you came to GOCO?
Before joining the GOCO team, I served as the Arapahoe County Open Spaces Grants & Acquisitions Manager for four years.  Arapahoe County – including its people, cities, and landscapes – are a large part of who I am today.  I was born in Englewood (Swedish hospital), grew up in unincorporated Arapahoe County (now part of Centennial), attended Littleton Public Schools (K-12), and lived in Englewood for over 10 years after graduating from Colorado Law.  I will always cherish Colorado's First County and the successes that the county and its partners celebrated together while I worked there.
What brought you to GOCO? Why did you want to work here?
As a life-long Coloradan, I realize just how important natural resources conservation, environmental education, and equitable access to the outdoors are in this state. Exploring my grandmother's farm in Burlington as a child exposed me to Colorado's undulating plains and agricultural heritage. Thru-hiking the Colorado Trail between undergraduate and law school at the University of Colorado firmed up my desire to preserve this state's most special places. And working on large-scale conservation/recreation initiatives – such as planning for the future of Denver's High Line Canal with other governmental organizations and numerous non-profits while working for Arapahoe County Open Spaces – taught me the power of collaboration.  Today, GOCO has a significant hand in ensuring everyone can have some of the experiences I've had in life.  I was attracted to GOCO because it plays a unique role in the outdoor realm, the work is a labor of love, and there's simply no other organization like it!
What has been your favorite part of working here so far?
The staff and board bring an unrivaled energy and dedication to preserving and enhancing the state's parks, trails, wildlife, rivers, and open spaces.  It's an absolute privilege to work here (for the second time around).
What is your typical day like?
Each and every day looks a little different.  The only constant is a good cup of coffee to kick-start the action.  
What are some of your favorite things to do outdoors? 
I enjoy soaking in hot springs, camping, backpacking, hiking, biking, cross-country skiing, snowshoeing, snowboarding, and trail running.  Above all else, I love sharing these activities with my partner and four-year-old daughter.
Where is your favorite place (or places) to get outdoors in Colorado? (a certain state park, trail, etc.)
My favorite places to get outdoors in Colorado, if I have to name just a couple, are the High Line Canal and Eagles Nest Wilderness Area.  I spent much of my youth on the High Line Canal and get out on the trail at least 2-3 times a week – most often with my mutt, Hayduke.  I put Eagles Nest Wilderness in the mix because of its exceptional trails, lakes, peaks, and solitude.  Eagles Nest is easily one of my favorite places to go backpacking.
What is your most memorable/entertaining/humorous outdoors mishap? 
June of 2003 feels as if it were no more than a year ago. My partner, Liz, and I were eager to find adventure along the Colorado Trail. We started in Waterton Canyon on June 12, 2003, and successfully completed our 500-mile pilgrimage to Durango in late July. I could share countless stories of outdoor calamity, but the one that first comes to mind is when I accidentally created the "ring of fire."
Four evenings after we commenced our thru-hike of the Colorado Trail, Liz and I were making dinner when she inadvertently knocked over our camping stove. I was still on edge from the 2002 summer fires and totally overreacted when Liz accidentally tipped over the stove. (In 2002, Colorado experienced unprecedented fires. The Missionary Ridge Fire and Hayman Fire were just a couple of the notable blazes that ravaged our drought-stricken state.)  I panicked and gasped and was overly dramatic about the entire happening…and then we picked up the stove without incident.
The next couple of days on the trail were cooler. Highs crested in the mid-50s. Clouds constantly threatened to spill rain. We were making our way along the South Platte Mountains in Lost Creek Wilderness when we decided to stop for an evening. It started to sprinkle and both of us were ready to warm our bones by our first campfire of the thru-hike. All the kindling was wet enough to fight off my attempts to light it. And I was just tired and lazy enough to follow up with my next move.
I flicked the lighter on the kindling four or five times to no avail. I knew that I had more than enough white gas (which is a type of fuel for a backpacking stove) to get us to our next food drop rendezvous at Kenosha Pass. Instead of persevering with just a lighter or waterproof match, I decided to expedite the process with my white gas. I poured a liberal amount of gas on the kindling in the fire pit.
POOOOOOOFFFF!!!!
Apparently, there was still a spark in the kindling. The white gas hit the spark, quickly ignited, torched my eyebrows, and a flame followed the white gas streaming down from my liter MSR gas container. The fireball was about to engulf my hand when I threw the lit container into the woods.
The container spit out the rest of the fuel into a circle pattern on the ground, and a fiery inferno ensued. I grasped for my Nalgene and hurled water on the fire. I tossed rocks onto it. I kicked all sorts of dirt on it. Fortunately, I extinguished the flames before things got out of hand.
I thought to myself at the time, boy, I sure am glad Liz didn't see that escapade considering how much I overacted to her incident a couple nights prior – this is so much worse!
I turned around and there she was. Liz just smiled. I still put my tail between my legs every time I think about the ring of fire incident on the Colorado Trail!
What is the coolest wildlife you have spotted while outdoors in Colorado?
I'll never forget the first time I encountered a pine marten.  I was backpacking through Indian Peaks Wilderness Area in 1999 and saw a little weasel popping in and out of the forest.  I'd never seen anything like it.  They're elusive little critters, and I cherish each opportunity I get to see one.