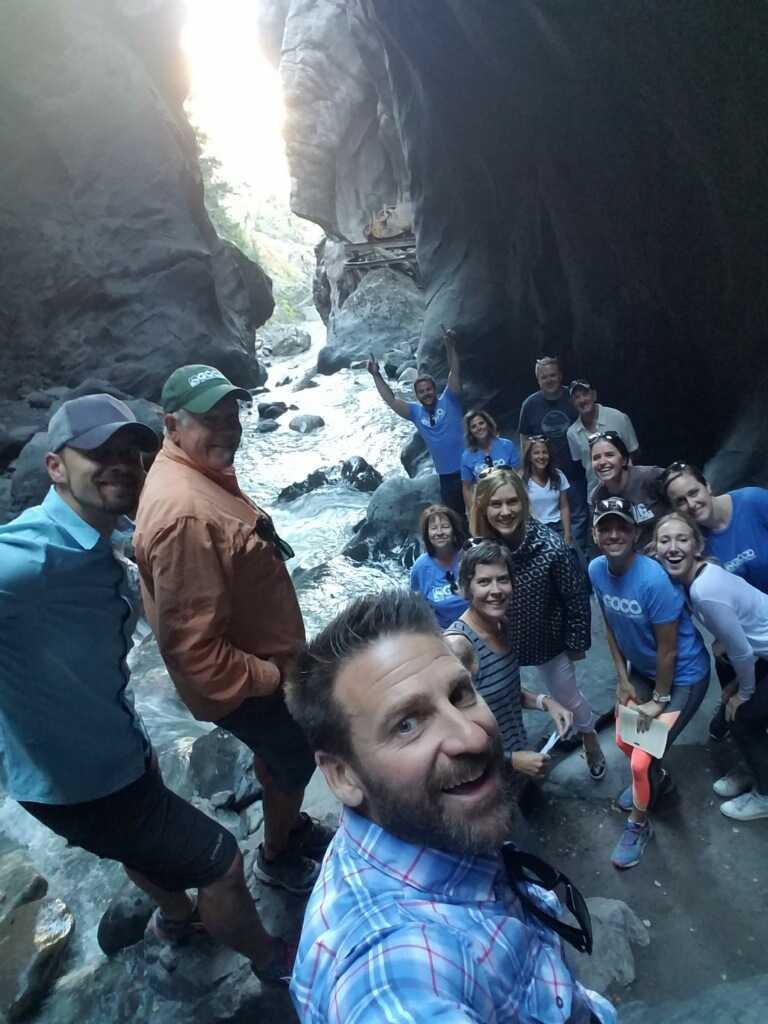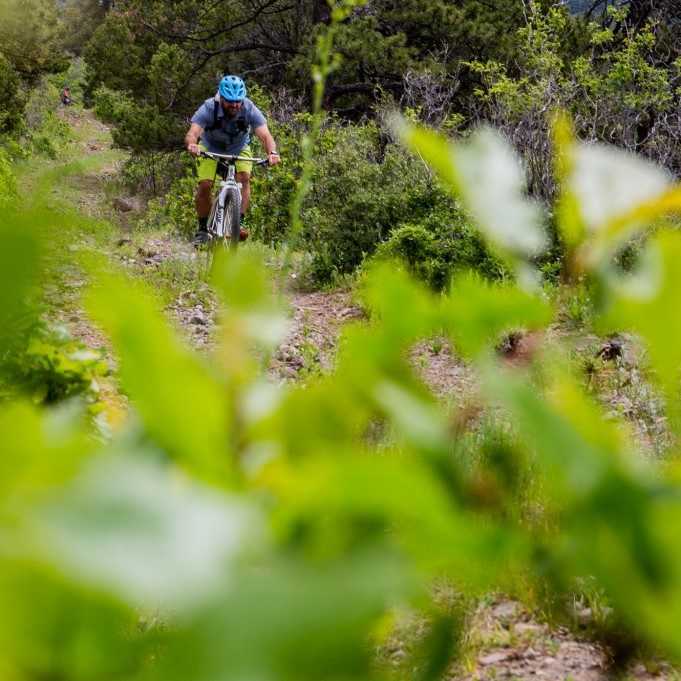 GOCO's Executive Director Chris Castilian will leave GOCO at the end of June to embark on new adventures. During his four years here, Chris was integral in the creation of Fishers Peak State Park and led staff in the development of a new, values-based strategic plan that fundamentally changes the way GOCO operates, elevates equity, creates new connections to Colorado communities, and prioritizes collaboration at its core. We're grateful for Chris' passion for the work, rapport with partners, and trust in staff. Keep blazing, Chris.
"Chris measures his success by how well others are doing and that is why he inspires loyalty, respect, and love among his peers and colleagues. As a new executive director, his model of being fearless in exploring new models to serve others had an enormous impact on me. Conservation service corps can trace the creation of thousands of jobs, lives and livelihoods saved through fire mitigation, and young people engaged from disinvested communities directly back to Chris' leadership of Great Outdoors Colorado. His professional impacts on Colorado communities are enormous and yet they are matched by his personal kindness and integrity. Interacting with Chris—in any setting—is stimulating, inspiring, and thoroughly enjoyable. In his typical brilliant self, he has prepared Great Outdoors Colorado to carry on and flourish in his absence and I hope to collaborate in new ways very soon."
– Scott Segerstrom, Executive Director, Colorado Youth Corps Association
"From your friends in Parks and Recreation agencies all over Colorado, thank you Chris for your leadership and sincere passion to protect our natural resources, inspire our communities, and connect our citizens and visitors to the lands we recreate on and call home. If Fruita, Colorado is a measure of the enormous impact you and GOCO have made, the whole State of Colorado is in a much, much better place."

– Ture Nycum, Parks and Recreation Director, City of Fruita
"Chris' career has been one dedicated to the service of the citizens of Colorado and bringing people together to strengthen the communities in which they live. His passion for the outdoors is almost unparalleled and it is little wonder that it brought him to Great Outdoors Colorado. There is a common thread of altruism and compassion that has run through Chris' career in both the public and private sector. I have worked with hundreds of people in my career, but perhaps have never encountered anyone as genuine, decent and caring."
– John Swartout, Executive Director, Colorado Counties, Inc.
"Chris has been an unwavering partner to the conservation community and Keep It Colorado and leaves an unforgettable mark on the state's conservation efforts. Without a doubt, he has advanced conservation in ways that will have long-lasting impacts on the health of Colorado's land, water, wildlife, and people. Chris was instrumental in actualizing the relaunch of our coalition in 2019, making it clear that land conservation is a priority for Colorado and our state's future. He has helped increase the pace of conservation through innovative grant programs that enable partners to implement more on-the-ground projects that benefit local communities. We are sad to see Chris leave GOCO, but we know that he will continue to trailblaze for Colorado and leave a strong legacy of conservation behind him."
– Melissa Daruna, Executive Director, Keep It Colorado
"Since its inception, GOCO has been a pivotal partner to conserve amazing lands across Colorado and inspire people to engage in the great outdoors. Under Chris Castilian's leadership, GOCO elevated its voice to shape a vision of Colorado's natural future and people's relationship with it. Chris has changed Colorado for the better, driving transformative projects through GOCO's role in the partnership to create Fishers Peak State Park. We know generations of Coloradans will appreciate the important mark that Chris has left on the state. Thank you, Chris, and best wishes on your next adventure!"
– Carlos E. Fernandez, Colorado State Director, The Nature Conservancy
"Chris is one of those people whom you know always is thinking about how things fit together. He sees connections, understands urgency, embraces opportunity, and knows when to push. I remember early conversations with Chris about the protection of the Crazy French Ranch, which would become Fishers Peak State Park. He was one of the early voices saying, 'This should be a state park.' Fair to say, he played a big role in rallying partners and funders to make that happen. During his tenure, he's deftly led a great GOCO team through a strategic planning process that has positioned the organization to be nimble and responsive to the needs of Colorado's rapidly growing and changing communities."
– Jim Petterson, Colorado and Southwest Region Director, The Trust for Public Land
"During his time at GOCO, Chris was able to bring together a diverse set of organizations and individuals to achieve tremendous conservation impact across Colorado. Impact that benefitted both urban and rural communities. Impact that will benefit both current and future generations. As Coloradans, we all owe Chris a thank you for his leadership of GOCO over the past five years."
– Erik Glenn, Executive Director, Colorado Cattlemen's Association Land Trust
"It's an honor to commend a partner and a friend who is leaving his mark on this amazing organization. The founders of GOCO envisioned a Colorado who protects the great outdoors and inspires the young and old to appreciate and explore all that the great outdoors of Colorado has to offer. I am proud to say that we are living up to this vision two-fold. Chris's courageous leadership to evolve GOCO to serve Colorado today will have a forever impact. I'm proud to have worked beside him and I look forward to sharing the pride of our success. Congratulations, Chris, on your leadership and success at GOCO."
– Hollie Velasquez Horvath, Past GOCO Board Chair
"Chris has been the biggest supporter of collaboration and partnering with GOCO and CPW, and has demonstrated leadership in relationships, and also vision that will positively affect Colorado for many years! He is a class act!"

– Dan Prenzlow, Colorado Parks and Wildlife Director
"Chris Castilian has been a bedrock presence in and champion for Colorado's great outdoors. Whether as chairman of the Colorado Parks & Wildlife Commission, in his role leading GOCO, or through his personal pursuits as a Leadville Trail 100 competitor and Airstream-adventurer exploring all corners of our state, he loves Colorado and its wild places. For all of us who cherish Colorado, its public lands, and ensuring its protection for all walks of life and future generations, we owe Chris our gratitude and best wishes as he climbs the next summit of his career."
– Carrie Besnette Hauser, President & CEO, Colorado Mountain College, Colorado Parks & Wildlife Commission Vice Chair & Great Outdoors Colorado board member
"From the Parks & Recreation Industry in Colorado, I want to express a sincere thank you to Chris for his leadership during his time at GOCO. We have been so grateful for Chris's willingness to consider new ideas, encourage innovation, and be a wonderful partner and supporter of the work we do. Chris has always been responsive and open to new ideas, paving the way for innovative management of Colorado's resources. We know that this State we all love is better for the efforts on his behalf and for that are so grateful. Wherever the path takes Chris next, I know his impact will continue to be positive and noteworthy. Thank you for everything, Chris. We sure will miss you and wish you the absolute best!"
– Allison Kincaid, Executive Director, Colorado Parks & Recreation Association