There's a lot of fanfare around grant awards, but what happens after the ceremonial checks are presented, the reporters have published their articles, and the interviews are over? Our grantees get down to business.
GOCO funding has built parks and trails, helped communities recover from floods and schools build new playgrounds, protected wildlife habitat and open space, and improved outdoor amenities like campgrounds and boat ramps. We're funded completely by Colorado Lottery proceeds and have invested in more than 4,900 projects in all 64 counties. Read our annual report for more information >>
Each year, we award funding through competitive grant programs to communities across the state and to Colorado Parks & Wildlife. Grantees are typically allowed about two years to complete projects. Keep scrolling to see what crossed the finish line in January.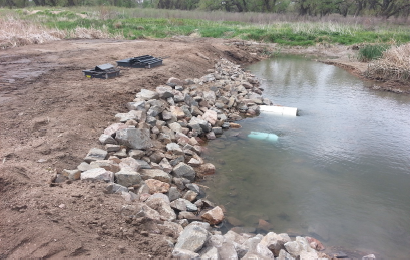 Collaborative Conservation in Western Colorado
Mesa Land Trust, in partnership with Black Canyon Regional Land Trust, invested nearly $30,000 from GOCO to create an implementation plan for formal collaboration between the two Western Slope land conservation organizations. GOCO funding helped hire a consultant that provided the foundation for exploring a range of collaborative options, from resource sharing to a merger. The whitepaper produced on the methods, findings, and decision-making process will help other organizations explore and structure future collaborations. Learn how GOCO helps improve best practices in Colorado land conservation >>
Eagle's Nest Riparian Restoration
Ducks Unlimited received a $25,000 river habitat restoration grant for work on a section of river habitat on the South Platte River in Weld County. Ducks Unlimited hired crews from Weld County Youth Conservation Corps to remove vegetation before working with the landowner to reshape a sandbar and replace damaged water control structures. The project will create optimal habitat for waterfowl and shorebird species that have declined in recent decades. Read about the latest round of GOCO habitat restoration grants >>
Grant Frontier and Overland Parks
Grant Frontier and Overland Parks both sit along the Platte River in south Denver, where the City improved river access along a 1.5-mile stretch between the parks. With nearly $2 million in GOCO funding, the City added fishing access, boat put-ins/take-outs, nature trails, an environmental playground, and other park amenities. This project is part of the $4.6 million grant GOCO awarded to Denver from the River Corridors Initiative in 2012. Read the original press release about GOCO's River Corridor Initiative >>