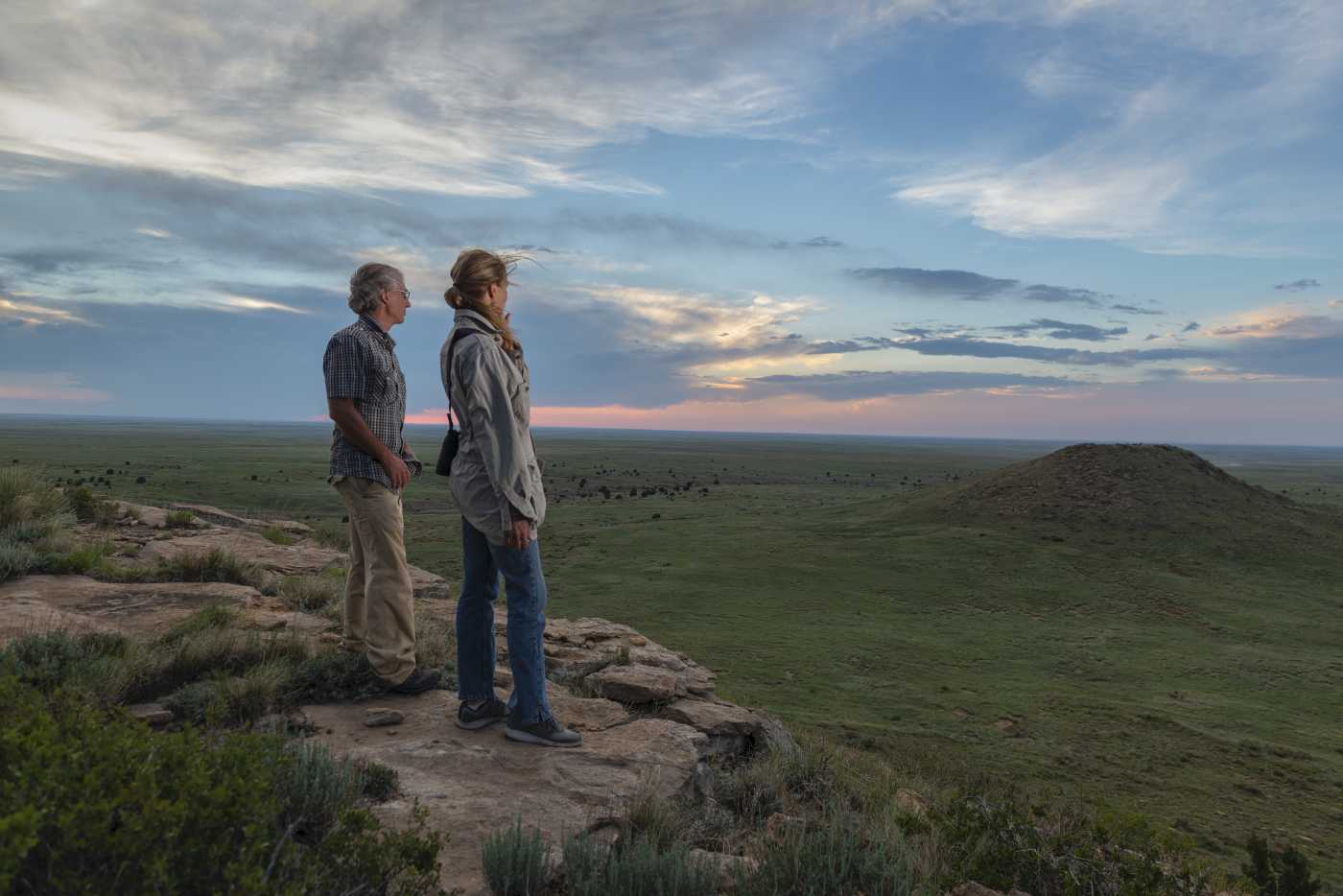 Southern Plains Land Trust staff overlooking Heartland Ranch. Photo by Sean Boggs for EDF. 
There's a lot of fanfare around grant awards, but what happens after the ceremonial checks are presented and the reporters have published their articles? Our partners get down to business.
For 27 years, GOCO has improved Colorado's great outdoors with the help of Colorado Lottery proceeds. We've put more than $1.2 billion in proceeds back into 5,200 projects to improve the lives of Coloradans across the state.
After projects are awarded funding, grant recipients have about two years to make their projects happen. Between January and February, 5 projects closed, representing more than $2 million in GOCO investments into local communities across the state. Scroll to see if one's near you:
Willow Creek Park - Inspire Lamar
$80,000 grant to the City of Lamar
The City of Lamar, in partnership with Inspire Lamar, used GOCO funds to construct an outdoor learning center at Willow Creek Park. The outdoor learning center, designed for children ages two through sixteen, features an explorer dome, spinner bowl, bay swings, and parkour agility nets. Funds were also used to remove old playground equipment, level the new play site, install a snow fence, and enhance the area's sprinkler system.  Input from local youth and the community were incorporated into the new learning center's design. Inspire Lamar, one of 15 Generation Wild coalitions, focuses on building and creating outdoor programming, pathways, and spaces in the Lamar community. Explore Generation Wild's communities >>
Menoken Farm Conservation Easement
$47,600 grant to Mesa Land Trust
Mesa Land Trust received a GOCO Transaction Costs grant to help acquire a conservation easement on the 176-acre Menoken Farm in Montrose County. The property contains more than one mile of the Uncompahgre River, providing habitat for bald eagles, great blue heron, mule deer, and yellow-billed cuckoo, among other species. The easement will preserve the area's spectacular viewshed, help buffer the surrounding agricultural lands, and ties the farm to senior water rights dating back to the 1880's. Menoken Farm is the largest breeder of Thoroughbred race horses in the state and has been in the business for 30 years. Learn more about GOCO's Conservation Easement Transaction Costs grant >>
Heartland Ranch Preserve Expansion- Jaggers Phase I
$1,000,000 to Southern Plains Land Trust
With its Open Space GOCO grant, Southern Plains Land Trust (SPLT) partnered with Colorado Open Lands (COL) to acquire 6,614 acres of land to expand Heartland Ranch Nature Preserve. At nearly 25,000 acres, the expanded preserve will cover nearly 40 square miles— an area larger than any one of Colorado's state parks and several national parks. The project built on previous efforts by SPLT to preserve approximately 18,000 acres of shortgrass prairie habitat, which is home to native species such as bison, pronghorn, and mule deer, among others. The expansion also provides increased capacity for environmental education, more scenic views for visitors, and increases the preserve's ability to continue hosting field trips for local K-12 students. Check out Southern Plains Land Trust's nature preserves >>
Sanchez Elementary Schoolyard
$630,580 to the City of Lafayette
In partnership with Boulder Valley School District (BVSD), the City of Lafayette used its GOCO grant to transform Sanchez Elementary schoolyard into a nature-themed playspace. The new play area features an ADA-accessible trail that circles the school's grounds, a custom designed creek with adjacent ponds, site boulders, bridges, a flower meadow, and tree-like climbing structures. Additional amenities include the installation of shade structures, garden and irrigation improvements, site lighting, and a new chain link fence. The play area's design drew inspiration from Colorado and the American West landscapes and was heavily influenced by youth and community feedback. The capital construction project was part of the Nature Kids/Jóvenes de la Naturaleza (NKJN) program. NJKN, which is one of 15 Generation Wild coalitions, focuses on building and creating outdoor spaces, pathways, and programming for youth and its surrounding community.  Read on about Sanchez Elementary's new school yard >>
Sanchez Connector Trail
$330,000 to the City of Lafayette
Alongside the Sanchez Elementary Schoolyard renovation project, the City of Lafayette and Boulder Valley School District used additional GOCO funds to build the Sanchez Elementary Connector Trail. The connector trail, which measures 4,700 feet in length, provides residents along South Boulder Road with safe pedestrian and bike access to school grounds. The trail will also provide users with expanded opportunities to recreate and explore nature. Additional enhancements include the widening of sidewalks, removal of fences blocking access to the trail, and the construction of a bridge to cross over the nearby drainageway.  The completed trail connects to the city's Walk and Wheel route, which provides safe routes to downtown Lafayette and city amenities including the Bob L. Burger Rec Center, the public library, and various open space areas. The project was part of the Nature Kids/Jóvenes de la Naturaleza (NKJN) program's effort to create safe and equitable access to the outdoors. Find out more about Lafayette's Nature Kids program >>