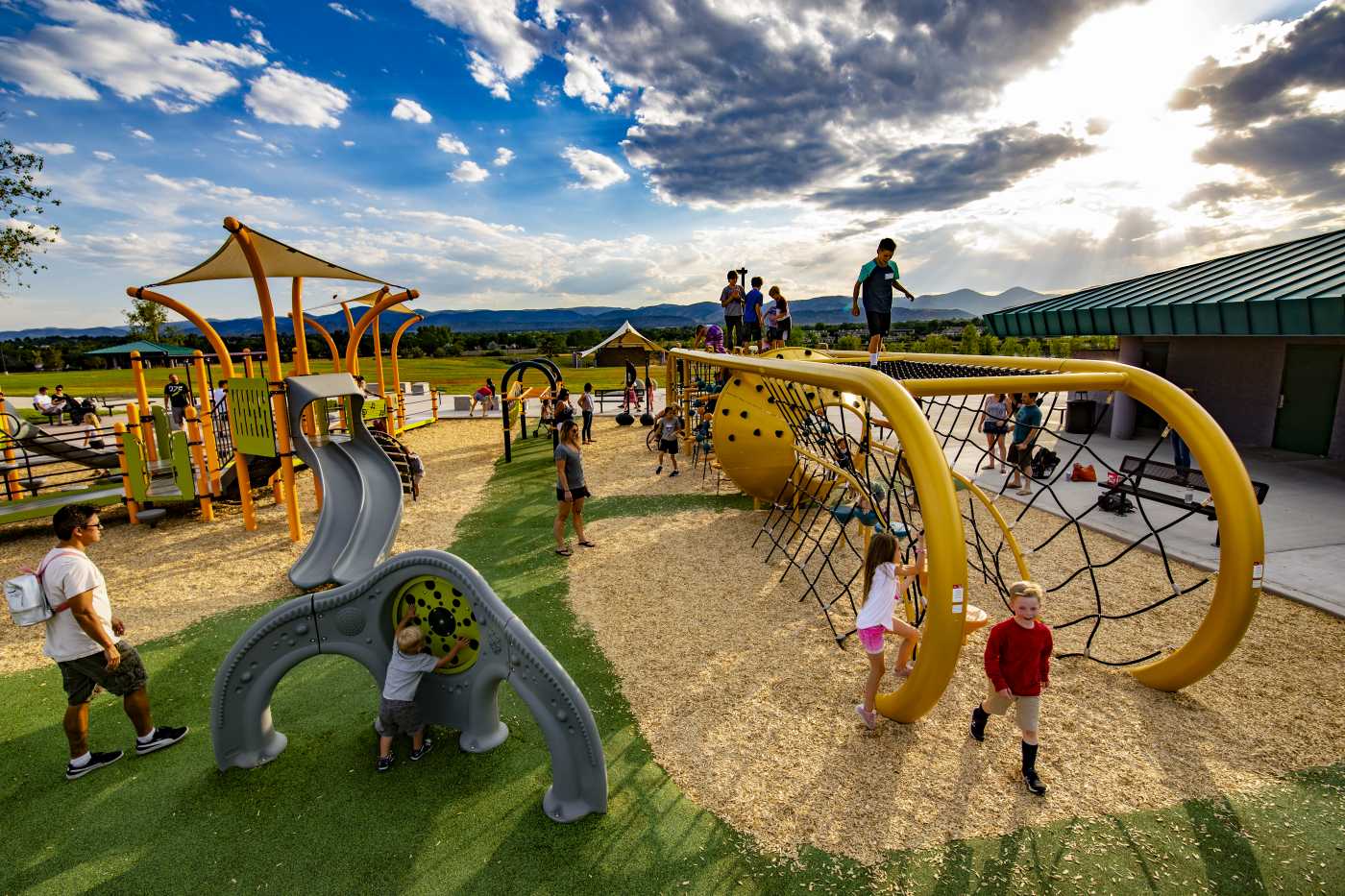 Clement Park in Jefferson County. Photo courtesy of Landscape Structures.
There's a lot of fanfare around grant awards, but what happens after the ceremonial checks are presented and the reporters have published their articles? Our partners get down to business.
For 27 years, GOCO has improved Colorado's great outdoors with the help of Colorado Lottery proceeds. We've put more than $1.2 billion in proceeds back into 5,200 projects to improve the lives of Coloradans across the state.
After projects are awarded funding, grant recipients have about two years to make their projects happen. In March, 10 projects closed, representing more than $985,000 in GOCO investments into local communities across the state. Scroll to see if one's near you:
Advancing Community Conservation Work at Colorado Land Trusts
$92,600 grant to Land Trust Alliance
The Land Trust Alliance (LTA) used its GOCO Conservation Excellence grant to enhance its community conservation work with five land trust organizations in Colorado. After attending an LTA-hosted community conservation workshop, each land trust was invited by the Alliance to participate in a specially-designed, 18-month program to continue building on these collaborative learning efforts. The program provided the land trusts with online courses and continued mentorship to expand community conservation efforts in their localities, which includes connecting people with place, creating opportunities for people to get involved with conservation efforts, and responding to community needs. More than half of LTA's GOCO grant will be used for subgrants for land trusts to put their community conservation ideas into action. Read community conservation stories highlighted by the Land Trust Alliance >> 
Arvada Clear Creek Corridor Master Plan
$75,000 grant to the City of Arvada
With its GOCO Planning grant, the City of Arvada created a master plan for recreation opportunities and habitat improvements along the Clear Creek Corridor. Based on public comment and community feedback, the city focused its plan on activating Gold Strike Park, enhancing the surrounding Clear Creek Corridor, protecting the area's wildlife habitat, and increasing connectivity from the Ralston Creek State Recreational Trail to Olde Town Arvada. Check out Arvada's Clear Creek Corridor Master Plan >>
City of Brush Parks & Recreation Master Plan
$52,499 grant to the City of Brush
The City of Brush used its GOCO Planning grant to develop a Parks & Recreation Master Plan.The plan assessed the city's parks and recreation programs and facilities to outline where the community was lacking and identify steps to be taken within a 5-10 year timeframe to enhance Brush's recreational offerings. Several focus groups were held to solicit community feedback in order to determine the most needed and desired programming for community members of all ages and abilities. Learn more about the city's master plan >>
Clement Park Inclusive Destination Playground
$350,000 grant to Foothills Park & Recreation District
With the help of GOCO funds, Foothills Park & Recreation District built a universally accessible playground at Clement Park. The new park features unique, performing arts-themed amenities designed for children of all ages and abilities, which include an interactive xylophone, a trombone climber, and a mini amphitheatre that allows kids to put on their own shows. Clement Park receives over one million visitors per year, making it the most highly used park in the district. Take a virtual tour of the park >>
Corwin Community Park and Play Yard Initiative
$110,000 grant to the City of Pueblo
The City of Pueblo, in partnership with Corwin International Magnet School, used its GOCO grant to build the school's first playground. The revamped school grounds feature amenities such as an oversized climbing net, swings, a balance circuit, and a pollinator garden. The area also includes a covered patio for outdoor learning and community gatherings, making the school grounds a recreational hub for the entire community. Read about Corwin's grand opening>>
Lake County Open Space Initiative Ecosystem Management Plan
$67,000 grant to Lake County
With the help of a GOCO planning grant, Lake County partnered with Lake County Open Space Initiative (LCOSI) to update its ecosystem management plan. The focus of the plan was to assess the county's open space properties as a single ecosystem to help guide future planning and actions to manage them. Originally created in 2006, the updated plan addresses changes in open space and environmental conditions, new partner and community objectives, and long term management strategies to protect watershed health, wildlife, and cultural resources. The county hopes the plan encourages collaborative, multi-jurisdictional planning and decision making while providing a forum for community feedback and information sharing. Read Lake County's Ecosystem Management Plan >> 
Project Citizen 2018
$73,766 grant to the City and County of Denver
With the help of GOCO funds, Samuels Elementary School partnered with the City and County of Denver to turn a nearby vacant lot into a nature-inspired play area. The project engaged Samuels' fifth-grade students in Project Citizen, an active-learning program that engages students in developing public policy for their community. A previous GOCO grant helped the school build a community garden in 2016. This latest grant brought the final piece of Project Citizen to life, turning the unused lot into a naturescape complete with a winding path that leads students through native vegetation to an outdoor classroom. Learn more about Project Citizen >>
Side Creek Playground Rejuvenation
$90,007 grant to the City of Aurora
In partnership with Side Creek Elementary, the City of Aurora used its GOCO School Yard Initiative (SYI) grant to replace the school's outdated playground with new equipment and enhanced amenities. Over the last 10 years, the south-central Aurora community has continued to expand. The playground's design, which was informed in part by 20 student leaders appointed by school faculty, includes a new swing bay, climbing structures, 15 trees, and an updated blacktop surface complete with freshly painted games and stripes. The city hopes that the new play area will provide a fun and safe recreation space for the more than 600 Side Creek students and 6,600 nearby residents that are within walking distance. Read more about Side Creek Elementary's new playground >>
Surface Creek Trail Improvement, Connection, and Extension Phase I
$28,000 grant to the Town of Cedaredge
With the help of GOCO funds, the Town of Cedaredge completed phase one of its Surface Creek Trail extension and improvement project. The town's residents had identified improvements to the trail as a top priority in their community, and a large donation from the Deer Creek Village HOA allowed for the trail to be extended by 125 percent. The town also partnered with Western Colorado Conservation Corps to help construct the trail which included mitigating drainage issues, hazardous trees, and uneven surfaces. Additional amenities along the trail include benches, trash cans, and the installation of education signage. The new trail will provide recreation opportunities for runners, walkers, bikers, and local sports teams Read about other trail improvements in Delta County >>
Survey of Critical Biological Resources in Lake County, CO
$46,650 grant to the Colorado Natural Heritage Program
The Colorado Natural Heritage Program (CNHP), a research unit at Colorado State University, used its GOCO Conservation Excellence grant to conduct a survey of critical biological resources in Lake County. The data collected during the survey identified critical species and habitats that will help inform the county of best practices around land conservation and natural resource management. Additionally, the data will be used to help inform local organizations and researchers on decisions related to future habitat, trail, and water projects. Read CNHP's full report on Lake County's biological resources >>