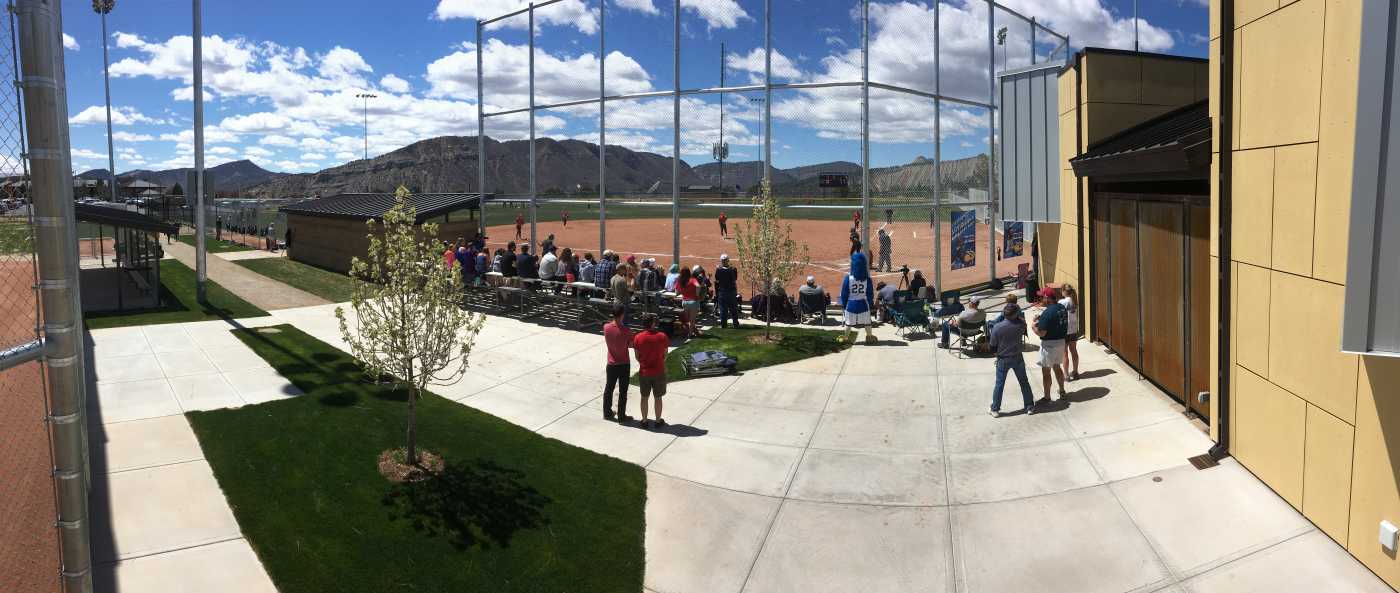 Pictured here: Durango Softball Complex, photo courtesy of City of Durango
There's a lot of fanfare around grant awards, but what happens after the ceremonial checks are presented and the reporters have published their articles? Our partners get down to business.
For 26 years, GOCO has improved Colorado's great outdoors with the help of Colorado Lottery proceeds. We've put more than $1 billion in proceeds back into 5,000 projects to improve the lives of Coloradans across the state.
After projects are awarded funding, grant recipients have about two years to make their projects happen. In November, 15 projects closed, representing just over $2 million in GOCO investments into local communities across the state. Scroll to see if one's near you:
Basham Park Revitalization Project
$45,000 grant to the City of Creede
The City of Creede's Basham Park is a popular destination that was in need of rehabilitation. With the help of GOCO funding, the city updated the park's gazebo and gravel paths to make them safer and easier to maintain. The project has direct benefits for Creede's 292 residents, the local school district, community groups that use the site for events, and more than 5,000 annual visitors. Check out Basham Park and other recreational opportunities in Creede >>
Centennial Park Tennis/Pickleball Court Project 2017
$240,000 grant to the City of Salida
The City of Salida partnered with Chaffee County, the Peak to Peak Pickleball Club, and Salida Tennis Club to design and install two tennis courts with lines for eight pickleball courts at Centennial Park. Additional amenities include all necessary sport-related equipment, lights, fencing, windscreens, a practice backboard, restrooms, storage, and parking. Read about the court opening >>
Chipeta Park Improvement Project
$45,000 grant to the Town of Poncha Springs
The Town of Poncha Springs used its GOCO funding to update several amenities at its town park. The park had not been updated for more than 30 years. Improvements include an upgraded playground, safety surfacing, basketball and pickleball nets, disc golf baskets, and basic park amenities.
Cottonwood Park Enhancement Project
$41,866 grant to the Town of Mancos
The Town of Mancos has improved the 13-acre Cottonwood Park, keeping the area natural but offering increased accessibility by improving trail surfaces. The town also improved basic amenities such as seating, signage, and bear-safe trash cans. The project represents a long-standing grassroots effort by the volunteer-driven Mancos Trails Group. Learn more about the Mancos Trails Group >>
County Fairground Outdoor Recreation Improvements
$275,000 grant to El Paso County
El Paso County used GOCO funding for improvements to county fairgrounds located in Calhan. The enhancements include a new open air pavilion with concrete flooring, a new playground, a splash pad, campground upgrades, and picnic areas. The additions provide the community an opportunity to expand programmed and daily use. Check out the fairgrounds >>
Durango Softball Complex and Tennis Courts
$350,000 grant to the City of Durango
The City of Durango partnered with Fort Lewis College to make improvements to the 30-year-old sports complex located on the Fort Lewis College campus. The project has redeveloped the existing softball complex and tennis courts and has added six lighted tennis courts, ballfield lighting, dugouts, fencing, restrooms, and other amenities. Take a closer look at the updated facilities >>
Evergreen North Lake Trail Planning Project
$100,000 grant to Evergreen Park and Recreation District
Evergreen Park and Recreation District used GOCO funds to conduct an engineering study and preliminary design for the revitalization of the Evergreen North Lake Trail. The project addressed critical issues at the trail, such as sinkholes and surface rutting, which ultimately forced its closure in April 2016. The plan redesigns the segment to include development of a two-track trail linkage separating cyclists and pedestrians on the north side of Evergreen Lake. Find out more about the Evergreen North Lake Trail Project >>
Faith Hinkley Memorial Park Phase II
$70,000 grant to the City of Monte Vista
The City of Monte Vista partnered with the Monte Vista Community Fund to use a GOCO grant to develop a multi-use memorial park space that will commemorate the lives of San Luis Valley residents killed in action. GOCO funds for Phase II provided park amenities including restrooms, picnic areas, and more.  Follow Faith Hinkley Memorial and Veteran's Park on Facebook >>
Inspire Lamar
$100,000 grant to the City of Lamar
Inspire Lamar is a Generation Wild coalition with the vision to create an outdoor world that brings the Lamar community to life. With its GOCO Inspire planning grant, Lamar gathered a strong community coalition with diverse representation from local organizations and residents. The city expanded youth and adult leadership opportunities and created a Youth Advisory Council focused on positive youth development. Community members led a planning process that included identifying barriers to the outdoors and proposing new solutions to those barriers. The planning process also supplemented the city's latest Parks, Trails, and Recreation Master Plan. Learn about GOCO's Generation Wild coalitions >>
Jones Park Bear Creek Greenback Cutthroat Trout Restoration Project
$75,000 grant to El Paso County
With its GOCO funding, El Paso County performed streambank and in-stream habitat restoration on Bear Creek to improve the habitat, food production, and spawning of the greenback cutthroat trout – a threatened species listed under the Endangered Species Act. Bear Creek supports the only genetically pure, naturally reproducing population of the trout in North America, and they occupy only a few miles of stream. Check out the Bear Creek Nature Center's Greenback Cutthroat Trout exhibit >>
Music Meadows Ranch Forest & Watershed Health
$18,000 grant to San Isabel Land Protection Trust
To improve forest and watershed health, youth corps crews worked on the conserved Music Meadows Ranch to remove unhealthy trees in overstocked forest, resulting in enhanced habitat and forage for wild and domestic animals, improved tree health and stand diversity, and fire mitigation. Learn about GOCO's support of youth corps crews >>
North Conejos Activity Complex
$350,000 grant to Conejos County
Conejos County partnered with the North Conejos School District to construct an all-weather track at the high school. The track provides a safe surface for students and community members to walk, as well as a venue for hosting high school and middle school practices, meets, and special events.
Pine River Library Park
$255,000 grant to the Town of Bayfield
The Town of Bayfield partnered with the Pine River Library Park to develop an underutilized green space into a safe, multi-purpose park for youth and families. The Pine River Library serves as a central hub in the Bayfield community, and GOCO funds helped establish an outdoor classroom, playground, and multi-use court. Find out more about Pine River Library Park >>
Raptor Flyway Invasive Species Removal Project
$36,000 grant to the City of Brighton
Chainsaw and pesticide application crews from Mile High Youth Corps worked for four weeks to enhance two open spaces, totaling 216 acres in Brighton's Raptor Flyway Corridor between the South Platte River and Barr Lake State Park. They removed Russian olive, tamarisk, leafy spurge, teasel, and thistle. Learn more about youth corps >>
Wet Meadow & Riparian Restoration in Gunnison Sage-Grouse Habitats of Western Colorado
$16,600 grant to Upper Gunnison River Water Conservancy District
Upper Gunnison River Water Conservancy District worked with youth corps crews to assist in a collaborative, large-scale wet meadow restoration effort that improved habitat for the listed Gunnison sage-grouse. Crews built small rock structures and thinned forests in or near critical brood-rearing habitat of the sage-grouse in the Gunnison and San Miguel basins. See more on the Upper Gunnison River Water Conservancy District >>