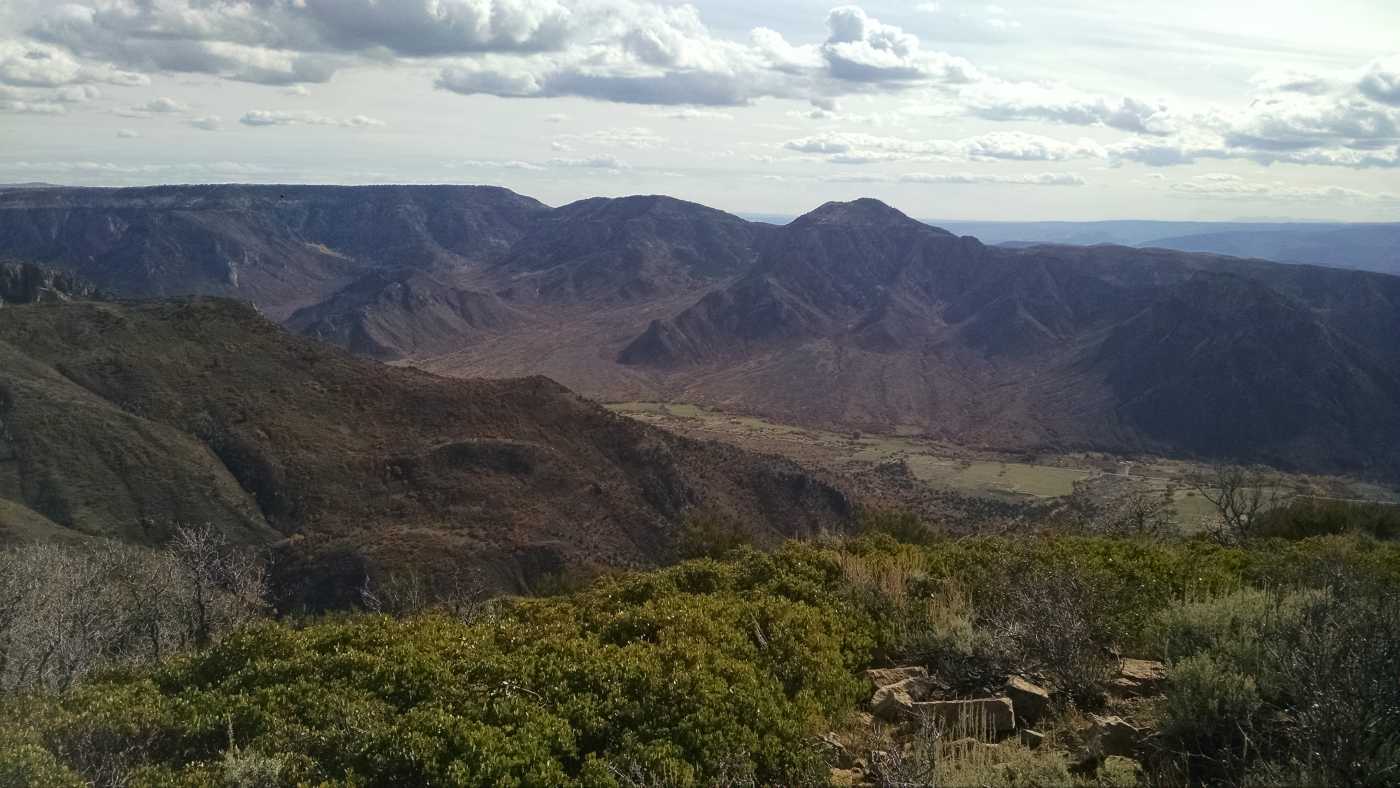 Johnson Ranch-Glade Park in Mesa County. Photo courtesy of Colorado West Land Trust.
 
There's a lot of fanfare around grant awards, but what happens after the ceremonial checks are presented and the reporters have published their articles? Our partners get down to business.
For 27 years, GOCO has improved Colorado's great outdoors with the help of Colorado Lottery proceeds. We've invested more than $1.2 billion in proceeds back into 5,200 projects to improve the lives of Coloradans across the state.
After projects are awarded funding, grant recipients have about two years to make their projects happen. Between November and December, 13 projects closed, representing more than $3.8 million in GOCO investments into local communities across the state. Scroll to see if one's near you:
Sand Creek Restoration Project
$50,151 grant to Palmer Land Trust
With the help of GOCO funds, Palmer Land Trust (PLT) replaced a diversion ditch along Sand Creek that had breached and was negatively affecting the creek's water quality and surrounding wetland habitat. PLT installed a new structure that stabilizes the stream's channel, reduces the possibility of catastrophic flooding, minimizes sediment and deposition, and helps protects water quality for wildlife and recreationalists. Enhancements to the creek helps promote the growth of native vegetation along the stream banks and supports the area's riparian ecosystems. This project was made possible through a multi-partnership effort that brought together Park County, Colorado College, Coalition for the Upper South Platte, Colorado Open Lands, and the South Park Wetlands Focus Area Committee. Check out GOCO's newest restoration grant program >>
East Plum Creek Trail Phase 5
$1,000,000 grant to the Town of Castle Rock
The Town of Castle Rock used its GOCO Connect Initiative grant to complete the final phase of the East Plum Creek Trail. Funds helped construct a paved, two-mile segment at the trail's southern end, which completes the trail loop and connects it to the statewide Colorado Front Range Trail. The completed section provides new access by connecting southern Castle Rock to downtown amenities, while also connecting northern users to a newly acquired area with 82 acres of open space. Find out more about the East Plum Creek Trail project >>
Clear Creek Greenway through Idaho Springs
$2,000,000 to the City of Idaho Springs
In partnership with the Colorado Department of Transportation and the Clear Creek Greenway Authority, the City of Idaho Springs used its GOCO funding to construct three critical segments of the Clear Creek Greenway. In addition to the new segments, which total more than 5,800 feet in length, the trail also features two new pedestrian bridges. The completed trail creates additional capacity for tourism to the area and provides safer, pedestrian-friendly connections between the City's business district on the east side with its downtown area. The trail also provides residents and visitors with improved access to local parks, the Clear Creek Recreation Center, and various historic sites. Learn about the full scope of the Clear Creek Greenway project >> 
North Arvada Middle School Park 
$110,000 to the City of Arvada
In partnership with the City of Arvada, Arvada North Middle School used GOCO funds to build an exciting new obstacle course. The playground was inspired by Andrew Ellis, a student at North Arvada Middle School, with the intent of providing fellow students and surrounding residents with a place to play and be active. Working alongside his school's Youth Task Force, Ellis administered a school-wide survey and focus groups to design a playground that best suited the needs of the student body and community. Additionally, Ellis and other students took the lead on writing and submitting the GOCO School Yard Initiative grant application. Watch the 9News story on the playground >>
Oak Grove Elementary Playground Improvement
$110,000 to Montrose County
With its GOCO grant, Montrose County and Oak Grove Elementary partnered to replace the school's aging playground with a new, universally accessible play area and outdoor learning space. The project's completion is the result of an extensive student and community engagement process. As part of the process, a student advisory group presented its project to the Parent Teacher Council, county commissioners, playground experts, and maintenance professionals. The project's goal is to create a natural space where students and community members of all abilities are inspired to play, explore, and learn outside. Check out the full press release >>
Mancos New Playground
$45,000 to the Town of Mancos
The Town of Mancos used its GOCO funding to construct the first playground on the town's north side. Initiated by a citizen advisory group, the new playground will provide one-third of the town's residents with a recreational amenity that can be safely accessed without crossing a busy highway. The park is organically managed and includes a nature-inspired playground, two picnic tables, a shade structure, and a grassy area. Additionally, the city will partner with Mancos Tree Board, Mancos Trails Group, Mancos School to Farm, and the Mancos School District to offer environmental education classes and programming to teach the importance of physical fitness and outdoor play. Learn about the community impacts of Mancos' new park >>
Johnson Ranch, Glade Park
$308,500 to Colorado West Land Trust
With its Open Space grant, Colorado West Land Trust (CWLT) acquired a conservation easement on the 680-acre Johnson Ranch. The project builds on previous conservation efforts by CWLT and other organization to protect nearly 50,000 acres of private ranchland on Glade Park. Johnson Ranch is surrounded by ridge tops and canyons, and because of its dramatic topography, boasts rich ecological diversity. The various plant communities on the property provide habitat for a wide variety of wildlife species including important summer range and production areas for mule deer and American elk, black bear, and mountain lion as well as habitat for bird species including the federally threatened Gunnison sage-grouse. Read on about the Glade Park conservation initiative >>
Gore Creek Riparian Habitat Restoration
$38,847 to the Town of Vail
The Town of Vail used GOCO funds to restore over 1,000 feet of wetland habitat along Gore Creek. Due to habitat loss and pollution, in 2012 the Environmental Protection Agency listed the creek's water quality as below industry standard. In response, Vail partnered with a local engineering firm specializing in river restoration to help re-stabilize the watershed. The project helped restore the creek's natural hydrological state, reduced erosion, and improved the area's riparian habitat and native vegetation. The Eagle River Watershed Council planted native trees and reseeded the restoration sites with perennial grasses. Find out more about Gore Creek's water quality improvements >>
Alamosa Trails Network
$26,705 to the City of Alamosa
With its Colorado Youth Corps Association (CYCA) grant, the City of Alamosa used GOCO funds to expand on its multi-year effort to build and maintain its burgeoning network of trails. The city hired Southwest Conservation Corps (SCC) to add one mile of ADA-accessible trail through Blanca Vista Park and treat approximately 10 miles of trail for noxious weeds and overgrown brush. The project not only continued the momentum of the Alamosa Trails Network but has also supported youth employment and encouraged the next generation of environmental stewards. Read GOCO's CYCA Impact Story >>
Elkhorn Creek Forest Health Initiative - Ben Delatour Scout Ranch
$54,000 to Colorado State Forest Service
Colorado State Forest Service, in partnership with Larimer County Conservation Corps (LCCC), used GOCO funds to execute a slew of forest managements services to reduce heavy fuel loads and wildfire risk at the Ben Delatour Scout Ranch. LCCC carried out services on 150 acres of the property, which has helped improve watershed health, enhance forest resilience, and protect resources within the watershed. As part of the project, youth also had the opportunity to work alongside and learn from field experts about wildlife ecology and forest restoration. Check out the full press release for more info >>
Willow Bend Natural Area Invasive Species Removal & Mitigation
$17,280 to the City of Loveland
Wits its GOCO grant, the City of Loveland removed invasive plant species from Willow Bend Natural Area, an 81-acre property that runs along the east Big Thompson River. The city hired Larimer County Conservation Corps to remove an estimated 650 invasive Russian olives, Siberian elm, and tamarisk inhabiting the property. The project aimed to enhance the area for wildlife and visitors, as well as supporting the regrowth of native vegetation. Learn more about habitat restoration projects in Larimer County >>
Ecosystem Learning Center
$22,550 to Central Colorado Conservancy
Central Colorado Conservancy used GOCO funds to hire Southwest Conservation Corps to build a one-eighth mile trail, control noxious weeds, and plant native species at the site of the future Ecosystem Learning Center (ELC) in Salida. The ELC aims to provide safe river access and experiential education lessons for youth and families. Future phases of the project will produce a shady trail to walk along the river, a shade structure, and a renovated barn classroom. Check out the ELC project scope and map >>
Riparian Reconnect
$92,240 to Colorado Open Lands
With its GOCO grant, Colorado Open Lands (COL) restored and enhanced wetland, riparian, and stream habitat on three conserved properties along the South Fork of the South Platte River in Park County. The properties are part of a larger effort undertaken by COL to improve wetlands, increase stream function, and enhance wildlife habitat in riparian areas throughout the county. COL partnered with a local contractor that specializes in riparian and wetland habitat restoration to regrade stream channels to optimize water flow. These restoration efforts benefit bird, amphibian, fish, mammal, and other wildlife species that depend on the river's health and ecosystems. Read more about the Riparian Reconnect project >>