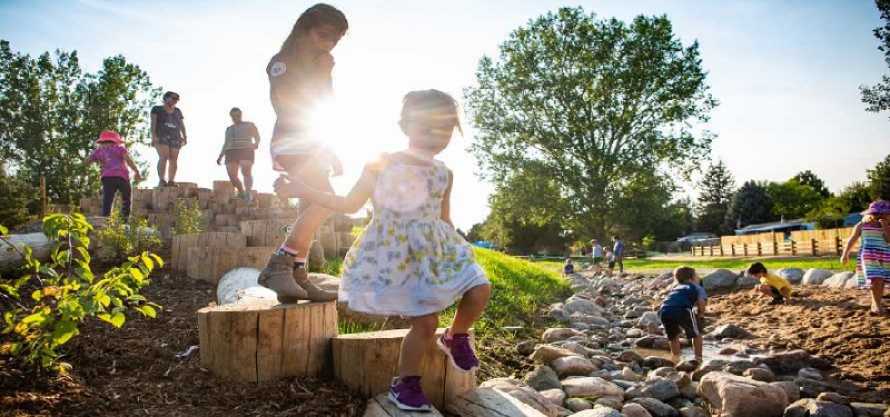 Nature Kids Discovery Zone in Lafayette. Photo by moxie82inc.
In response to the unprecedented disruption caused by the COVID-19 pandemic, Great Outdoors Colorado (GOCO) is launching a one-time, $15 million Resilient Communities Program to help partners advance outdoor recreation, stewardship, and land protection projects in a manner that best reflects community needs and priorities at this moment in time. Through the Resilient Communities Program, GOCO will fund one-time, immediate needs or opportunities that have emerged in direct response to the pandemic all within the context of GOCO's five program values: resource conservation, outdoor stewardship, community vitality, equitable access, and youth connections.
The Resilient Communities Program is anchored in four themes intended to capture the breadth of needs and opportunities identified by partners through surveys and ongoing conversations as the most urgent and critical for GOCO's investment. Proposed projects should address one or more of the following: 
Capacity and Operations Support – core capacity and operations with a direct connection to project and/or program outcomes
Stewardship – stewardship and maintenance of outdoor recreation and natural resource infrastructure, especially resources experiencing increased impacts due to the pandemic
Community Vitality – emergent needs that contribute to community vitality and resiliency
Urgent and Emergent Land Acquisitions – critical land acquisitions with compelling urgency or those that have come to the fore as a result of the pandemic
Available Funding
The board awarded funding to seven projects to-date. The following table tracks awarded and available funding and is kept up-to-date as the board makes awards.
| | | | |
| --- | --- | --- | --- |
|   | Open Space | Local Gov. | Total |
| Total Available Funding | $ 9,570,247 | $ 5,480,000 | $ 15,050,247 |
| June 29 Awards | $ (234,300) | $ (24,000) | $ (258,300) |
| Aug. 4 Awards | $ (533,700) | $ (566,632) | $ (1,100,332) |
| Sept. 10 Awards | $ (474,509) | $ (1,620,806) | $ (2,095,315) |
| Nov. 17 Awards | $ (4,933,825) | $ (2,001,684) | $ (6,935,509) |
| Total Awarded To-Date | $ (6,176,334) | $ (4,213,123) | $ (10,389,457) |
| Available to Award | $ 3,393,913 | $ 1,266,877 | $ 4,660,790 |
To review projects awarded Resilient Communities grants in previous rounds, read this release from August, this release from September, and this release from November. 
Who Can Apply
This program is open to entities eligible to receive GOCO open space and local government funds as listed below. Ineligible entities are encouraged to partner with an eligible entity to apply. As always, GOCO strongly encourages partnerships. 
Colorado municipality or county
Title 32 special district eligible to receive distributions from the Conservation Trust Fund
Political subdivision of the State of Colorado that includes in its mission the identification, acquisition, or management of open space and natural areas
501(c)(3) non-profit land conservation organization that includes in its mission the identification, acquisition, or management of open space and natural areas, e.g., land trusts
Colorado Parks and Wildlife
How to Apply
Contact a GOCO program officer to discuss your project in detail. When ready to submit, send your proposal and all appropriate attachments via email to resilient@goco.org. For more information regarding program criteria, types of projects that have been successfully funded, and how/when to apply, please watch this previously recorded webinar.
Application Forms
When to Apply
RFP is available on a rolling basis beginning July 1, 2020. Submit proposals roughly a month prior to the decision dates as outlined below. Staff will work with applicants to select an appropriate application period for each project.
Proposals due July 17, 2020 for a decision August 4, 2020
Proposals due August 7, 2020 for a decision September 10, 2020
Proposals due October 16, 2020 for a decision November 17, 2020
Proposals due February 2, 2021 for a decision March 12, 2021
Questions?
Contact Senior Program Officer Chris Yuan-Farrell at cyuanfarrell@goco.org or 303.226.4511.