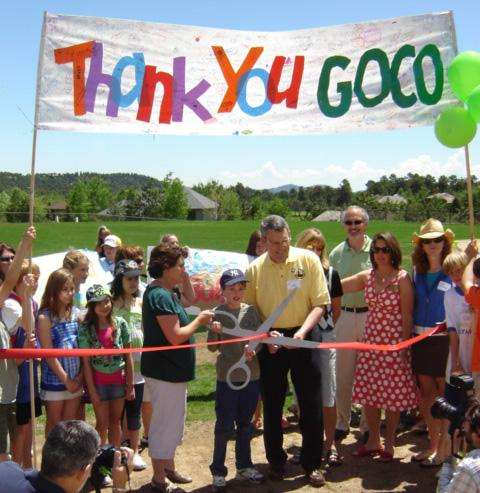 Before the ribbon was cut, before the last piece of the playground is put into place, before ground was even broken on the project, there are months (and sometimes years) of planning that have gone into the moment when a bunch of kids gleefully run onto their new playground. Before your eyes glaze over at the thought of a blog about the planning process, take a look at the update GOCO received from one of the most recent grantees from the School Play Yard Initiative.
I wanted to tell you how excited we are about the entire School Play Yard process!  We just had our community night last night with Chris and Tony presenting their design ideas.  The night absolutely energized our entire audience.  We left here a-buzz!  We couldn't be happier with the shared vision we are creating between the county, the school community, and the designers.
So far, all of our students have done the property "walk-about", taken the survey, created bulletin boards and selected student representatives from each team.  The student ambassadors met 5 times prior to our December 17 meeting with the design team.  The kids created an amazing presentation for the team and impressed us all.  
We have reached out to the community at large and currently have two local businesses collecting donations on behalf of our project.  These partnerships help build our connection as a school to our larger community.  It is humbling how much businesses are willing to help a school!
The structure created by the GOCO School Play Yard Initiative has been priceless to our community. The involvement feels amazing and we couldn't be more grateful.
Thank you so much for this awesome opportunity!
That email tells the story of what goes on behind the scenes – communities invigorated by the promise of a new playground, students working together to tell grown-ups what they want, and new partnerships formed between schools and community families.
Six Colorado schools were awarded funds for professional design services in 2015, and the planning process is now coming to a close as schools prepare their applications for construction funds. All six schools will submit their final applications in February. Successful applications will be in announced in April, so keep an eye out for the good news!
Follow GOCO on Facebook, Twitter, and Instagram for the latest updates and sign up for our quarterly newsletter in the upper right hand corner of this page.