By Chris Yuan-Farrell
As smoke-filled skies acquiesced to quintessential Colorado blue, I journeyed up a new Crested Butte mountainside trail so skillfully crafted by dirt artisans that the two-foot wide track blended seamlessly into the shrubs and grasses.
The trail meanders upward along a series of switchbacks designed to take the sting out of an otherwise daunting 10% grade over the first mile. After a short reprieve and quick descent, the trail again snakes upward, this time through a dense canopy of evergreens along the steep hillside of Whetstone Mountain. The trail's rock-stabilized edge ensures safe passage.
After about six and a half miles, the trail meets the Carbon Trail, also known as Para Mi Para Ti, in the Gunnison National Forest. For those with lungs adjusted for higher elevation riding, the Carbon Trail will take you back to Crested Butte via Green Lake Trail.
This new trail I traveled is known as Baxter Gulch, and as of summer 2018, it is open and accessible to the public after decades of work.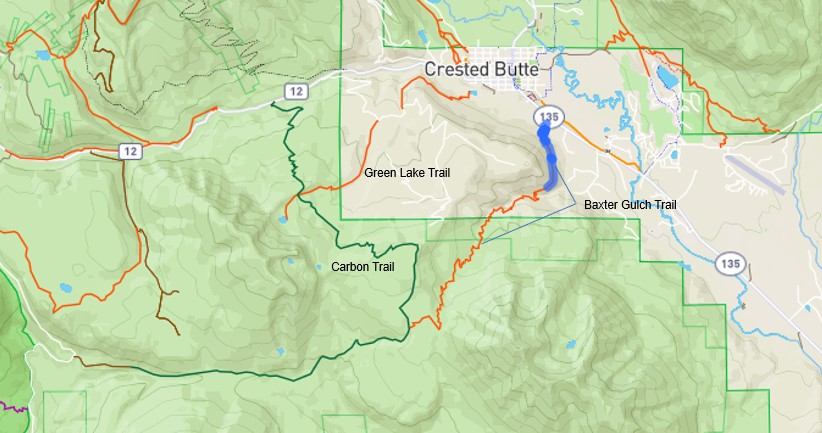 The fortitude it takes to ascend the 2,500-plus feet in elevation on a bike pales in comparison to the perseverance and seemingly endless determination displayed by the community to achieve its goal.
All told, the trail took 25 years, six summer youth corps crews, hundreds of thousands of dollars in grant support, over 8,500 volunteer hours, and a hefty amount of sweat equity to realize the vision that is Baxter Gulch. The citizens of Colorado and its visitors are forever indebted to this unique community for giving us a shining example of how when we work together we can create something great.
Between 2011 and 2017 Great Outdoors Colorado (GOCO) awarded $154,640 for Western Colorado Conservation Corps (WCCC) crews to help build Baxter Gulch Trail. Thanks to the hundreds of individuals and partner organizations that made it possible: Town of Crested Butte, Gunnison County, USFS, WCCC, Crested Butte Mountain Bike Association, and the numerous private landowners and ranchers in the valley who provided access to their lands and protected the views that make Crested Butte a perennial destination.