GOCO is proud to be partners with amazing people and organizations across the state that help keep Colorado beautiful. Melissa Daruna, Executive Director at Keep It Colorado is one of them. 
Share a bit of your life's story and how your story influenced your career.
The outdoors has been my sanctuary for as long as I can remember. I grew up in northern Illinois surrounded by nature preserves, lakes and rivers. When given the choice, I spent time outside exploring everything from the smallest bugs to the largest trees I could find. When I moved to Colorado after grad school, it was to feel a greater connection to nature by centering my work and lifestyle in the outdoors. I promptly learned to snowboard and ski, picked up a fly rod for the first time and met my husband rock climbing in Clear Creek Canyon. I worked in the parks and recreation field for a decade and advocated for getting more kids and families outside and active. I realized, however, that I had little focus on protecting and sustaining the wild side of Colorado that made those outdoor experiences so special. So, I decided to shift my work into conservation. When my son was born in 2016, I became laser focused on ensuring my work was serving to protect the Colorado he and all other future generations would inherit. I was fortunate to find my next adventure with Keep It Colorado in 2019 and am passionate about​ conserving Colorado's incredible outdoor spaces.
Tell us about your organization and what motivates you every day.
Keep It Colorado is a statewide coalition of conservation organizations, largely focused on private land conservation. We support the incredible nonprofit organizations, public agencies and conservation professionals that protect, restore, and steward our great outdoors. We focus on coalition building by bringing our members and partners together to collaboratively problem-solve. We also advocate for sound public policy that advances conservation tools and resources. We work to secure a sustainable future for the conservation sector and raise awareness about the importance of our members' collective work. I am motived every day by the small human I'm raising to be wild and curious in the outdoors, the incredible team of staff and board members I am privileged to work alongside, the mountains and rivers of this great state and beyond and the songbirds that also call my backyard home.
Why do you think partnership and collaboration is important?
No one organization or person can make all the change we need to ensure a sustainable future for Colorado. It takes partnerships and collaboration based in trust and respect for different perspectives. It takes challenging what we know about our work and being bold enough to innovate and try new things regularly. I think a great example of that is Keep It Colorado. This organization is an evolution brought about by a conservation community that asked how they can do things more effectively and with more partners involved. The leadership and members took time to discuss and explore a vision for the future rooted in collaboration. They shared this vision with core funding partners, including GOCO, who supported putting the vision into action by funding a year of planning for the new organization. Everything about how Keep It Colorado functions today is based on that culture of partnership development and collaboration.
The impact is a more connected conservation profession eagerly working toward shared goals. We have a stronger and more unified voice advocating for conservation tools and resources. And we have a more wholistic view of conservation and the impacts it has on our communities, which provides exciting new opportunities for our members.
How do you think the outdoors contributes to communities or to individuals' quality of life?
There is a lot of data and research on the positive benefits of connecting to nature. Access to the outdoors can impact our mental health, community vitality, local and state economy, access to healthy food and so much more. The outdoors are what makes Colorado, Colorado and our connection with the outdoors often defines who we are as Coloradans. For some, the outdoors and working with the land is their way of life. For others, it is the place to find respite, exercise, or have an adventure. During the pandemic, the outdoors has been the place where people felt safe to go, to gather, and perhaps find something new to do. It is exciting to see more people outside and it has raised awareness about outdoor equity and the need to ensure everyone has safe access to the outdoors.
What do you see as the most important ways we can care for the outdoors?
I think there are a few things – First, it is important to support conservation even if it means your boots may never hit that ground. The experience of wide-open spaces, abundant wildlife, and that sense of "wild" we get out in nature is, in-part, because there are efforts to protect landscapes and support that wildlife in areas where people can't hike or camp. Many of these same landscapes also provide us with local food and clean water. Nature doesn't stop at the border of our public lands, so it is important to support private land conservation too.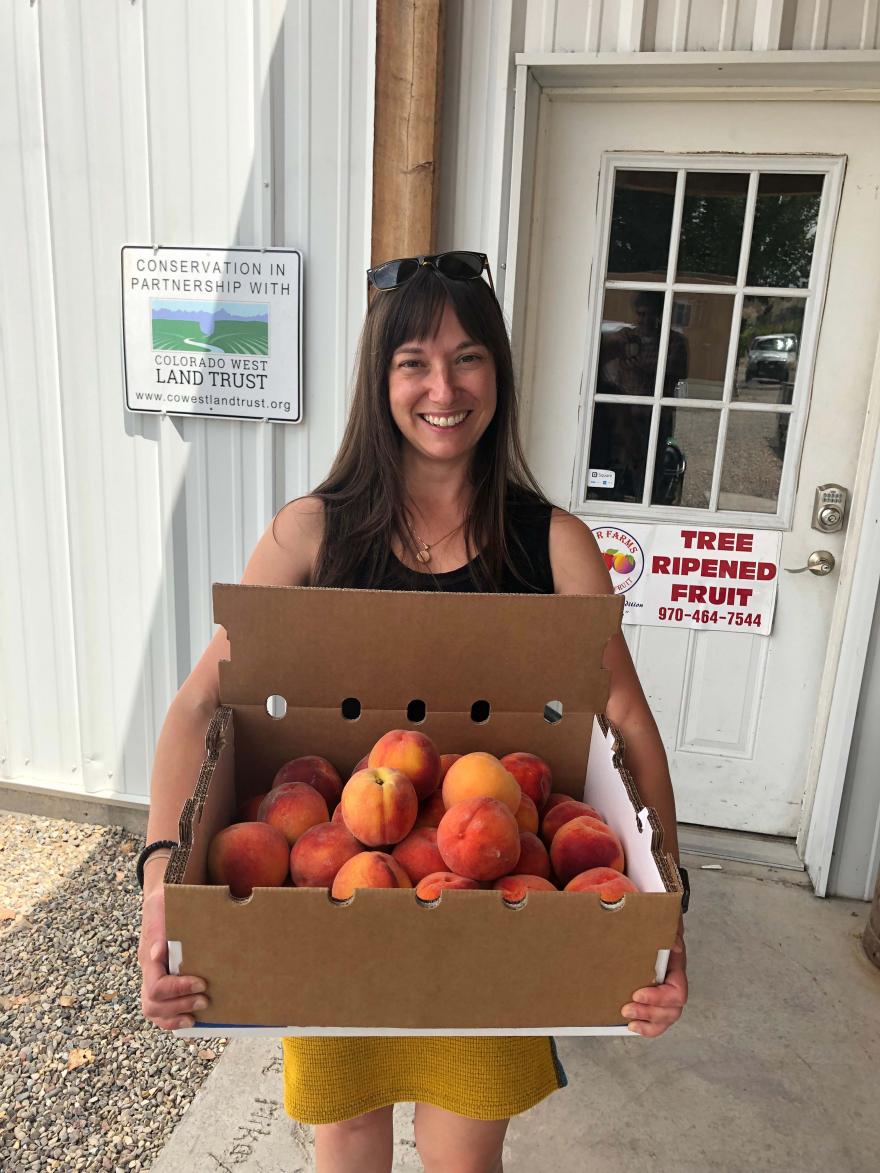 Recreate responsibly and share that knowledge with your friends and family because people protect and care for what they love. Welcome new people to your favorite trail and show them why it is special to you. Keep learning about the spaces you visit and how to be a better steward of those landscapes.
And finally, we need to think about our impact on the outdoors with all choices we make. Everything from always bringing your own coffee cup, walking or biking when you can, supporting local farms and ranches and supporting public policy that protect our outdoors has an impact.  
Where is your favorite place to get outdoors in Colorado?
My current favorite place is anywhere I can be on my mountain bike, climbing with my family or simply sitting quietly next to a river. What I enjoy most about spending time outside is how immediately calming it is for my mind and body. I love watching birds in my yard, getting to know the plants in my garden, listening to the wind blow through the trees and the rich smell of the forest in the spring and fall.  
What do you want to share with the GOCO community?
Roughly 60% of Colorado is private land and these landscapes play a critical role in ensuring our state's future. These are the landscapes that provide wildlife habitat away from human interference, they are the lands that grow our food and filter our water. In order to ensure everything that we love about the outdoors exists for future generations, we must support protecting and stewarding both public and private lands.
And finally, Coloradans are so lucky to have a resource and partner like GOCO that does just that! At Keep It Colorado, we are immensely grateful for the support that GOCO provides us and our membership. But GOCO and the partners they work with can't do it alone. We all need to look for more opportunities to collaborate on innovative solutions for the future.