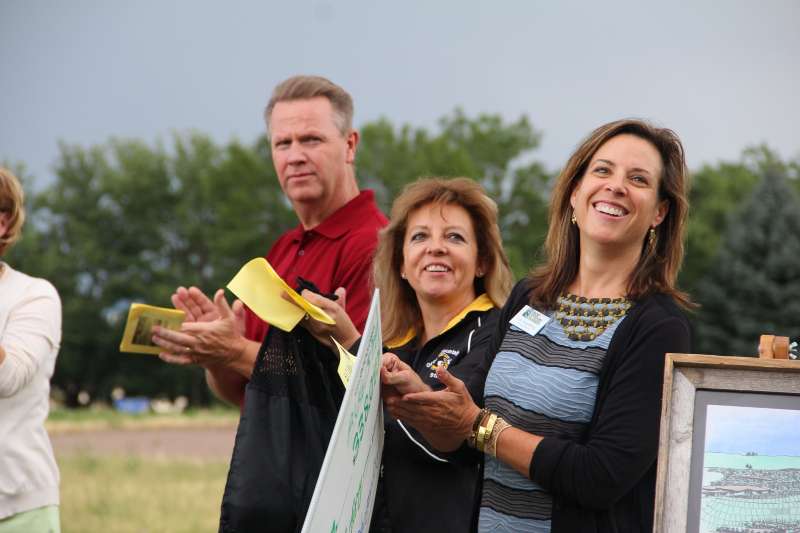 Outgoing Executive Director Lise Aangeenbrug (on the right in adjacent picture) helped start GOCO in 1993, and her departure is one that is bittersweet for all of us at GOCO. We are thrilled for Lise's next step after nearly two decades with GOCO, but will certainly miss her as she makes her way to Washington, D.C. to become the executive vice president of the National Park Foundation. Lise has left an indelible mark on the people and communities of Colorado and each of the staff and board members at GOCO. 
The GOCO Board and staff will forever appreciate Lise's impact on this state and its residents, and are honored to carry on her legacy that will make Colorado a better place to live, work and play. Our hundreds of partners and grantees have expressed the same gratitude for Lise's work; we'll let them take it from here.
"Lise is Great Outdoors Colorado. In her time at GOCO, she has led GOCO to become the number one conservation organization the United States. Lise's work at GOCO has left an indelible mark on Colorado. I am forever grateful for her efforts."
– Ken Salazar, Former U.S. Interior Secretary, Partner at WilmerHale 
"Colorado is a healthier, happier, and more thriving state, thanks to Lise Aangeenbrug.  Lise's passion for the outdoors and her commitment to improving the lives of our citizens, from our urban areas to our wildernesses, has driven tangible results for all of us, and for our children and grand-children.  And she's done this with grace, style, and humility sprinkled with a devilish sense of humor.  Even knowing you will never be too far from Colorado, we will miss you, Lise!  I thank you, my children thank you, my grand-children-to-be thank you, everyone who now lives within a ten-minute walk of a high-quality outdoor place thanks you."
– Tim Wohlgenant, Senior Vice-President, Chief Operating Officer, The Trust for Public Land
"Lise Aangeenbrug is a force of nature, and a wondrous one at that. She can fill a room like a warm spring breeze, gently waking those around her to visionary opportunities. And she can blow through a gathering with the stout confidence of a winter gale, confronting opposing forces while wearing that wry smile. When it comes to getting important things done, Lise has few equals. She will be dearly missed in Denver, and I am grateful to have worked alongside her the past several years. Thank you Lise."
– Scott Sampson,  Ph.D. Vice President of Research and Collections and Chief Curator, Denver Museum of Nature and Science and Author of How to Raise A Wild Child
"I've been working with Lise for 22 years, since I returned to Colorado from graduate school and she was just helping GOCO get underway.  In that time, she has become a good friend and great partner-in-work. She has been responsible for shepherding the unique vision and statewide impact of GOCO for the better part of two decades - bringing intelligence, humor, professionalism and a real passion for the work to her job, and we're all so lucky that she has - it's a rare thing to really positively impact the land and people of Colorado to that degree. We are sad to see her go and grateful that she can now apply her skills for national-scale benefit. Congratulations and Good luck!"
– Beth Conover, Senior Vice President, Gates Family Foundation
"Thank you from all of us in the parks and conservation community for shaping GOCO into such a fine organization – one that truly listens and responds to statewide and local needs. Your work has had a monumental, positive and lasting impact in every part of our great state. Your leadership and the smile that always lifts the spirits of those around you will be missed and fondly remembered. You have led and left a legacy in Colorado, surely you will do the same with our National Parks. Happy Trails…"
– Tom Hoby, Director, Jefferson County Open Space
"Lise has been one of my most valuable partners in my goal to make Colorado the most bicycle friendly state in the US. I truly appreciate her creative approach to our work and tying it into the Inspire Initiative.  I hope I can still count on her counsel and support while she hangs out with the Will and the big dogs in DC!"
– Ken Gart,  The Gart Companies and Colorado Bike Czar 
"I first met Lise nearly two decades ago, when I was Director of the Fourteeners Initiative. Lise and I have always shared a concern not only for the landscapes of Colorado but for the youth who will inherit those lands. While I'm bummed to see Lise leave GOCO, I'm so pleased that she is leaving Colorado with the Inspire Initiative vision. The important funding that GOCO is now directing towards developing the next generation of stewards for our state's treasured parks, trails, and open spaces is a direct result of Lise's passion and hard work. This work will leave a lasting impact on our state and its public lands! Thanks Lise, we will miss you!"
– Keith Desrosiers, Executive Director, Thorne Nature Experience 
"Conservation in Colorado includes Lise Aangeenbrug, simple as that. When I arrived at GOCO as an intern in 1996, I had no real idea who I was working for, or what GOCO was going to become. But I quickly figured out that I was working on something amazing and with a great mentor. Over the past 20 years, Lise has been an integral part of all the incredible conservation successes here in the state. Lise is always willing and in fact adamant that other take the credit, and that's what's helped her to help all of us in Colorado accomplish so much.  Finally, I need to call Lise out for having faith in Colorado's agricultural community, knowing that they were a key part to our collective future, and welcoming them into the larger conservation tent. That faith has led to a fundamental change in conservation, not only here in Colorado, but across the West and increasingly, across the country. I can't wait to see how Lise's next adventure in DC plays out and I look forward to being a part of that as well! "
– Chris West, Director, Rocky Mountain Regional Office, United States Forest Service
"Lise has been a true leader and visionary in Colorado with respect to natural resource conservation and worked very hard to engage all Coloradans in outdoor related recreation."  "She has been a valuable partner with Colorado Parks and Wildlife and many other organizations toward realization of that vision." 
– Bob Broscheid, Director, Colorado Parks and Wildlife
"What a pleasure to have known and worked with Lise as an original board member of GOCO. The vision was huge, long term and cutting edge in the conservation movement. Lise set up our first office and staffed the original board members (all with their own vision, ideas and demands). Lise is smart, committed to GOCO 's mission and, oh by the way, so fun to be around. Best wishes on the next chapter of your adventure."
– Rebecca Frank, Founding Board Member, GOCO
​
"Lise's vision for Colorado will live on far beyond any of us.  She has permanently and positively changed Colorado's landscapes, and because of her passion for sharing the outdoors with everyone - especially the kids - will ensure our most precious resource will be inspired to protect this beautiful state.  Get outside and enjoy the her legacy."
–  Chris Castilian, Chair, Colorado Parks and Wildlife Commission and Director of Engagement & Strategy at Anadarko Petroleum Corporation
Photo by Ryan Hartgerink
Great Outdoors Colorado (GOCO) invests a portion of Colorado Lottery proceeds to help preserve and enhance the state's parks, trails, wildlife, rivers, and open spaces. GOCO's independent board awards competitive grants to local governments and land trusts, and makes investments through Colorado Parks and Wildlife. Created when voters approved a Constitutional Amendment in 1992, GOCO has since funded more than 4,700 projects in urban and rural areas in all 64 counties without any tax dollar support. ​