By Scott Partan
This article is part of our Generation Wild Coalition Storytelling series to give you an inside look at the work being done on the ground in Generation Wild communities – straight from the perspectives of the rockstars involved.
Scott is the Program Director for Garfield County Outdoors and currently resides in Glenwood Springs. He is a US Army veteran, holds a B.A. in Political Science from Georgia State University, and many outdoor certifications. Outside of working to introduce youth and families to the outdoors, he can be found in the mountains in winter, snowboarding, chasing the snowmelt in summer, and paddling the many canyons and rivers of the West.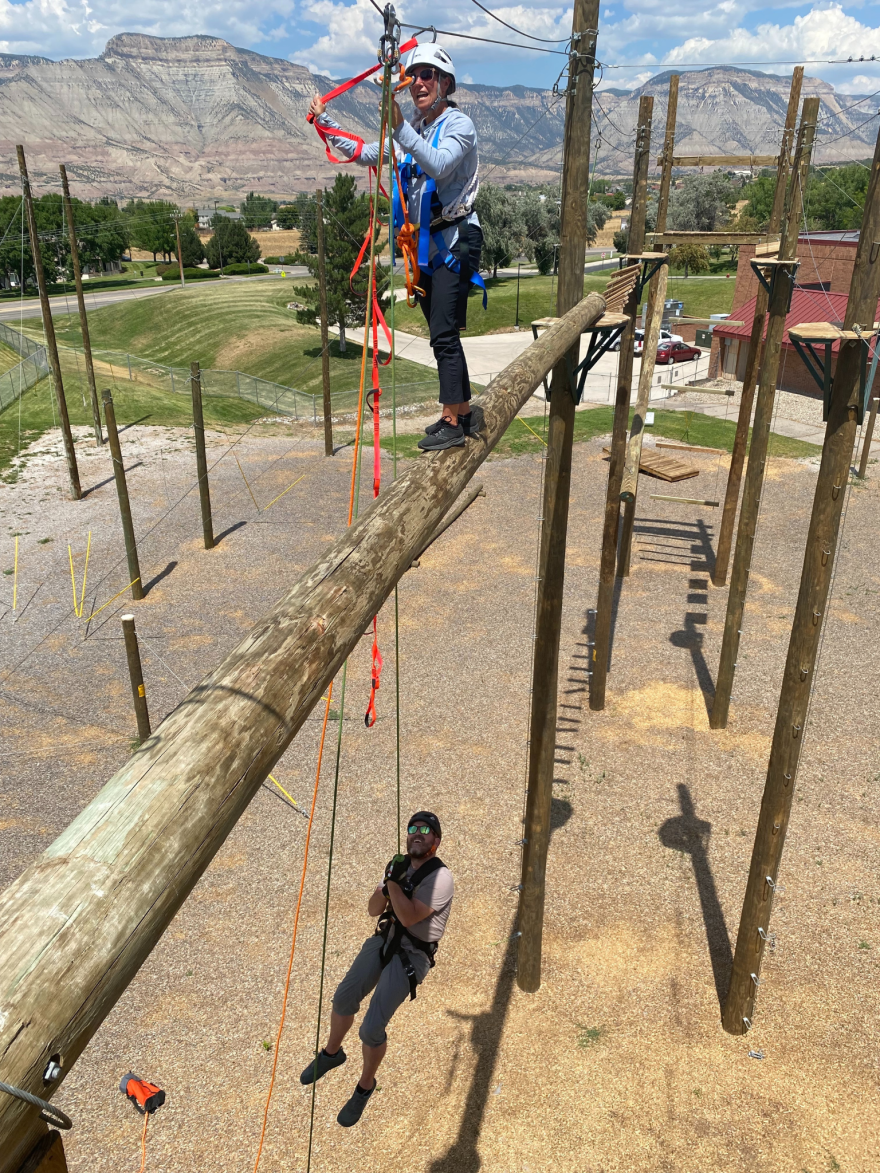 Looking around, I recognized familiar faces on both sides of the classroom, and it was clear that there was a distinct pattern in how folks had chosen their seats at the long folding tables. The Garfield 16 School District teachers were on one side and Garfield Re-2 School District teachers were on the other.
We brought these two groups of educators together to build on our successes as the Garfield County Outdoors Generation Wild coalition and find new ways for mutual support between these two central school district partners. In many years of running various outdoor programs, I'd seen people opt to stay within their comfort zone before. However, I knew that once we all had a chance to spend some time outside and work toward shared goals, that separation would quickly fade, and the team would come together as one.
Laid out on the tables were the materials to prepare for the Grand Valley Challenge Course instructor certification. Located in Battlement Mesa, this obstacle course is a pinnacle of outdoor education for Garfield 16 and consists of various low and high-challenge elements. And today, these educators were going to learn how to lead students through this activity, while learning quite a bit about themselves, too.
Often, when a group approaches the first element of the course, many good ideas are shouted out and the group moves in several directions at once. After a few failed attempts to overcome different elements, groups begin to realize the importance of good communication and asking for help. They begin to see what actual trust and teamwork looks like and find ways to move forward together, with one voice.
This same process mirrors our journey as a Generation Wild coalition. It began with many amazing organizations and community members coming together with a plethora of innovative ideas aimed at breaking down barriers to outdoor participation and getting more youth and their families outside. The coalition developed numerous projects to address the needs of the community and achieve our goals, from funding transportation for school field trips, to providing outdoor-based afterschool programs, and building a school district gear library. But success was compounded once members of the coalition had built relationships and developed trust. We realized that, while these are all great projects, a shared mission, and vision, and creating space for collaboration, would be the most important. And it turns out, these are the same concepts that breed success on a challenge course.
Nothing highlights this success more than the relationship that has emerged between the two school districts at the heart of our coalition: Garfield 16 and Garfield Re-2. At the start, the districts took two very distinct approaches. One relied mainly on outside partner organizations to deliver programming, while the other worked to develop the resources to deliver outdoor education internally as a district. After many years spent at the same table sharing success and addressing challenges, they found that using a combination of both strategies leads to the most community impact. Furthermore, close collaboration between both districts' outdoor education staff was found to be vital in overcoming challenges to getting youth outdoors.
The benefits of this collaboration have spilled over into many other areas. Recently, various pieces of outdoor gear have flowed from one school district to the other for outdoor education trips. But that was just the start, and this cooperation continues to build momentum. What started as equipment sharing now has the potential to expand into a shared pool of staff for both districts. A true partnership is emerging, evidenced by these districts coming together to learn, and eventually deliver, challenge course programming.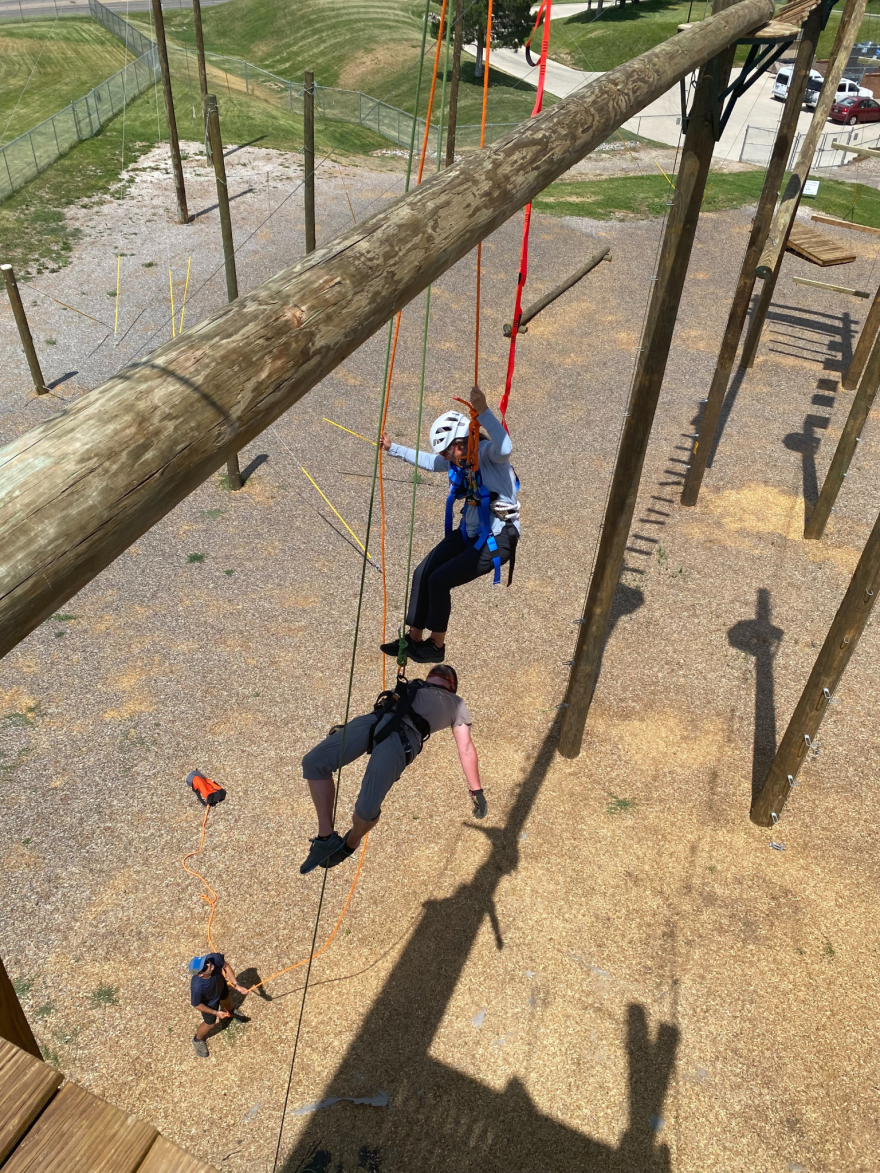 After a week spent learning together, the final topic of the challenge course training was performing rescues when things don't go as planned. One by one, teachers took their turns dangling helplessly from the middle of the course, still high off the ground. Their fellow teachers scaled telephone poles to the top of the course, prepped their rescue equipment, lowered down, and saved the others while offering words of encouragement. They put everything they had learned into practice, and they were succeeding. As I stood at the top of one of the towers observing, I reflected on how this training milestone so closely mirrored our journey as a coalition.
As the final testing wrapped up the next day, teachers from both districts offered to support with programming on their days off, as both districts have different 4-day school week schedules. The group had gone from strangers to committed partners supporting youth getting outside and experiencing the amazing growth that happens in those spaces. I smiled as excitement flowed through me. I realized that the hard work of so many, and the endless hours of relationship building, was truly starting to pay off and push our efforts to new levels.