By Mark Obmascik
This article is part of our Impact Stories series, stories that celebrate the unique ways GOCO partners have enhanced and supported Colorado communities, our quality of life, and our state's wildlife. Since 1992, GOCO funding has been invested in more than 5,200 conservation and recreation projects in all 64 counties – with benefits for all Coloradans.
The town of Ridgway always had a spectacular mountain backdrop, but the front yard needed work.
An old gravel pit splayed along the north end of town. Abandoned cars and refrigerators littered the surrounding brush. The river that ran through it all was so dug up, cut up, and messed up that most residents and visitors just ignored it as they passed over it on a narrow, aging bridge.
Then Ridgway residents pitched a big idea to Great Outdoors Colorado (GOCO).
What if the town banded together to clean up decades of neglect and abuse? What if leaking truck radiators on the banks of the Uncompahgre River were replaced with families playing, walking dogs, and carrying boats into the water? What if Ridgway had an entrance, not an eyesore?
"The idea was to change how we used that river area at the town entrance," said Ridgway Town Clerk Pam Kraft. "We could do a lot better."
GOCO agreed. In 1994, as one of its earliest grants, GOCO contributed $10,000 to start work on the Uncompahgre River in Ridgway. Five grants, 10 years, and $800,000 in GOCO funding later, the river has become one of the town's greatest natural assets.
The shallow, braided river channel was turned into a recreational attraction, drawing boaters and inner tube floaters. The longtime landowner on the west bank donated four acres to create Rollans Park, with a bathroom, trail and other amenities. A pedestrian bridge links the two river banks, so people can access both, sun themselves on boulders set in the east bank, and visit the businesses on that side.
More than a mile of reconstructed riparian habitat now supports grassy areas and willows, alongside a grove of large cottonwoods and several conifer trees. Deer and elk rely on the vegetation to pack on the pounds in advance of harsh mountain winters. Several acres of turned-over floodplain on the east bank, converted into wetlands, attract migrating birds and stealthy beavers, who sneak in to cut down trees under cover of dark.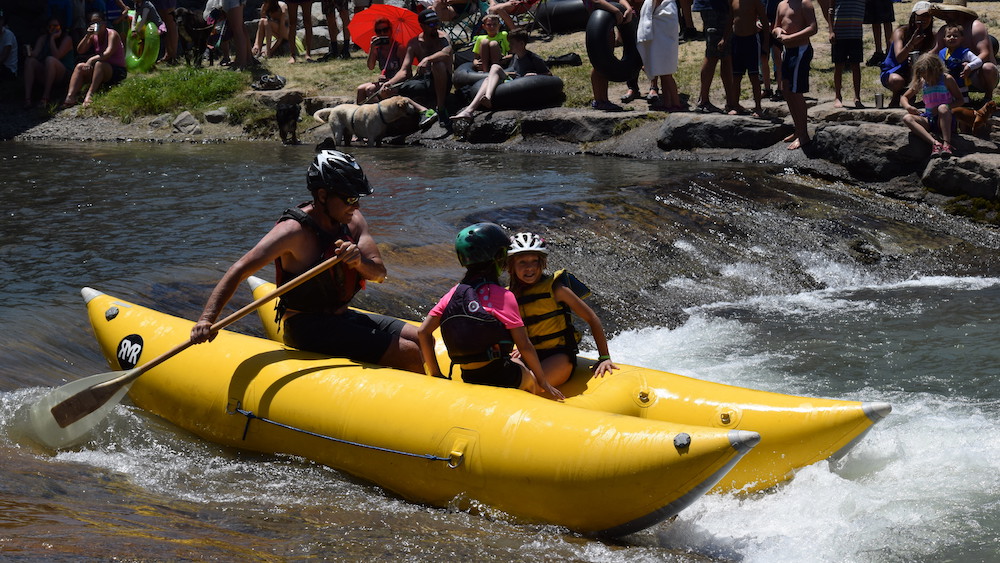 To encourage more human use of the river, the town added in-stream boulders to strategic spots, creating drops and pools enjoyed by kayakers and inner tubers in the summer. Depending on the water level, rafters and stand-up paddleboarders also launch from below the drops to enjoy a trip to the Ridgway Reservoir on Class I and II water. Kids splash along a reconstructed beach. Family picnickers abound.
Outdoor classrooms for local schoolchildren were added, as well as benches, picnic tables and bike racks – a few made by local artists. Longtime residents who knew the river mainly as an industrial drain started doing double-takes when viewing the remade river.
"It went from being an inaccessible industrial area, to being something that was absolutely beautiful and inviting," Kraft said. "Tourists used to see it and keep driving. Now they stop and enjoy it and take advantage of it."
The reinvented river corridor wasn't just for visitors. Ridgway was so proud of its work that it stages a summer river festival, complete with boat races, live bands, local beer, and dancing. Hundreds attend annually. Best of all, the river festival became the premier time for Ouray County residents and visitors to appreciate the river and learn about their watershed.
This year Ridgway RiverFest celebrates its 12th anniversary. The festival has grown so large that, in a town of 1,000 residents, it requires 60 volunteers and 60 sponsors to organize and put on.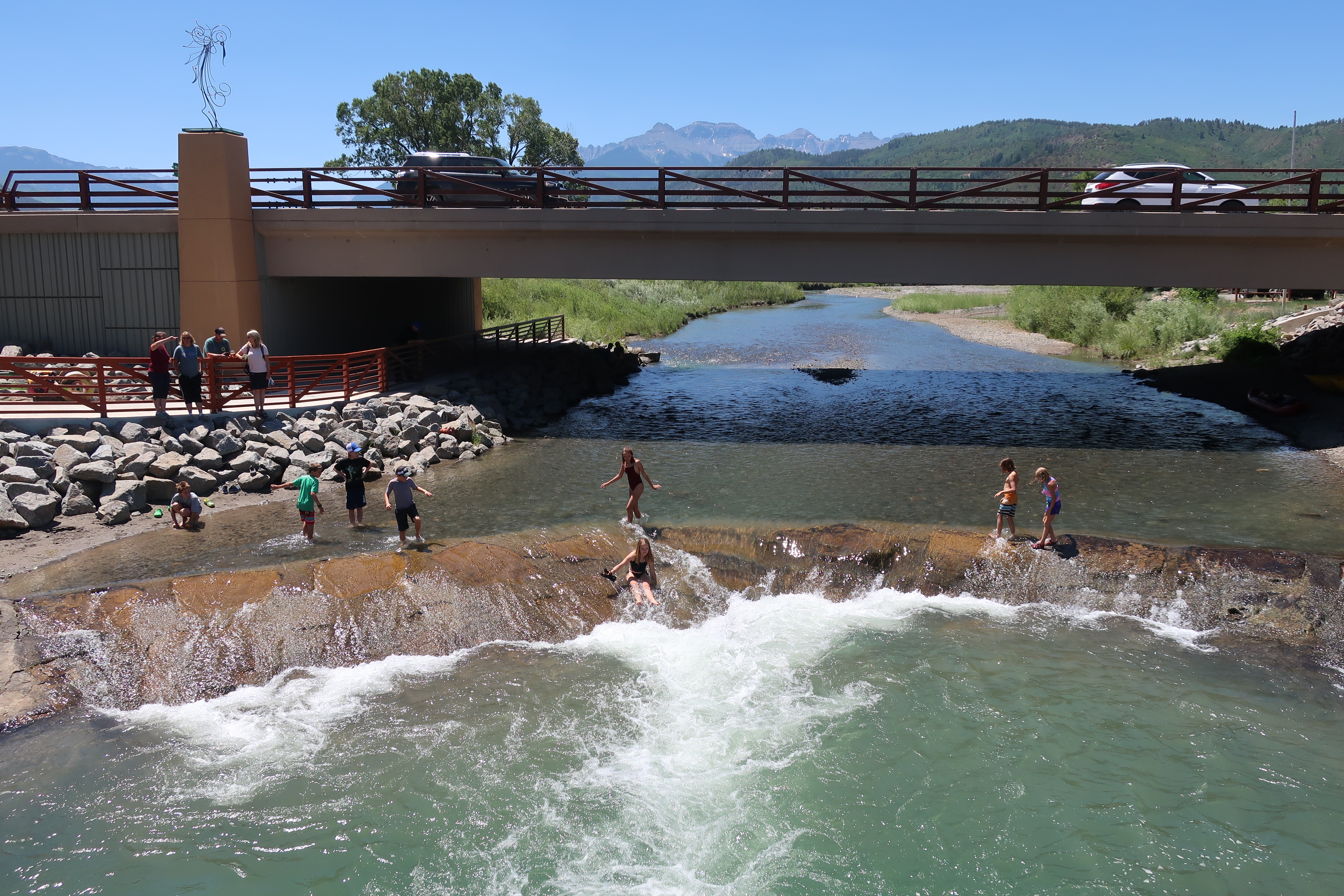 Success along the river bred confidence to take on other big projects. The town asked for and received GOCO help to build a complex of youth soccer and ballfields. GOCO contributed another $130,000 for a Grindline skateboard park that, with the San Juan Mountains looming above, instantly won bragging rights as one of the nation's most scenic.
When a river path was constructed for walkers, runners, and cyclists, it proved so popular that locals wondered if they could replicate their success downstream. Through Colorado Parks and Wildlife, GOCO invested funding to jump-start the planning for what has become a celebrated network of mountain biking trails, located a little more than a mile north of Rollans Park. The Ridgway Area Trails now boast more than 40 miles of singletrack that stretches from the river and dry pinyon-juniper scrubland to alpine meadows.
With increased attention on the Uncompahgre River, people began to think about the legacy of abandoned mines upstream, which along with natural runoff from Red Mountain, left heavy metals leaching lead, zinc, cadmium, arsenic, and other contaminants into the water. While local drinking water is sourced from other resources, the heavy metal contamination has left most of the upper watershed nearly void of aquatic life.
In 2007, Ouray County residents founded the Uncompahgre Watershed Partnership (UWP), dedicated to protecting and restoring the Upper Uncompahgre watershed. The citizens group, which became a nonprofit in 2013, now organizes several activities year-round including community and classroom education.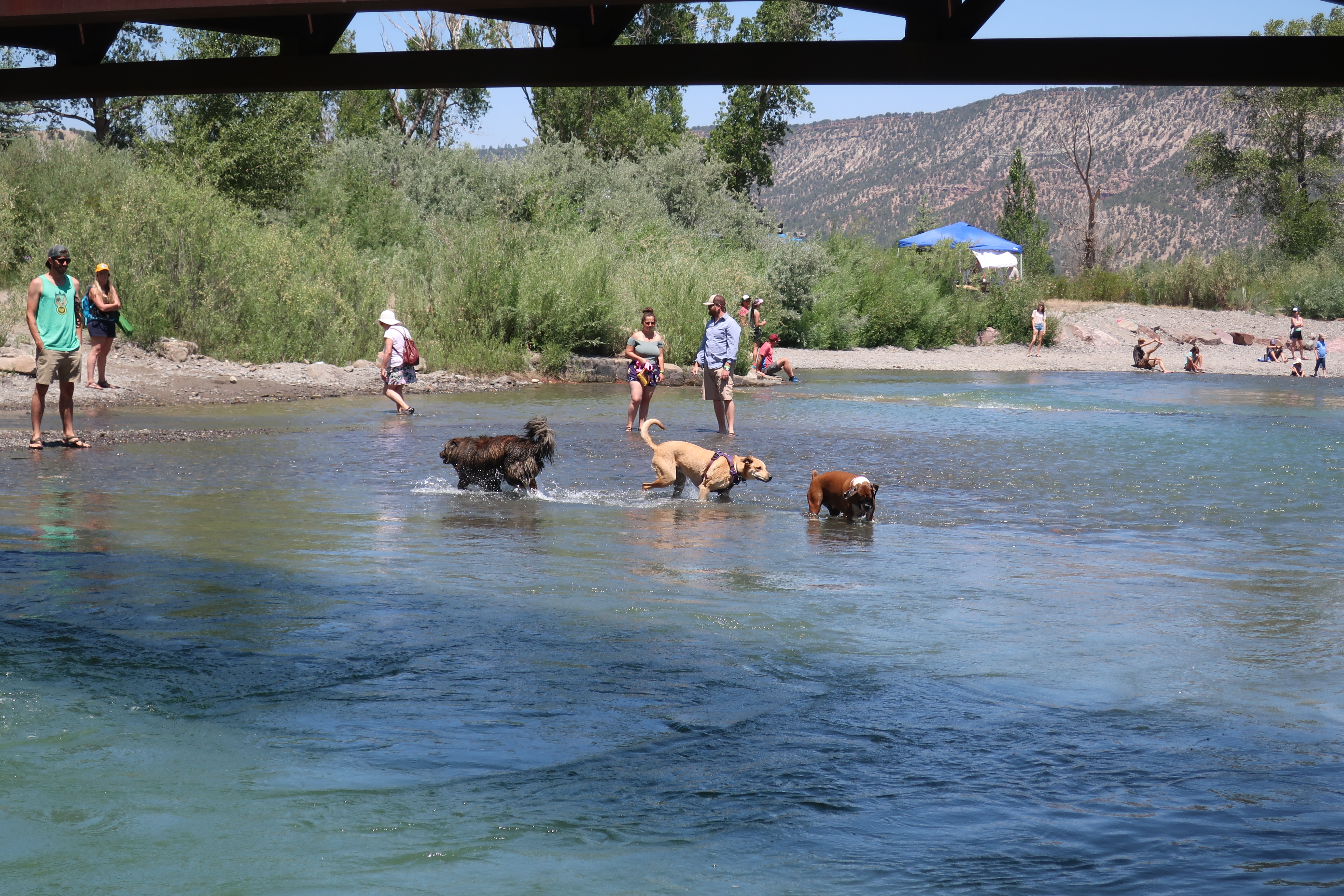 UWP's largest and most impactful project to date was the diversion of natural flows away from contaminated tailings at the historic Atlas Mill, Vernon Mine, and Michael Breen Mine, to improve streams that flow into the Uncompahgre. Annually, volunteers also plant willows and trees, remove weeds and clean up litter to protect the river, stabilize banks and support nesting birds.
"With all the new access to the river comes caring for it as well. It has become an amenity for the town," said Tanya Ishikawa, UWP's communications coordinator. "People just have a better connection to the river, so when we ask people to help clean it up or donate to our remediation efforts, people want to be a part of protecting and improving it."