By Elena Smith 
This article is part of our Generation Wild Coalition Storytelling series to give you an inside look at the work being done on the ground in Generation Wild communities – straight from the perspectives of the rockstars involved.
Elena is the Environmental Education and Outreach Program Manager at the Sand Creek Regional Greenway Partnership, a Generation Wild of the Northeast Metro Coalition partner. Elena is passionate about providing opportunities for everyone to access nature and is excited for the opportunity to get youth and adults out onto the Greenway and connect them with the natural world outside their front doors.
"This is so cool! So many animals were here this morning!" second-grader CJ exclaimed as he examined the cottontail rabbit tracks in the snow. Although everyone was bundled up on this crisp but sunny Colorado morning, CJ and his classmates eagerly followed the rabbit tracks leading to the frozen nearby pond in Sand Creek Park. This is just one of many explorations CJ has participated in recently. Found within the City of Aurora, Sand Creek Park provides an outdoor classroom for kindergarten, first, and second grade students at Compositive Primary. With Compositive Primary located only a couple of blocks away from the park, students visit the park at least once a week, diving headfirst into nature science with help from environmental educators from the Sand Creek Regional Greenway Partnership (SCRGP) and the City of Aurora.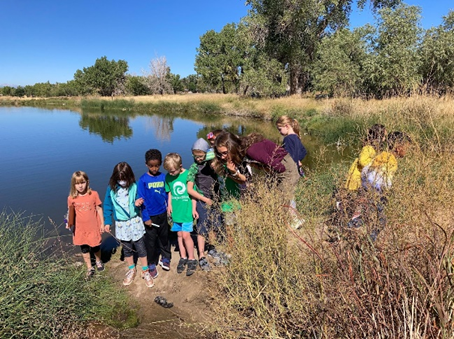 Both the SCRGP and the City of Aurora are part of the Northeast Metro Generation Wild coalition. Supported by funding from Great Outdoors Colorado, SCRGP and the City of Aurora work together to deliver hands-on environmental education programs for these young nature scientists that bring learning into the outdoor space. With support from Compositive Primary staff, students have had the opportunity to make their own clouds, conduct edible plant scavenger hunts, build their own lean-to shelters, and much more. This program is designed to provide an avenue for students to get outside during the school day and dig deeper into what they are learning in the classroom. As stated by Olivia, one of the school's second grade teachers, "Learning should not just be in the classroom, and this gives them the opportunity to do that."
The Sand Creek Regional Greenway Partnership recently interviewed several students and teachers involved in the program to see what their experience in their local outdoor classroom has been like so far.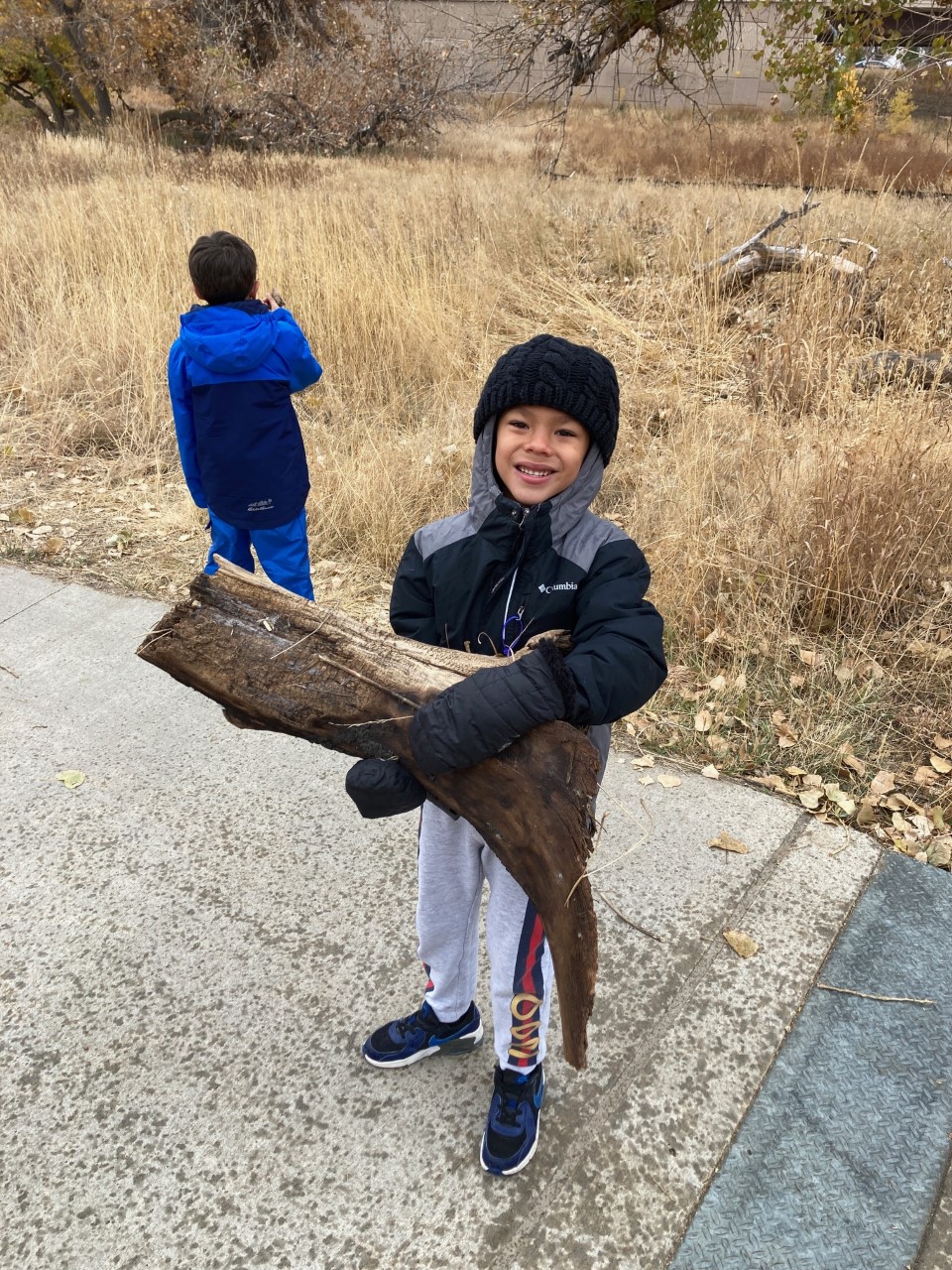 Students were asked about their favorite part of going to Sand Creek Park. Roberta, a second-grade student who also had the opportunity to come to the park in first grade, said, "I like to see all the nature, learn about new things, take a break from school and get to explore." Roma, a first-grade student agreed and said, "You can also see lots of animals!" During their time at Sand Creek Park, students have observed seasonal changes, including differences in the number of wildlife sightings from the fall through the spring.
Students were also asked about their favorite activity or memory at Sand Creek Park. Excitedly, students Ryder and Roma jumped up and exclaimed "the cloud experiment!" This activity was a crowd favorite. From December 2021 through March 2022 students tracked weather changes. To start off the data collection process, students learned how clouds form and cause rainstorms and then saw it in action when they created their very own rainstorm in a jar.
Jack's favorite activity has been "walking around the whole park," which students have done many times. By exploring the park, students become more comfortable in this outdoor space. Creating a safe, accessible, outdoor learning space that encourages curiosity, exploration, and self-discovery is a large driver of the program. In addition, Tamara, a second-grade teacher, commented that, "[The program] provides an avenue to dive more in depth into what we are learning in the classroom. It provides a space for the practical application of learned skills, such as their collaboration skills."
Additionally, the program aims to inspire program participants to explore outdoor spaces like Sand Creek Park on their own by fostering a personal connection to the nature around them. When asked if educational programming at Sand Creek Park inspired students to come to the park outside of school, Amelia exclaimed "Yes! I have taken my mom here already." Shortly after, Emma said, "Yes, I bring my friends here because I like being with them outside." Other students like Roberta have not had the chance to bring their family and friends to the park just yet but hope to do so in the future. "I would bring my family because I would want to share the experience with them" she says.
Positive student and teacher experiences in the program and a shared desire to foster a personal connection to nature continues to drive the partnership between Compositive Primary, the SCRGP, and the City of Aurora forward. Who knows what fun outdoor activities the next school year will bring?
---