By John Reesor
This article is part of our Generation Wild Coalition Storytelling series to give you an inside look at the work being done on the ground in Generation Wild communities – straight from the perspectives of the rockstars involved.
Rio Trio Race Director John Reesor is the Outdoor Recreation Supervisor and Grants Coordinator for the City of Alamosa, a partner of San Luis Valley Great Outdoors and the San Luis Valley Generation Wild coalition.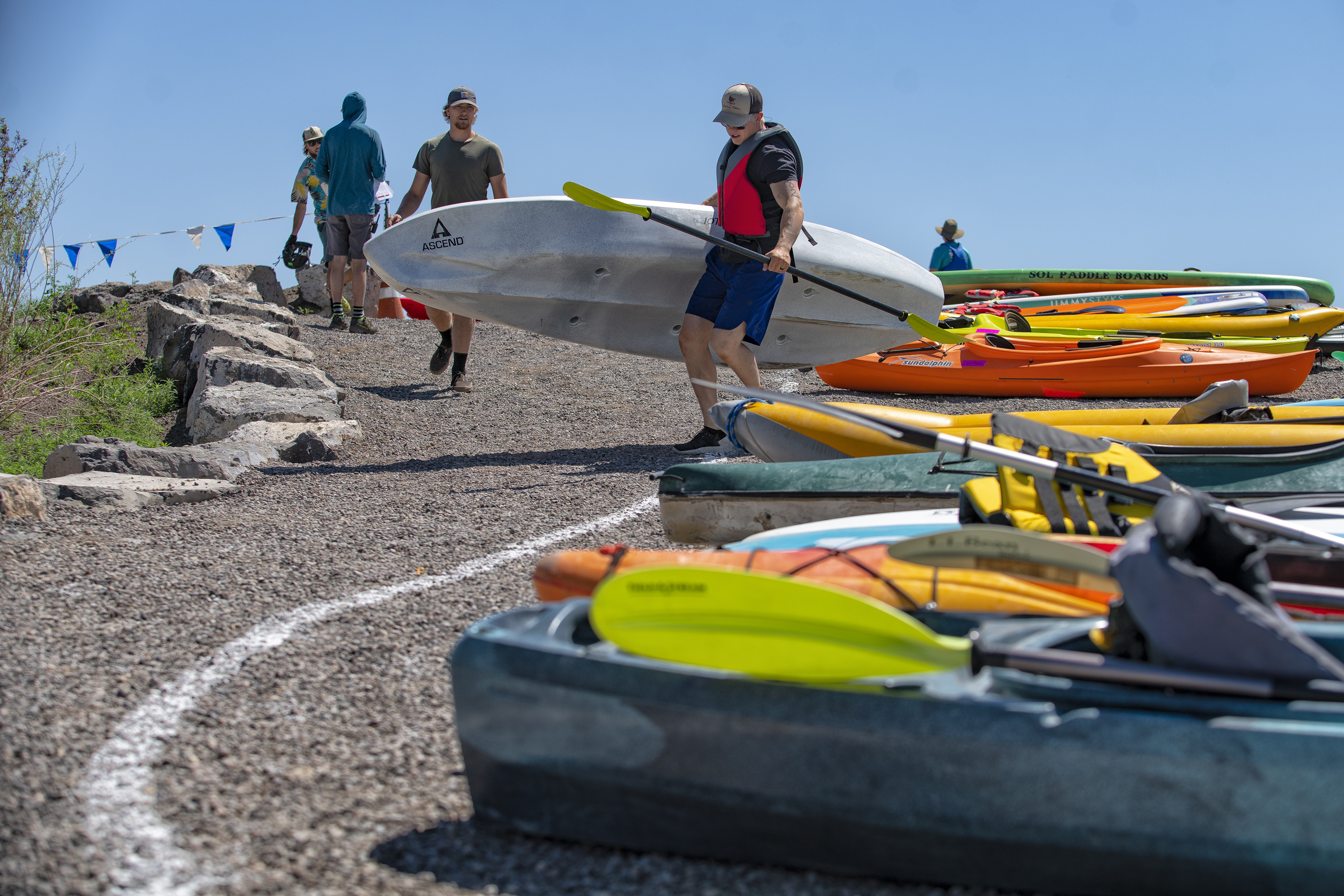 The second annual Valley Bottom Rio Trio (or 'Rio Trio' for short) is coming back to Alamosa, Colorado on Saturday, June 11, 2022. And it's an endurance event you won't want to miss!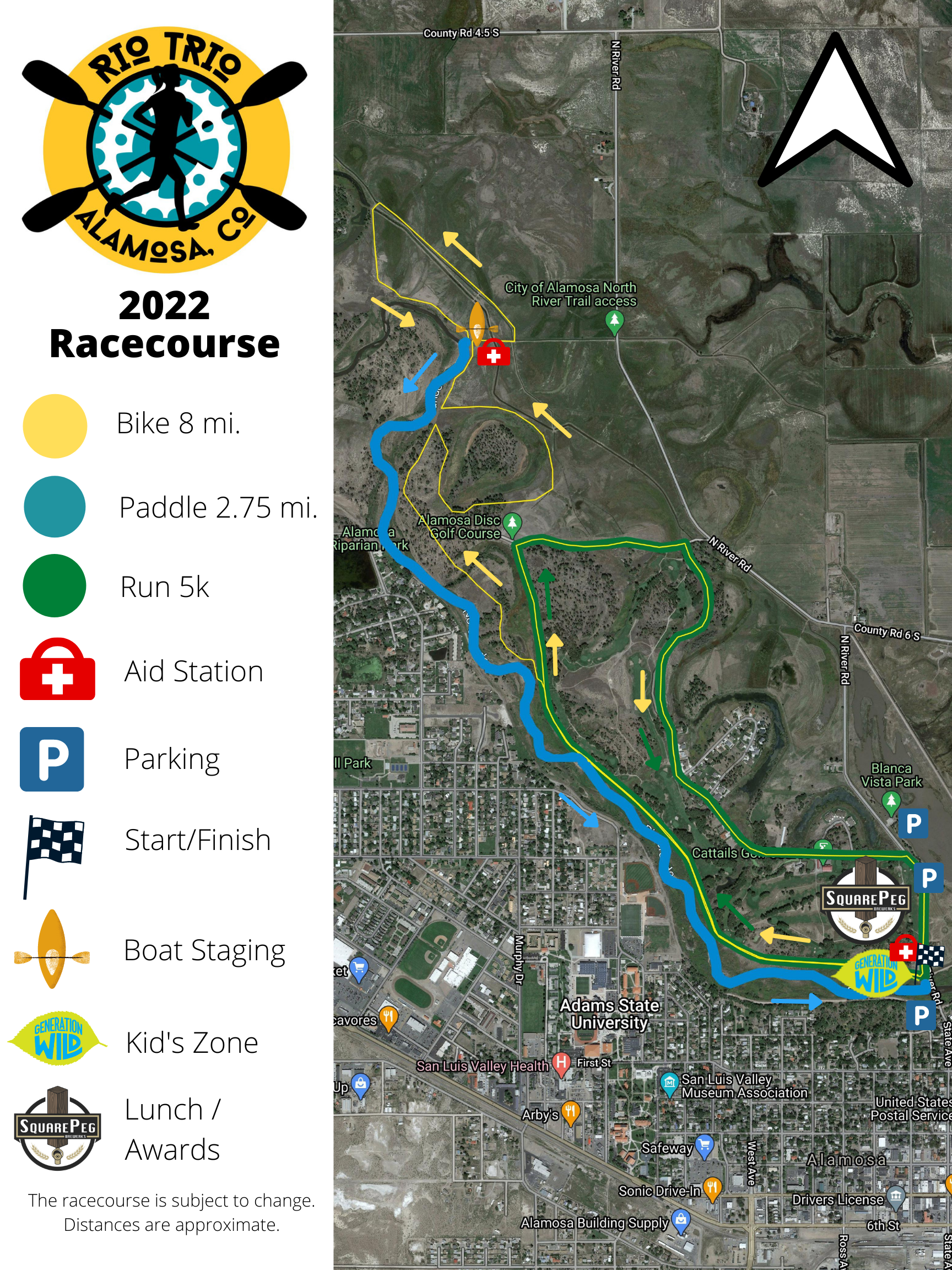 This new adventure-style triathlon put on by the City of Alamosa, San Luis Valley Great Outdoors, and Visit Alamosa takes place both along and on the Rio Grande and includes an 8-mile pedal, 2.75-mile paddle, and 3.1-mile run- view this years racecourse here. Whether you're a competitive athlete tackling the whole thing solo or a family team looking for a fun way to get outside for some exercise, the Rio Trio is for you. Participants have the option to do the race solo or as a part of a three-person relay team. Kids can also participate in an adventure mini-triathlon taking place that day. Following the race, you can reward your efforts with locally sourced food and beer.
What's noteworthy about the Rio Trio is that this race could not have existed 4 years ago. In 2017, the City of Alamosa did not have any single-track trail and it did not have any public access put-ins or take-outs along the roughly 5-mile stretch of the Rio Grande that bisects the city. While much of the State of Colorado was seeing its outdoor recreation amenities "loved to death," the rural Alamosa community had a relatively pristine river corridor and undiscovered, yet robust (24+ mile) trail system.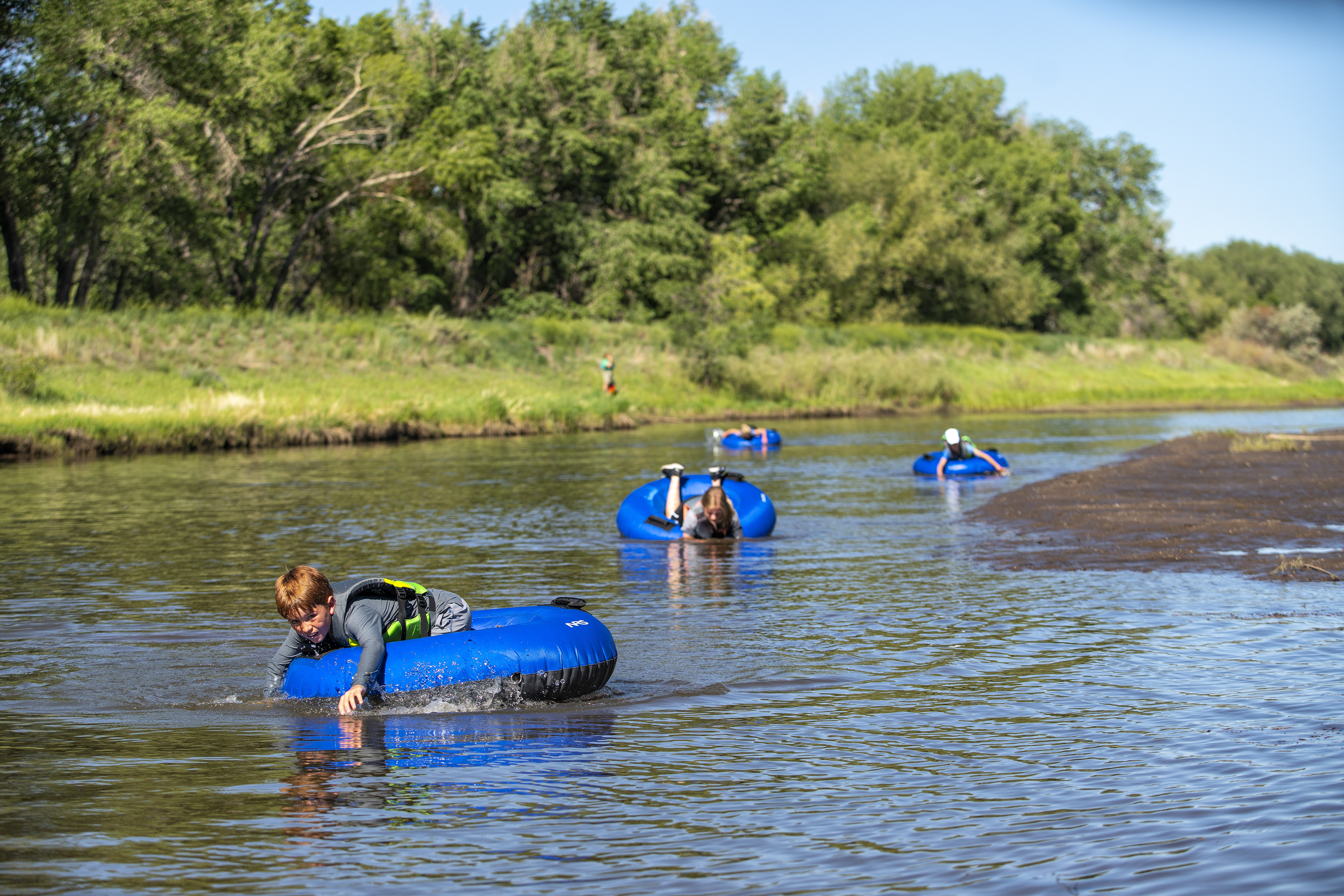 Since 2017, outdoor recreation has taken off within Alamosa. Great Outdoors Colorado (GOCO) helped kick-start grassroots efforts to expand recreation and outdoor education opportunities through a grant that helped to establish our local Generation Wild coalition, San Luis Valley Generation Wild. Children and families began to experience the outdoors right in their backyard as Alamosa's open spaces were activated through expanded programming and improved infrastructure. 
Investments have been made in new trail construction and maintenance, wayfinding and signage, fishing piers and angler access, land acquisitions (and subsequent conservation easements), streambank stabilization and fish habitat, and bridges and boardwalks. These efforts to ensure equitable access to the outdoors, in part, helped Alamosa earn national recognition with the Robert Wood Johnson Culture of Health Prize. 
As Alamosa began to experience a groundswell of support for outdoor recreation, our community, along with the rest of the world, was hit by the COVID-19 pandemic in the Spring of 2020. This poured gasoline on the outdoor recreation flame, and more people than ever before began to use our trails and open spaces. Data collected by Visit Alamosa show a roughly 400 percent increase in visitation to Alamosa City trailheads from April 2018 to April 2020. Near the end of that year, GOCO provided the City of Alamosa with a Resilient Communities grant which paid, in part, for two new boat ramps in Alamosa – the first-ever public access points on the Rio Grande in Alamosa. And then in June 2021, the Rio Trio was born! 
A race on this scale including biking, boating, and running was now possible after years of community organizing and funding support from the State and private donors. The public reception was overwhelming. Race organizers set out with a goal of registering 40 participants and to more or less "pilot" the concept for the race. Two weeks before the 2021 race, 110 people were signed up and organizers decided to close registration so as to not get overwhelmed! The first race was a resounding success, and it was clear to participants and organizers that this race concept had staying power. Roughly half of the participants were locals and half were from outside of the San Luis Valley.  
 Now, it's your turn to be a part of history in the making! Race registration is now open for the second annual June 11 Rio Trio at rioraces.com. The race is open to 150 participants this year; however, we expect to sell out. If you are still reading this, please consider joining us this year in sunny Alamosa for an unforgettable event. And of course, help us celebrate the work that our local community has done to revitalize our stretch of the Rio Grande Corridor; the River that is the recreational, economic, and cultural lifeblood of our community.