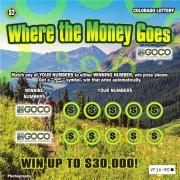 Usually, to earn money from GOCO, it takes more than just scratching the surface.
There is a comprehensive grant application, lots of nitty-gritty details and evidence of public support.  Frankly, it's not easy. Or, as they say, everyone would do it.  Earning a GOCO grant in what is a very competitive environment is a significant achievement.
But now there's a new option.
Rolling out this month to your local Colorado Lottery retailer will be a new scratch game called "Where the Money Goes."  And one of the four versions of the $2 game should hopefully look familiar. It will sport the GOCO logo and an image of Crested Butte by local photographer Tom Stillo that also graces our annual report, social media channels and other GOCO stuff.
We should mention the series also highlights Colorado Parks and Wildlife, the Conservation Trust Fund and the state  BESTgrant fund for school construction. It's only fair since that is indeed where all the money actually goes.
GOCO receives up to half of the state's lottery revenues while 40 percent goes to CTF to be distributed to every local government on a per capita basis, and 10 percent goes to CPW, which notably does not receive any state funding. Spillover funds go to BEST, which last year totaled $8.6 million. ( GOCO grants about $30 million a year of its funds to CPW programs and state parks.)
So hopefully someone reading this will be a winner – five top prizes of $30,000 plus dozens of prizes of  $2,000, $500, $200 and so on. For those who purchase  a "non-winner" (in lottery parlance),  please remember that any  attempt to scratch your way to big bucks is not without a silver lining. A portion of that ticket sale, and any sale by Colorado Lottery, will go to preserve, protect and enhance the great outdoors.  That's unique to Colorado and how we help fund state and local parks, trails, wildlife habitat and protection, river restoration and access, playgrounds, natural open spaces and scenic lands, youth corps, outdoor education and more.
So play "Where the money goes" and we will all be the richer for it.