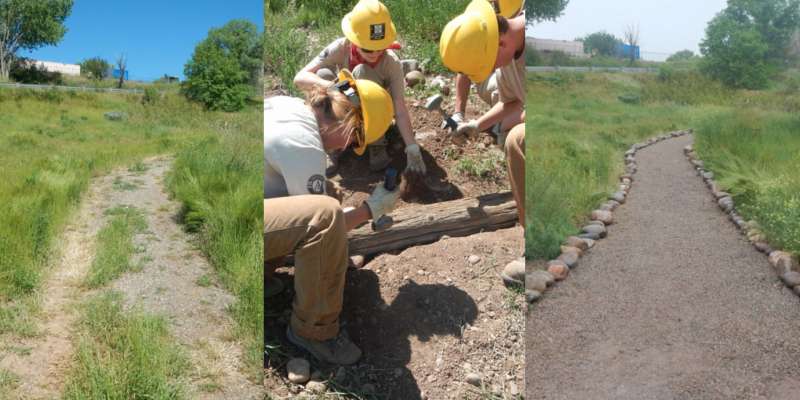 This latest edition of Where Do You GOCO is running a little late - please excuse our tardiness! Nearly 30 projects closed in March, including trail work, park improvements, master plans, and wildlife habitat conservation.
The project count is especially high this month (but the blog is not especially long, don't worry!) because all 17 Colorado Youth Corps Association Projects wrapped up in March. You can read about each of these projects here - the picture on the left gives you a taste of what the corps members do in communities.
Coal Creek Community Park
The Town of Coal Creek received a $105,000 GOCO grant to renovate its ballfields, add a restroom, and park amenities making the park more enjoyable and user-friendly. New sidewalks that are handicap-accessible were built, along with utility upgrades making the park more efficient and upgrades to fix drainage and flooding issues. 
The heavily-used ballfields received a complete overhaul, with new grass, fencing, bases, and sprinkler systems. GOCO funding also provided a new pavilion and outdoor lighting in the picnic area to improve safety and provide shade for park visitors. Climbing rocks and other natural boulders were installed as well as a new swing set to give kids a place to play outdoors and connect with nature. Finally, GOCO funding allowed for new signs to be installed near the park to increase awareness and make it easier to find.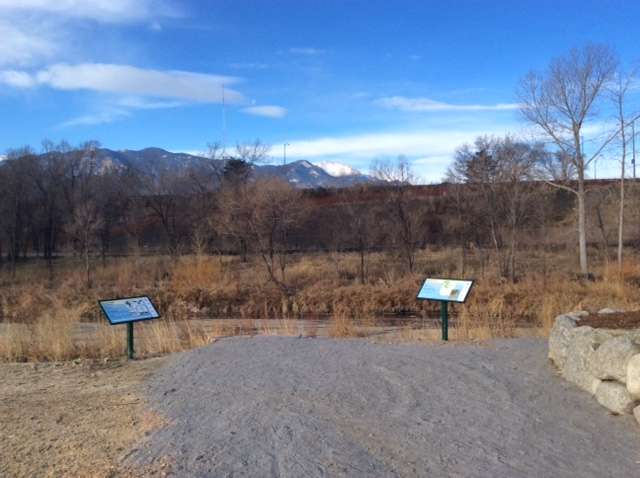 Fountain Creek "Legacy" Grant Projects Wrap Up
Improvements to America the Beautiful Park and the Clear Spring Ranch Trail in Colorado Springs were part of a $2.5 million "legacy" grant GOCO awarded along the Fountain Creek corridor. The initiative included multiple projects along Fountain Creek in Colorado Springs, Fountain, Pueblo, and parts of unincorporated El Paso County.
A $240,000 GOCO grant directly funded highly demanded improvements to America the Beautiful Park. The project provided direct access to Fountain Creek by removing a berm and building a trail with stairs for easy access. A nature-themed playground was also built to encourage children to connect with nature in unstructured playtime.
GOCO also awarded $650,000 to the City of Colorado Springs to add and or improve 4.3 miles of trail, connecting Clear Spring Ranch with Old Pueblo Road. Parking for horse trailers, hitching posts, and a horse corral were also added. Educational signage was also installed to explain historical attributes of the trail, wildlife and plant species found along the creek, and the significance of Fountain Creek and its floodplain.
Gap and Opportunity Analysis in Mesa County
The Mesa County Health Department put a $37,000 GOCO grant to work to address the growing disconnect between youth and families and the outdoors. In an outdoors mecca like Mesa County (think Grand Junction, Fruita, etc.) it's hard to imagine that kids aren't spending all of their time outdoors, but barriers like time, cost, and lack of experience all play into that. Mesa County will use the information from its gap and opportunity analysis to inform its Inspire Initiative coalition that is tackling these problems head-on.
Legacy Land Trust Transition Assistance
The Land Trust Alliance used a $20,000 GOCO grant to evaluate the options for the Legacy Land Trust, based in Fort Collins, to remain in operation. Ultimately, it was determined the best solution for the organization and its 43,000 acres of conserved lands was a merger with Colorado Open Lands, which was completed earlier this year. As part of the merger, Colorado Open Lands accepted more than 100 of Legacy's conservation easements. The Land Trust Alliance and Colorado Open Lands wrote a white paper on the evaluation of Legacy and the merger process, to educate other land trusts in Colorado and nationwide in similar situations.
Master Plans in Gunnison, Evergreen, and Crested Butte
GOCO planning grants are essential for a thorough planning process to inform park, trail, and open space development. That expertise doesn't come cheap, and GOCO funding of master plans helps ensure future funding is spent efficiently and strategically. Master plans also give community members a voice, making sure the future park, trail, or an entire department's work is meeting the community's needs.
A $60,000 planning grant allowed the Town of Crested Butte to prioritize improvements to Big Mine Park, and to complete design and engineering documents for future developments. In Evergreen, a $49,000 GOCO grant helped the Downtown Evergreen Economic District develop a master plan to make Evergreen more bike and pedestrian friendly and to close gaps in existing trails systems. In Gunnison, the entire parks and recreation department needed a fresh look forward to accommodate population growth and changing community needs – the previous master plan hadn't been updated since 1996.
McStay Ranch
Each year, GOCO awards approximately $30 million to Colorado Parks and Wildlife (CPW) projects, including the Colorado Wildlife Habitat Protection Program. The program helps landowners permanently conserve their land and makes sure that wildlife will always have a home in Colorado.
Most recently, $220,000 from GOCO helped CPW and The Nature Conservancy to conserve 3,492 acres of the McStay Ranch in Moffat County. The ranch is home to Greater Sage Grouse habitat (find out why that's important on this NPR broadcast) and provides critically important winter range habitat for elk, deer, and pronghorn.
Pinewood Reservoir Recreation Improvements
Larimer County received more than $150,000 in GOCO funding to upgrade Pinewood Reservoir in Loveland. The county renovated old campsites and constructed new ones and extended the boat ramp to accommodate more days of use. The project also constructed new educational kiosks, an outdoor classroom, and a nature-themed playground.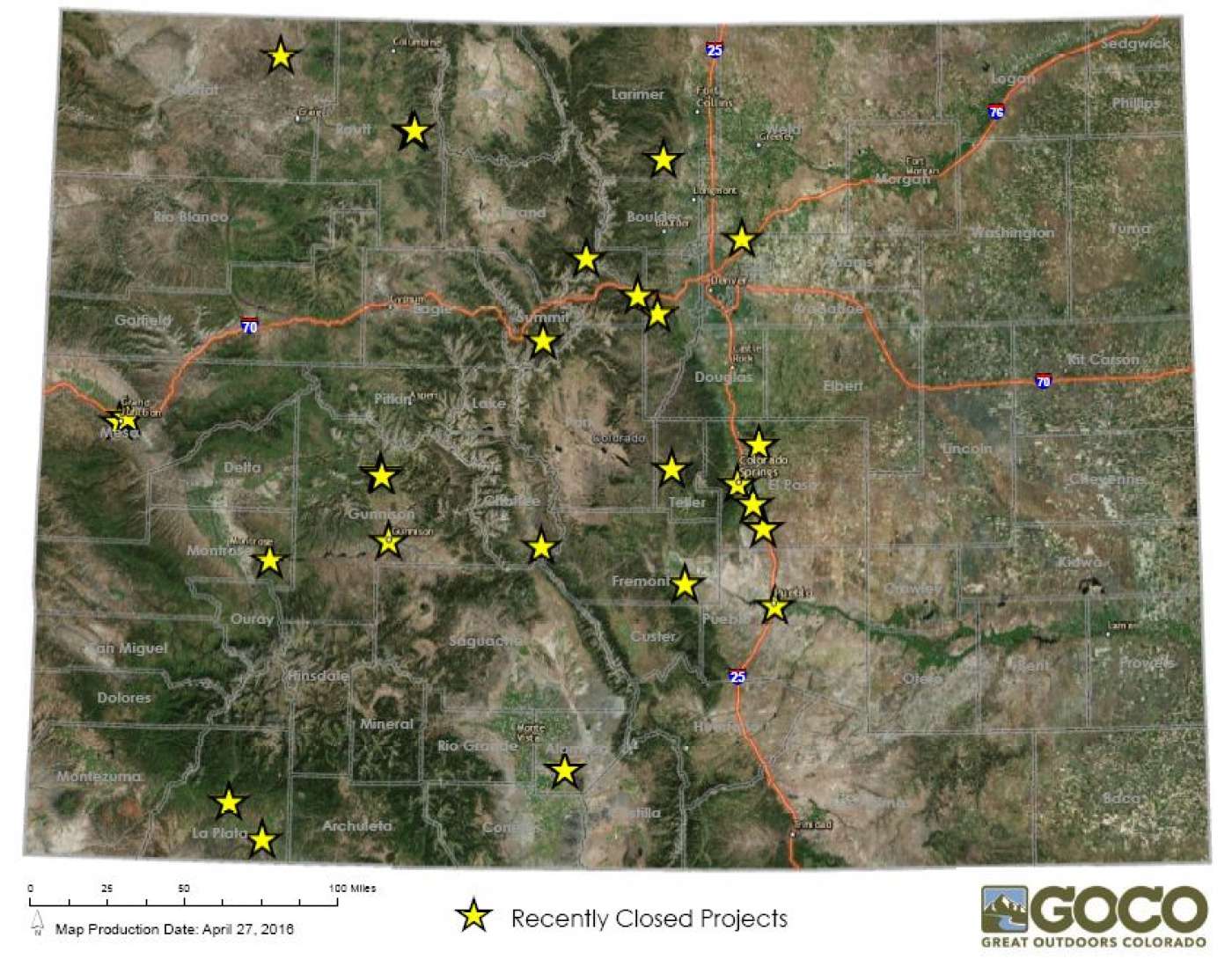 Great Outdoors Colorado (GOCO) invests a portion of Colorado Lottery proceeds to help preserve and enhance the state's parks, trails, wildlife, rivers, and open spaces. GOCO's independent board awards competitive grants to local governments and land trusts, and makes investments through Colorado Parks and Wildlife. Created when voters approved a Constitutional Amendment in 1992, GOCO has since funded more than 4,700 projects in urban and rural areas in all 64 counties without any tax dollar support.