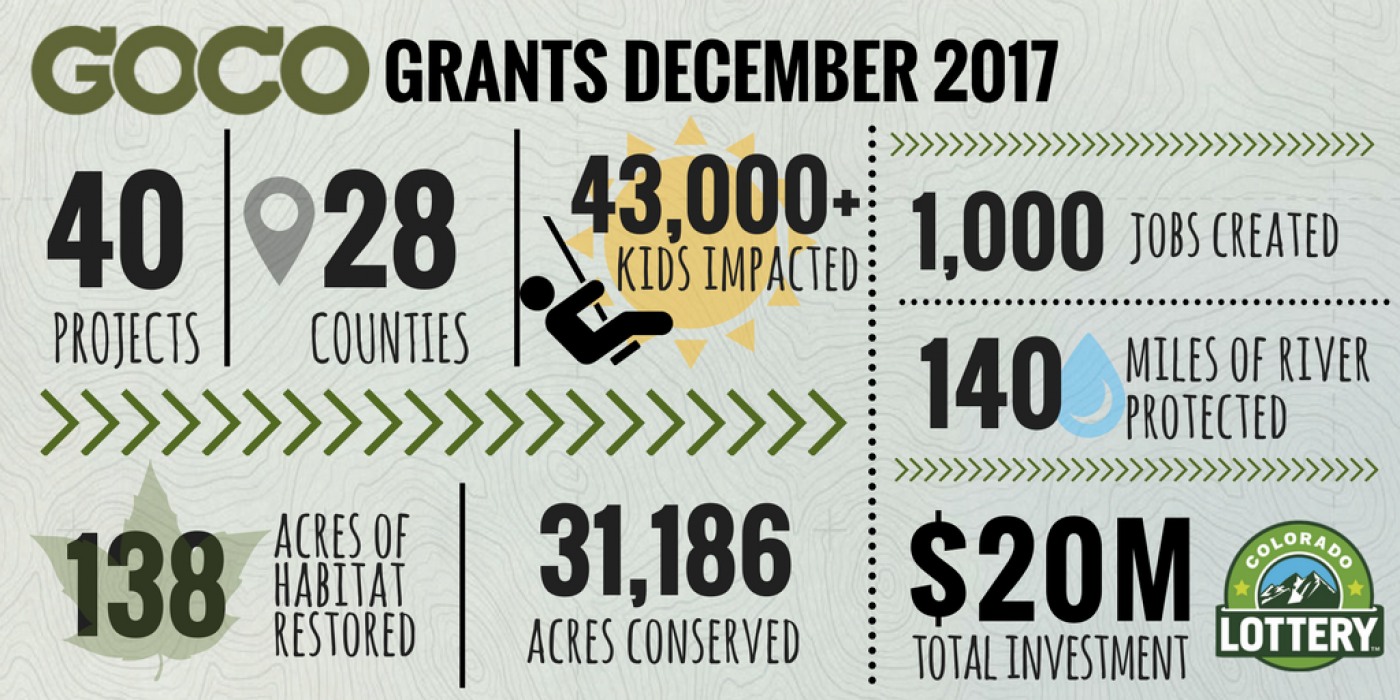 DENVER - The Great Outdoors Colorado (GOCO) Board awarded $20 million in grants to projects across Colorado on Friday.
In total, this round of grants will:
Invest in 40 projects in 28 counties

Impact more than 43,000 youth

Create approximately 1,000 jobs

Plant more than 3,600 trees, shrubs, and flowering plants

Conserve 31,186 acres of land and 140 miles of rivers
The majority of the funding just awarded, totaling $14.1 million, is dedicated to GOCO's Inspire Initiative to get kids outside.
Nine community-based coalitions were awarded funding for places, programs, and pathways that will make the outdoors more accessible for all Colorado families. Coalitions spent the last 18 months empowering local youth to lead community engagement, research, and planning efforts to address their community's specific barriers keeping local kids from getting outside.
Inspire's innovative approach is being looked at as a national model, and the coalitions' approaches will serve as examples to other rural, urban, suburban, or mountain communities across the country. This final round of Inspire funding was supported by a $4 million grant from the Colorado Health Foundation, a $75,000 grant for rural communities from the Boettcher foundation, and a $50,000 donation from DaVita. The nine Inspire coalitions funded will impact more than 43,000 youth and create nearly 1,000 jobs.
GOCO's open space grant program also awarded funding today, investing $5 million the conserve more than 31,000 acres of land in Colorado. Open space grants fund public and private land conservation projects that sustain local agriculture and economies, give outdoor recreationists a place to play (or simply enjoy the view), protect wildlife habitat, and safeguard the state's water supply.
Finally, GOCO's habitat restoration and Youth Corps programs awarded a combined $1 million in funding for projects to improve Colorado's forests, waterways, and grasslands.
GOCO awards Youth Corps funding through the Colorado Youth Corps Association (CYCA), a statewide coalition of nine accredited corps that train youth, young adults, and veterans (ages 14-25) to work on land and water conservation projects. Corps members earn a stipend for their full-time service and an AmeriCorps education award to use toward college or trade school. CYCA serves 1,700 young people annually.
Funded projects are as follows:
INSPIRE INITIATIVE - $14.1 MILLION AWARDED
Eagle Valley Outdoor Movement (EVOM), $1,412,710 grant to Eagle County
The EVOM coalition aims to provide equal access to outdoor opportunities for underserved youth and families in Edwards, addressing a variety of barriers to the outdoors, including lack of awareness of outdoor recreation opportunities, transportation, perceptions of risk and safety, time, and costs associated with programs and equipment.
EVOM's plans include providing places for free play in two neighborhoods: Lake Creek Village and Eagle River Village. New nature play areas and community gathering areas, a pump track, and improved bike path access will provide youth with close-to-home outdoor destinations.
EVOM partners have created a continuum of engaging educational programs with age-appropriate, outdoor learning and exploration opportunities for youth in preschool through twelfth grade, as well as affordable programs for whole families. EVOM will also provide internships and other leadership development opportunities for high school students to apply outdoor skills and become outdoor leaders.
Get Outdoors Garfield County, $1,570,541 grant to Garfield County
Get Outdoors Garfield County will serve residents of four communities: Parachute/Battlement Mesa, Rifle, Silt, and New Castle. Western Garfield County boasts outstanding outdoor recreation destinations, and yet many area youth lack access to these assets in their own backyards. The Inspire coalition will address several of the barriers to the outdoors: lack of access to water, gear, and transportation; programs for all ages; leadership opportunities; and school involvement in outdoor learning.
Two school districts, Garfield County School District 16 and Garfield Re-2, will serve as programming hubs so that students of all age groups and experience levels are connected to free outdoor programs. Programming partners will provide hands-on outdoor education and wilderness skills, science and outdoor education curriculum opportunities, and expeditionary learning experiences on the Colorado River. In addition, the coalition will build an outdoor classroom in Battlement Mesa and provide pathways to future careers in the outdoors through service learning experiences, leadership training, and jobs in the outdoors.
My Outdoor Colorado (MOC) Cole, $2,179,077 grant to City and County of Denver
The Inspire coalition in Denver's Cole neighborhood will address challenges the community's youth face in taking advantage of the many health and well-being benefits of getting outside. Safety, cost, and the lack of transportation are a few of the barriers. The coalition plans to use a culturally relevant context to deepen outdoor skills and knowledge, practice nature inclusion, and increase feelings of nature connection among members of the Cole community.
Enhancements to Russell Square Park will welcome Cole residents and community members, and programs are designed to engage families, youth, and young adults in outdoor activities that meet their comfort levels, developmental stages, and growing outdoor skills and interests. In addition, MOC Cole aims to collaborate with the local community and law enforcement to provide training, coaching, and creative approaches that help youth of color feel safe and supported in choosing to spend time in parks.
Montezuma Inspire, $1,843,109 grant to Montezuma Land Conservancy (MLC)
MLC and a coalition of partners, called the Montezuma Inspire Coalition (MIC), will work to get kids outside in Montezuma County, including those in Cortez, Dolores, Mancos, and Towaoc. The MIC will focus on youth of middle school and high school ages who spend far less time in the outdoors than younger kids in the area.
To break down local barriers to the outdoors, the coalition will launch programs and offer field trips that fit into the school day, make transportation and outdoor gear more readily available, offer opportunities to build outdoor knowledge and skills, and provide free activities for older youth in safe places. The coalition will also upgrade places for outdoor learning at its community school gardens and MLC's farm in Lewis. The MIC will also increase opportunities for youth in Montezuma County to experience pathways to future careers in the outdoors, collaborating over time with outdoor-related businesses and nonprofits in the area to develop mentorships, apprenticeships, and internships.
The Nature Connection (TNC), $1,729,663.50 grant to Delta County    
TNC aims to break down community-identified barriers to youth getting outdoors in Delta County, including a lack of skills, gear, and time. Delta County School District 50J and Montrose County School District will serve as the coalition's main programming hubs and work toward two goals: integrating outdoor experiences into a comprehensive program that targets area youth with a range of activities by age level, and creating The Nature Connection GEAR OUT gear library.
Hotchkiss will build beginner and intermediate mountain bike trails and a pump track for skill building. Delta will develop camping opportunities, and several communities will see new climbing boulders.
TNC will continue to develop its Youth Outdoor Network program offering high school students outdoor service learning and stewardship opportunities at five high schools and will also create paid internships to nurture interest in working in the outdoors.
Out the Door! Pikes Peak, $1,393,955.50 grant to City of Colorado Springs
Out the Door! Pikes Peak aims to create community equity and inclusiveness while engaging youth and families from the Hillside neighborhood in Colorado Springs in the outdoors. The coalition has identified the community's primary barriers to getting outdoors as lack of time, gear, and familiarity with outdoor spaces and programs, as well as transportation.
The Prospect Lake Beach House will be renovated to serve as a launching area for outdoor activities and will include areas for programming, a centralized information center, and a gear library. The park's beach will be enhanced, and new amenities will allow for improved programming. At Fountain Park, an unused area will be converted into a bike park with a bike demonstration area and paved skills course, slopestyle mountain bike trails, a tot track, and other features.
Prospect Lake Beach House and Hillside Community Center will serve as programming hubs, and outdoor education will be integrated into School District 11. Special events and family programs will encourage families to spend time together outside, and the coalition will also offer skill-building and job opportunities for youth to spark interest in future outdoor careers.
Recreation Inspires Opportunity (Alamosa RIO!), $868,805 grant to City of Alamosa
Alamosa RIO! aims to integrate outdoor recreation into Alamosa's community culture and inspire a healthy relationship between youth and the outdoors. The group will enhance an existing trail system at Alamosa Ranch with new trail segments and interpretive signs and improve Friends Park, which sits adjacent to the Boys & Girls Clubs of the San Luis Valley (BGCSLV) clubhouse, to include interactive features such as treehouses, a zipline, an improved bike track, and a music garden. BGCSLV will also build an outdoor classroom on its land near Smith Reservoir near the towns of Blanca and Fort Garland.
RIO! programming partners organizations will offer a range of outdoor programs to meet the needs of youth, from kindergarten- to high-school ages, and create new pathways-to-employment opportunities for youth and young adults through internships, scholarships, and youth counselor positions.    
Sheridan Inspire    , $1,703,842 grant to City of Sheridan
The Sheridan Inspire coalition will build on the momentum of a strong, diverse coalition of partners already working to improve the lives of Sheridan youth and families. The group will address local barriers to the outdoors, including lack of awareness of available outdoor resources, language barriers, costs of entry and equipment, safety concerns, and lack of transportation. Improved signage and maps will help Sheridan residents access and enjoy nearby outdoor places, and the coalition will also invest in creating inspiring outdoor spaces at Alice Terry Elementary School and Fort Logan Northgate.
Engaging, hands-on programs will connect families with resources and educate them on how to access Colorado's great outdoors, and will teach youth how to get to nearby outdoor places. Youth will also be exposed to experiences such as volunteer activities, skills training, and job opportunities that could inspire future careers in natural resources.
Westy POWER-PODER, $1,423,297 grant to City of Westminster
The Westy POWER-PODER coalition, whose name stands for "Promoting the Outdoors through Wellness, Education & Recreation" (POWER) and "Promoviendo Oportunidades de Educación Recreativas" (PODER), will serve the Blocks of Hope area of Westminster, Arvada, and unincorporated Adams County.
The group will address barriers such as unsafe and hard-to-access parks and open spaces as well as the prohibitive costs of participating in outdoor activities. Park improvements planned along Little Dry Creek in the England Park Corridor will meet the needs of the neighborhood by creating community gathering and gardening spaces, and improving pedestrian and vehicular access.
Programming will provide opportunities for frequent, culturally relevant outdoor experiences. Parents from the community will lead programs in partnership with formally trained outdoor educators and high school teaching assistants. In addition, field trips, service learning projects, and paid internships will provide positive youth development and introduce youth to nature-based careers.
OPEN SPACE - $5 MILLION AWARDED
Acequia Initiative – Working to Conserve Colorado's Oldest Agricultural Communities, $638,000 grant to Colorado Open Lands
GOCO funds will help Colorado Open Lands to permanently protect three properties with senior water rights on historic acequias in Costilla County. These ranches hold the oldest agricultural settlements and water rights in the state, dating back to 1844. Acequias are communal systems of irrigation canals and ditches, and are highly important to the San Luis Valley's economy and culture.
Arkansas River and Riparian Protection – Southern Lake County, $505,500 grant to Central Colorado Conservancy
The Conservancy will invest the GOCO grant in expanding its Arkansas River Preserve and create future public fishing access on Colorado's longest stretch of Gold Medal Trout Waters. The GOCO grant will also allow the conservancy to maintain and protect habitat for wildlife and a historic stage coach route that provides scenic views for thousands of people.
Conserving the Encantada Ranch, $200,000 grant to Rio Grande Headwaters Land Trust
Encantada ranch stretches from bank to bank on the Rio Grande Island, an area where the river naturally splits. In addition to having senior water rights, the property provides habitat for elk, trout, and dozens of different bird species. The scenic property can be seen from county roads and by those traveling Highway 160, one of the most traveled roads in the San Luis Valley.
Heartland Ranch Preserve Expansion, $310,700 grant to Southern Plains Land Trust (SPLT)
SPLT will acquire nearly 7,000 acres to expand its Heartland Ranch Nature Preserve, which is home to a grazing bison herd, a native species for shortgrass prairie habitat. The property also provides habitat for pronghorn, mule deer, and a wide array of rare plants. The ranch attracts hundreds of visitors to an underserved corner of the state, and the expansion will grow Heartland Ranch's scenic views to attract more tourism in the future.
Hill Family Ranches CE, $1,010,000 grant to The Trust for Public Land (TPL)
TPL's GOCO-funded project will contribute to 20,000 acres of land along the Saguache Creek permanently protected by TPL, GOCO, and other partners over the course of decades. This latest conservation effort will keep land in agricultural production, protect significant wildlife habitat, and ensure water quality benefiting humans and wildlife.
Medicine Mountains Ranch Conservation Project, $390,000 grant to Colorado Cattlemen's Agricultural Land Trust
Conserving Medicine Mountains Ranch will keep the land in agricultural production, create public recreation access, protect wildlife habitat, and preserve scenic views.
The ranch is located at the foot of the Medicine Bow Mountains along the Cache la Poudre North Park Scenic Byway, and sharing its beauty with the public has long been a dream of the landowner. He ultimately plans to build a cross-country ski center on the property, opening approximately 21 miles of groomed trails to the public in the future.  
Pearce Ranch Conservation Legacy, $420,000 grant to Colorado Cattlemen's Agricultural Land Trust
GOCO will help CCALT acquire a conservation easement on the two parcels making up the Pearce Ranch, totaling 620 acres. Proceeds from the easement will enable the ranch's long-time manager to purchase the property. Conserving the property will continue its ranching legacy, in addition to protecting wildlife habitat and water rights benefiting all of the properties in the Highland Ditch system.
Purgatory Basin Ranch Conservation Easement, $556,550 grant to Rocky Mountain Elk Foundation
GOCO funding will help RMEF permanently protect Purgatory Basin Ranch near La Junta, conserving over 12,000 acres and 68 miles of streams. Placing a conservation easement on the ranch will enable the landowners to keep it in agricultural production, protect high-quality wildlife habitat, and safeguard southeastern Colorado history.
Smith Rancho 5 Deep Creek, $969,250 grant to The Nature Conservancy (TNC)
By conserving a fifth phase of Smith Rancho in Routt County, TNC  will add 4,800 acres to the more than 12,000 acres the Smith family has worked for years to conserve with TNC and previous GOCO grants. Conserving Smith Rancho will achieve landscape-scale conservation, protecting 18 miles of streams and adding to a block of protected land spanning tens of thousands of acres. This important conservation effort will also contribute to protecting scenic views that draw tourists, and economic value, to the Steamboat Springs area.
HABITAT RESTORATION - $500,000 AWARDED
Big Dry Creek Pilot Project Floodplain Restoration, $100,000 grant to the City of Thornton
The City of Thornton will invest GOCO funding in restoring parts of Big Dry Creek, an important natural resource and ecosystem for east-west wildlife movement. The creek has extensive erosion and noxious weeds that compromise the creek's floodplain. GOCO funding will improve conditions along the creek and create overflow wetlands that will reduce flood hazards, improve wildlife habitat, and protect water quality.
Gore Creek Riparian Habitat Restoration, $38,847 grant to the Town of Vail
Gore Creek in Vail is not meeting standards for aquatic wildlife due to erosion and pollution from stormwater and urban runoff. Restoring native, creekside vegetation, by planting 2,700 trees and plants, and stabilizing creek banks with new structures will improve habitat for fish, birds, and other wildlife. The project will also build new access points along the creek will allow anglers and others a way to enjoy the creek.
Greeley Urban Natural Area Habitat Restoration, $67,700 grant to the City of Greeley
The city will work to restore habitat within Pumpkin Ridge Natural Area, McCloskey Natural Area, and Mountain Shadows Natural Area. Restoration efforts will focus on controlling invasive, non-native plants and increasing the diversity of native plant species. These improvements will provide habitat to support urban wildlife species, particularly birds, small mammals, and pollinators.
Prairie Stream Restoration, $41,262 grant to the Southern Plains Land Trust in partnership with Colorado Open Lands
In partnership with Colorado Open Lands (COL), SPLT will restore habitat at Heartland Ranch Nature Preserve and Raven's Nest Nature Preserve. The project entails restoration work along 20 miles of streams on the properties, which are both shortgrass prairie preserves, and will benefit the Arkansas River Basin, the largest in Colorado. The work will benefit a variety of native plants and animals and prevent further erosion and invasive plant growth.
Riparian Reconnect, $92,240 grant to COL
COL will restore habitat on three properties along the South Fork of the South Platte River as a part of a long-term effort to increase wetland and stream function and wildlife habitat in riparian areas throughout Park County. The restoration work will restore natural function to waterways on all three properties, improving wildlife habitat, water quality, and flood resiliency.
River Bluffs Open Space Restoration & Resiliency Project, $100,000 to Larimer County
Larimer County will transform a one-mile stretch of the Cache la Poudre River through River Bluffs Open Space, near Windsor, into a healthy river ecosystem. In part due to damage during the September 2013 flood, River Bluffs Open Space currently provides minimal wildlife habitat. The project will convert a section of river and its surroundings into high quality habitat, stabilizing eroding river banks, planting native vegetation, and encouraging native wildlife to repopulate the area.
Sand Creek Restoration Project, $59,951 grant to Palmer Land Trust (PLT)
PLT will invest GOCO funding on a portion of Sand Creek in Park County, near Tarryall. The Upper South Platte watershed not only provides ample recreational opportunities, but also provides 70% of Denver's water supply. A diversion ditch along the stream course has breached, negatively impacting water quality for people downstream and the health of the surrounding landscape. PLT will replace the current diversion structure, stabilize and enhance the stream above and below the structure, and revegetate the stream banks with native plants.
YOUTH CORPS - $500,000 AWARDED
Baxter Gulch Trail & Crested Butte Open Space Stewardship Program, $33,200 grant to the Town of Crested Butte
With assistance from GOCO, the Town of Crested Butte and Crested Butte Land Trust will continue their multi-year effort to finish Baxter Gulch Trail. Western Colorado Conservation Corps (WCCC) helped complete the trail to the Forest Service boundary with the help of GOCO funding last year. This project will finish the last section of the trail, which will be opened next year.
Cerise Riverbottom & Taviwach Invasive Species Removal, $18,000 grant to the City of Montrose
With the help of GOCO funding, Montrose will employ crews from Western Colorado Conservation Corps  (WCCC) to remove invasive Russian olive and tamarisk trees. After removing the trees, WCCC will plant native cottonwood trees to help replenish food and habitat for birds, which are often crowded out by dense invasive plants. In total, 16 acres of invasive plants will be removed.
City of Thornton/Adams County Big Dry Creek Master Plan Russian Olive Removal, $35,600 grant to the City of Thornton
Thornton's project will employ crews from Mile High Youth Corps (MHYC) to remove invasive Russian olive trees along approximately three miles of Big Dry Creek. This work will advance Thornton and Adams County's floodplain restoration plan, a joint effort to reconnect the Big Dry Creek floodplain, improve outdoor recreation access, and rebuild wildlife habitat.
Elkhorn Creek Forest Health Initiative: Expanding Wildfire Mitigation at Ben Delatour Scout Ranch, $36,000 grant to the Colorado State Forest Service
With the help of GOCO funding, crews from Larimer County Conservation Corps (LCCC) will remove fire fuel hazards on 150 acres of Ben Delatour Scout Ranch. The property is home to the Longs Peak Boys Scouts Council. Wildfire has been artificially suppressed there for more than a century, which dramatically increases the risk of wildfire over time.
Iron Mountain/Red Mountain/Intemann Sustainable Trail Maintenance, $14,000 grant to the City of Manitou Springs
Manitou Springs' project will employ crews from Mile High Youth Corps (MHYC) to repair trails damaged by heavy rainfall and an increase in people using them. Corps members will install retaining walls, widen trails at key junctures, and clear plants around the trail along with improving safety by adding features like handrails.
John Griffin Regional Park - Tamarisk & Russian Olive Abatement Project Phase II, $36,000 grant to Cañon City Metropolitan Recreation and Park District
With the help of GOCO funding, Cañon City will employ crews from Mile High Youth Corps-Southern Front Range (MHYC - SFR) to advance progress made during the first phase of tree removal last year.
MHYC crews will remove invasive tree species from 14 acres of John Griffin Regional Park, where Russian olive and tamarisk continue to crowd out wildlife and native plant species. The trees' dense branches increase the threat of wildfire.
Lake Minnequa Renovation Project, $72,000 grant to the City of Pueblo
With the help of GOCO funding, Pueblo will employ crews from Mile High Youth Corps - Southern Front Range (MHYC - SFR) to remove invasive Russian olive trees. The trees have overgrown a section of the trail around Lake Minnequa, and removing them will improve park visitors' experience and prevent the trees from spreading further.
Music Meadows Ranch Forest & Watershed Health, $18,000 grant to San Isabel Land Protection Trust
Crews from Mile High Youth Corps (MHYC) will remove unhealthy trees to improve wildlife habitat and reduce wildfire risk.  MHYC crews will use those removed trees to build an erosion control structure on steeply eroded streambanks on the ranch. This will improve water quality and lessen land loss on the property by slowing down further erosion along the Grape Creek.
Old St. Louis Natural Area Invasive Species Removal and Mitigation, $18,000 grant to the City of Loveland
Loveland will employ Youth Corps to remove three invasive tree species at a recently acquired open space. The 13-acre Old St. Louis Natural Area is located along the Big Thompson River, and is infested with Russian olive, Siberian elm, and tamarisk trees that threaten wildlife habitat and inhibit future outdoor recreation access.  
Raptor Flyway Invasive Species Removal Project, $36,000 grant to the City of Brighton
Mile High Youth Corps crews will remove a variety of invasive tree species that interfere with flight routes for raptors like bald eagles, golden eagles, and hawks. Removing Russian olive, tamarisk, leafy spurge, teasel, and thistle trees is critical for Ken Mitchell Open Space and Prairie Lakes Open Space to be opened to the public.
Restoring Native Plant Communities in Jefferson County, $36,000 grant to the Jefferson Conservation District (JCD)
JCD will employ crews from Mile High Youth Corps (MHYC) to remove harmful weeds across 150 acres of privately owned land protected by conservation easements that provide wildlife habitat and scenic views for outdoor recreation.
Both properties are already undergoing projects to reduce wildfire risk and have seen the removal of a significant amount of trees to reduce fire fuels. That has left the properties in prime condition for weed invasion, and harmful noxious plants taking root will deplete soil health and reduce wildlife habitat.
South Platte Park Weed Tree Removal, $18,000 grant to South Suburban Parks and Recreation District
With the help of GOCO funding, South Suburban will employ crews from Mile High Youth Corps (MHYC) to remove saplings of invasive Russian olive trees around the lakes in South Platte Park. Crews will also remove common buckthorn that has become a dense infestation in the park.
Standley Lake Russian Olive Mitigation, $27,000 grant to the City of Westminster
MHYC crews will remove invasive Russian olive trees on the east side of the Standley Lake dam. A chainsaw and pesticide application crew will remove approximately eight acres of trees that are displacing native plants and harming wildlife habitat. Russian olive also negatively impacts the thousands of users at the park, with decreased wildlife viewing opportunities and a less attractive landscape.
Thomas Conservation Easement Junkins Fire Recovery, $18,000 grant to San Isabel Land Protection Trust
San Isabel's second GOCO-funded project will take place on a property near Wetmore that was almost completely burned by the 2016 Junkins Fire. MHYC crews will carry out critical wildfire recovery work, planting new trees and building structures from natural materials to stabilize the soil and control flooding.
Wet Meadow & Riparian Restoration in Gunnison Sage-Grouse Habitats of Western Colorado, $24,200 grant to Upper Gunnison River Water Conservancy District (UGRWCD)
URGWCD will employ Youth Corps crews to assist in a large-scale habitat restoration project for Gunnison Sage Grouse. The bird has been listed as threatened under the Endangered Species Act. Of the approximately 5,000 left in the world, roughly 4,000 live in the Gunnison Basin.
Great Outdoors Colorado (GOCO) invests a portion of Colorado Lottery proceeds to help preserve and enhance the state's parks, trails, wildlife, rivers, and open spaces. GOCO's independent board awards competitive grants to local governments and land trusts, and makes investments through Colorado Parks and Wildlife. Created when voters approved a Constitutional Amendment in 1992, GOCO has since funded more than 5,000 projects in all 64 counties of Colorado without any tax dollar support. Visit GOCO.org for more information.