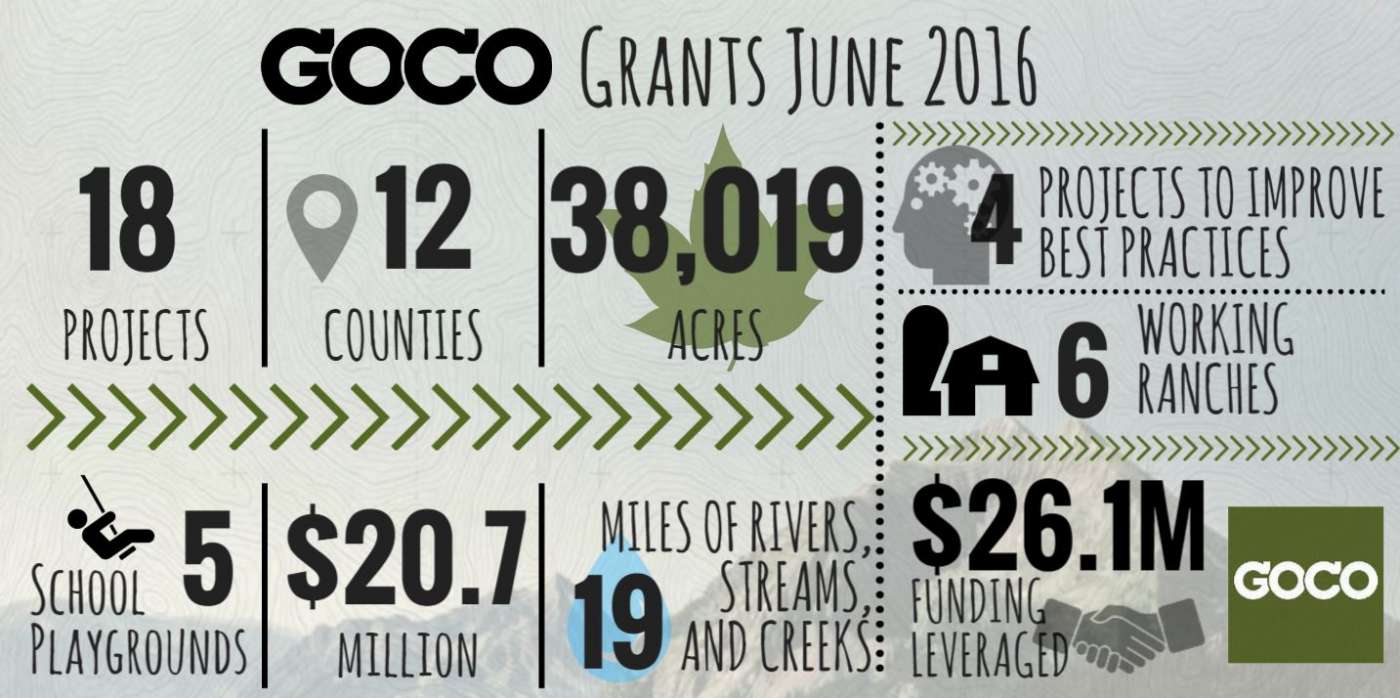 DENVER – The Great Outdoors Colorado (GOCO) Board awarded $20.7 million in grants for land conservation and school playground projects across the state of Colorado on Monday.
The bulk of the funding was part of the first round of grants from GOCO's new Protect Initiative, part of its five-year strategic plan for large-scale land conservation. Other grants awarded were part of GOCO's conservation easement transaction costs grant program, the conservation excellence grant program, and the School Yard Initiative.
GOCO's Protect Initiative will invest $47 million over the next three years in large-scale, once-in-a-lifetime conservation opportunities in Colorado.
The conservation easement transaction costs grant program is also new for 2016, aiming to help landowners place conservation easements on their land. To be eligible for the program, landowners were required to donate the entire value of the conservation easement for the project. GOCO also funds studies and pilot projects to improve best practices in the conservation community through its conservation excellence program.
GOCO's School Yard Initiative (SYI) helps schools upgrade their playgrounds to encourage active play and improve outdoor learning. Funded schools also become part of Colorado Parks and Wildlife's Schools and Outdoor Learning Environment (SOLE) program that provides field trips, family nature nights, and outdoor education training for teachers.
In total, GOCO funding will:
Fund 19 projects in 12 counties.
Protect 19 miles of rivers, streams, and creeks.
Build five new school playgrounds.
Enable four projects to improve best practices in land conservation.
Conserve 38,019 acres of land, including critical wildlife habitat, productive agricultural land, scenic views, and significant outdoor recreation access.
Project details are as follows:
PROTECT INITIATIVE GRANTS
Applewood Golf Course, $3 million grant to Prospect Recreation and Park District in partnership with the Trust for Public Land
This rare tract of urban open space is in imminent danger of development, with tremendous community opposition to a recent rezoning application to develop residential homes. It is likely the property will be converted for residential use unless PRPD, in partnership with The Trust for Public Land, acquires the property by October 2016.
The project at Applewood provides opportunity for future outdoor recreation and will protect significant wildlife habitat. The property provides many animal species with access to Clear Creek, and the project is expected to create a new trail connection to the Peaks to Plains/Clear Creek Trail from West 32nd Avenue.
Conserving Habitat and Reconnecting Communities to the Rio Grande, $2.8 million grant to Western Rivers Conservancy
Western Rivers Conservancy is partnering with Rio Grande Headwaters Land Trust, US Fish and Wildlife Service (USFWS), Costilla County, and private landowners to conserve river habitat in a way that balances wildlife needs and outdoor recreation demand.
The project includes three properties totaling more than 18,000 acres that will protect scenic vistas, senior water rights, habitat for threatened and endangered animal species, agricultural land, and more than six miles of riverfront.
Horsetooth Foothills Conservation Project, $4 million grant to Larimer County in partnership with the City of Fort Collins
This project offers the rare opportunity to conserve land not only connected to other public open space, but also within minutes of a major urban area. The project will conserve nearly 2,300 acres in the foothills near Horsetooth Mountain Open Space.
The conservation of four properties in Larimer County will protect scenic views enjoyed by hikers, cyclists, and other outdoor recreationists in the Horsetooth area; provide a home for wildlife; and protect two miles of Redstone Creek. Hiking trails have also been proposed to alleviate pressure on the trails at Horsetooth, which are feeling the strain of more than 100,000 visitors every year.
Once finished, the project will create more than 7,000 acres of connected open space.
Trampe Ranch Conservation Easement, $10 million grant to the Trust for Public Land
Trampe Ranch is a working cattle ranch comprised of nearly 6,000 acres of some of the most outstanding scenery in Colorado. Development of Trampe Ranch would have forever altered the iconic views of Gunnison Valley and threatened the viability of other working ranches in the area. This project ensures permanent protection of important agricultural land that supports sustainable food production in addition to the scenic views enjoyed by outdoor recreationists on adjacent public lands, including Crested Butte Mountain Resort.
The project will also fulfill landowner Bill Trampe's lifelong wish to place his ranch under permanent conservation.
CONSERVATION EASEMENT TRANSACTION COSTS GRANTS
Bender Conservation Easement, $34,500 grant to Land Trust of the Upper Arkansas (LTUA)
The Bender Conservation Easement will conserve approximately 86 acres along the South Arkansas River in Poncha Springs. The Arkansas is the lifeblood of Chaffee County, providing agricultural and municipal water supply, sustaining wildlife populations, and supporting outdoor recreation that bolsters the county's economy. This will prevent development, support local agriculture, and protect views from the Collegiate Peaks Scenic Byway and the Methodist Mountain Trail System.
Heartland Ranch, $40,000 grant to Colorado Open Lands
Colorado Open Lands (COL) will acquire a conservation easement on more than 10,000 acres in Bent County. The project will enable Southern Plains Land Trust (SPLT) to acquire an additional adjacent 7,000 acres of land, creating an area of conserved land larger than the city of Boulder. The project will protect wildlife habitat, scenic views, and river habitat while preserving water supply for humans and wildlife. SPLT is committed to improving wildlife habitat for more species and hopes to use the area for environmental education.
Huckleberry Hills Ranch Conservation Easement, $50,000 grant to San Isabel Land Protection Trust
Huckleberry Hills is a 500-acre property in Pueblo County adjacent to the San Isabel National Forest. The ranch contains 1.5 miles of the South Muddy and Huckleberry Creeks, and protection of this ranch will provide habitat for endangered and threatened wildlife; continue local, sustainable agriculture; protect the water supply for people and wildlife; and preserve scenic views along Highway 165.
The project adds to the 200,000-acre stretch of undisturbed forest across the Wet Mountains and marks the completion of a decade-long vision of the land trust and landowner.
Jenkins Creek Ranch, $44,350 grant to Colorado Cattlemen's Agricultural Land Trust (CCALT)
CCALT will acquire a conservation easement on approximately 1,360 acres of agricultural land in Larimer County. The project will protect 2.6 miles of Forest Creek, Granny Creek, and the Laramie River and will provide an important buffer of scenic views around a public campground located on the property.  
The property also provides wildlife habitat for a number of species and has senior water rights. Conserving the land will help maintain water supply for people, wildlife, agriculture, and outdoor recreation. Protecting rivers and creeks also preserves scenic views that people know and love.
Proposed Wichmann Conservation Easement, $40,400 grant to Land Trust of the Upper Arkansas (LTUA)
LTUA also received a $40,400 transaction costs grant for the 50-acre Wichmann property on the Arkansas River.
The project provides scenic views for rafters and anglers as well as drivers on Highway 24. Conserving this property will provide recreation access for people and economic benefits to the region in addition to protecting critical migration routes for wildlife.
CONSERVATION EXCELLENCE
Community Conservation Initiative, $43,500 grant to Montezuma Land Conservancy (MLC)
MLC's Community Conservation Initiative will explore a new business model for land trusts and land conservation in Colorado. The traditional business model relies on project fees from new conservation easements, which are the voluntary legal agreements between landowners and land trusts that permanently place property under protection from development.
MLC plans to embark on a community engagement effort to increase local awareness and education on land conservation in order to help ensure the organization's sustainability. MLC will create a whitepaper about the initiative to share with land trusts across the state.
Keeping Conserved Lands in Agriculture, $7,640 grant to Land Trust of the Upper Arkansas (LTUA)
LTUA will determine how to keep conserved land in farming and ranching, creating food, jobs, and ecological benefits for Colorado. Conserved land that stops production negatively impacts economies of rural areas.
This project has statewide significance, ultimately providing a report and sample language for conservation easements that will be distributed by the Colorado Coalition of Land Trusts and the Colorado Land Link conference. LTUA will partner with five other organizations to examine how to tailor other states' methods to Colorado projects and determine whether new methods are necessary for the state.
Land Trust Collaboration on the West Slope, $48,860 grant to Mesa Land Trust
This project will expand the capacity of Mesa Land Trust and Black Canyon Regional Land Trust to conserve land in western Colorado. The project will also establish a shared database to track easement information, and the organizations will hold community engagement events to ensure future success.
Partnering for Perpetuity, $100,000 grant to Colorado Open Lands
Colorado Open Lands (COL) received a $100,000 grant as the top-ranked project in this round of conservation excellence funding. COL requested funding to build on recent GOCO-funded work to prevent abandoned conservation easements. Conservation easements are legal documents that permanently protect land from development. They can be abandoned if the holder of the easement (such as a land trust or other conservation organization) no longer exists or fails to meet its obligations, such as monitoring the property regularly.  
COL has absorbed more than 100 easements over nearly 43,000 acres of land after merging with Legacy Land Trust. The organization will use this latest GOCO funding to work with other struggling land trusts towards long-term sustainability without negatively affecting its ability to manage its own portfolio of easements.
SCHOOL YARD INITIATIVE
Caliche Elementary Operation Playground, $100,000 grant to Logan County in partnership with Caliche Elementary School
Student council members at Caliche spearheaded the effort to transform the small town's aging playground, raising more than $27,000 in cash donations over the last six months to make major upgrades to their playground.
Caliche serves as one of the only outdoor play spaces for the community, but has outdated hand-me-down equipment that no longer meets safety standards. Students have plans to resurface the blacktop and install nature-themed play and learning areas around the playground. An outdoor classroom, new age-appropriate play equipment for older kids, and native plant landscaping are all part of their vision.
Clyde Miller P-8 School Playground Renovation, $100,000 grant to the City of Aurora in partnership with Clyde Miller P-8
The 35-year-old school playground at Clyde Miller is unable to handle the nearly 600 children that attend Clyde Miller, with lines often forming as children wait for their chances to play.
Students have planned a total overhaul of the playground, with improvements including a new outdoor classroom, a Colorado-themed walking path, a rock climbing wall, and nature-themed bridges, slides, and ladders. A video from the student task force describing their design plans can be viewed here.
Eagle Valley Elementary School IB (EVES) and Community Play Yard, $100,000 grant to the Town of Eagle in partnership with EVES
EVES is the oldest elementary school in the Eagle County School District and serves a highly diverse population, most of whom lives within walking distance of the school.
Students have planned a new outdoor classroom, learning garden, climbing boulders, improved shade, and new bilingual signs to best serve the entire student body. The school raised $50,000 in matching funds with community fundraisers, donations from local businesses and the local high school, and grants from Colorado Parks and Wildlife.
Lawrence Elementary Playground, $100,000 grant to the City of Arvada in partnership with Lawrence Elementary School
Lawrence is the closest playground for children in the area, many of whom do not have their own yards to play in. The school serves a compelling refugee and housing-insecure population and serves as a neighborhood hub for the community and surrounding schools.
Students have planned an outdoor classroom, walking track, and nature-themed play area that will be ADA-accessible and provide an opportunity to connect with nature for all students and community members.
Sopris Elementary School Playground Renovation Project, $100,000 grant to the City of Glenwood Springs in partnership with Sopris Elementary School
This GOCO grant will help Sopris improve handicap and community-wide accessibility while also addressing major drainage issues. Half of the playground is unusable and closed to students every spring because of standing water, ice, and mud. With GOCO funding, the school diverted drainage into a bioswale that can be used for environmental education.
Students planned a custom maze with an obstacle course, an eagle's nest overlook, native trees and shrubs, and nature-themed learning areas such as a bioswale and outdoor garden. Traditional playground equipment has also been incorporated into the design, including swings, spinners, and musical instrument equipment. The student task force at Sopris volunteered hundreds of hours to the playground project.
Great Outdoors Colorado (GOCO) invests a portion of Colorado Lottery proceeds to help preserve and enhance the state's parks, trails, wildlife, rivers, and open spaces. GOCO's independent board awards competitive grants to local governments and land trusts, and makes investments through Colorado Parks and Wildlife. Created when voters approved a Constitutional Amendment in 1992, GOCO has since funded more than 4,700 projects in urban and rural areas in all 64 counties without any tax dollar support. Visit GOCO.org for more information.