FOR IMMEDIATE RELEASE
Contact:   Rosemary Dempsey, 303-226-4530, rdempsey@goco.org or
                Laura Cardon, 303-226-4531, lcardon@goco.org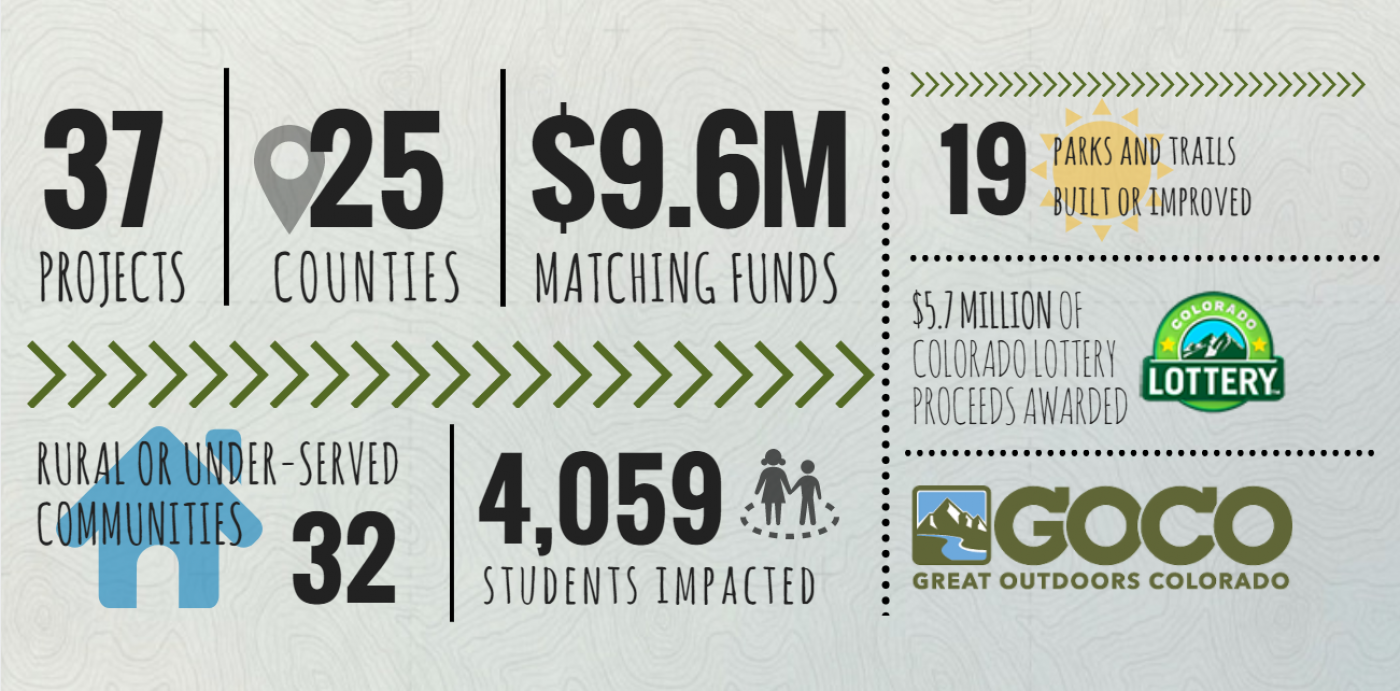 DENVER- The Great Outdoors Colorado (GOCO) board awarded $5.7 million in to 37 projects across the state on Thursday. Communities from across Colorado competed for funding in a grant round where requests were triple of what was available.
In total, the grants will:
Fund 37 projects in 25 counties
Impact more than 4,000 youth
Match $9.6 million of local funding
Create 10 strategic plans for increasing access to the outdoors
Build or improve 19 local parks and trails
Serve 32 underserved or rural communities
The majority of the funding was from GOCO's Local Parks and Outdoor Recreation (LPOR) grant program, which awards grants to local governments to build or improve parks, trails, and other outdoor recreation facilities. In total, the LPOR program awarded $4.3 million in funding at the GOCO board meeting in Estes Park.
GOCO's School Yard Initiative (SYI) awarded a total of $823,773 to eight schools partnering with local governments to replace outdated and unsafe playgrounds. GOCO funds will, on average, replace playgrounds at least four decades old. Schools funded through the SYI also become eligible for Colorado Parks and Wildlife's Schools and Outdoor Learning (SOLE) program.
The final program to award funding on Thursday was GOCO's planning grant program, which helps local governments gather public input, evaluate conditions, and develop strategic plans to meet the outdoor recreation needs of Colorado communities. A total of $633,250 in planning grants were awarded.
Funded projects are listed in alphabetical order by grant program:
Local Parks and Outdoor Recreation (LPOR)
Akron Pond Revitalization Project, $170,000 grant to the Town of Akron
With the help of the GOCO funding, Akron will be able to replace its fishing pond, which has degraded to the point of no longer sustaining a healthy fish population. The pond is the community's only local fishing spot and was once a popular destination, but the town has seen a 90 percent decrease in anglers as water seeped out of the pond.
Batenburg Meadows Greenbelt Expansion, $225,274 grant to Costilla County
Costilla County has partnered with Colorado Open Lands to acquire 14 parcels comprising 125 acres of land, a particularly rare opportunity to acquire forested land for public use. Expanding Batenburg Meadows was identified by local residents as a top priority, and expanding the park will legitimize and increase public access.
Buena Vista Community Baseball Field, $350,000 grant to the Town of Buena Vista
The Town of Buena Vista will replace an old sports field, which was deemed unsafe and undersized for current community needs, at a new location with a facility for school district athletics and community events. Half of the town's population lives within a 10-minute walk of the site, and the upgraded field will serve as a hub of community recreation.
Cal-Wood Educational Greenhouse, $25,443 grant to the Town of Jamestown
In partnership with Cal-Wood Education Center, the Town of Jamestown will invest its GOCO grant in building an educational greenhouse at Cal-Wood to serve school groups, summer campers, and local residents. Currently, residents have no access to greenhouse gardens and limited access to any gardens and fresh produce. The greenhouse will enable healthy eating, as community members will be able harvest and purchase fresh produce throughout the growing season.
Chipeta Park Enhanced Accessibility, $45,000 grant to the Town of Nederland
The Town of Nederland will invest its grant in improving trail conditions and upgrading amenities at Chipeta Park, which serves the mountain community as the only developed public park in a 15-mile radius and as a primary outdoor gathering spot. Enhancements will serve community members who already use the park for field trips, picnics, events, and other community gatherings, while improving ADA access and safer passage for people of all abilities.
Civic League Park, $45,000 grant to Huerfano Parks and Recreation District
In partnership with the City of Walsenburg, HPRD will invest its GOCO grant in upgrading the existing park site at the corner of Hendren Ave. and Pinon St. The partners aim to create a park that encourages youth, adults, and those with disabilities to be more active. The GOCO grant will leverage $11,285 in matching funds from LiveWell Huerfano County.
Clement Park Inclusive Destination Playground, $350,000 grant to Foothills Park and Recreation District
With its GOCO grant, Foothills Park and Recreation District will build a unique, universally accessible playground at Clement Park in unincorporated Jefferson County. Clement Park receives over one million visitors per year, including families with children of all abilities, making it the most highly used park in the district.
Crossroads Park Ball Field Complex, $350,000 grant to North Fork Pool, Park, and Recreation District (NFPPRD)
NFPPRD, in partnership with the Hotchkiss Home Plate, a program providing baseball and softball opportunities for North Fork area youth, will add four ballfields to an array of existing amenities at Crossroads Park. NFPPRD developed the park, with its outdoor swimming pool, soccer fields, bicycle pump track, and more, to serve the recreational needs of the North Fork Valley, including the towns of Paonia, Hotchkiss, and Crawford and the surrounding areas.
Eagle River Park- Upland Construction, $350,000 grant to the Town of Eagle
The Town of Eagle's river park project will be one step closer to completion with the help of GOCO funding. The river's parks in-stream wave features broke ground in December 2017, and the town will start work on the Upland Park section of the park later this year. This next step will complete the $3 million project, transforming a once vacant dirt lot into a vibrant river park for the people of Eagle.
Montana Azul Park- Phase 1, $347,794 grant to City of Alamosa
GOCO funding will help the City of Alamosa complete the first phase of building Montaña Azul Park, which currently serves as a stormwater retention area. After development, the 5.6-acre park will continue to store storm water but will also provide close-to-home recreation for residents. The dual-purpose nature of the park makes it the first of its kind for the city.
Norwood Town Park Expansion and Improvement, $170, 073 grant to the Town of Norwood
GOCO funding will help the Town of Norwood will add two pickleball courts and a splash pad to the centrally located park, which currently offers a playground and two basketball courts. With no pickleball courts for the town to call its own, an active group of approximately 30 pickleball players currently use the basketball courts or the school's gymnasium to practice, or they travel 20 miles to Nucla to play on an official court.
Park Property Acquisition- Old MCHS, $169,276 grant to the City of Cortez
The City of Cortez will purchase the land, which is currently the site of the old Montezuma-Cortez High School. The property is located on the city's south side, where currently no parks exist. The total land area of the site is 14 acres, and Cortez will purchase 11 of those for the park, with the remaining three acres earmarked for an affordable housing development.  More than half of the community lives on the south side of Cortez, making the park easily accessible to many residents.
Prairie Ridge Trail and Trailhead, $260,000 grant to the City of Loveland
Loveland will build a 1.5-mile hiking trail, a one-mile, ADA-accessible trail at Prairie Ridge, a parking lot, restrooms, and signage.  Prairie Ridge is a 785-acre open space that features hogbacks, prairies, and wetlands, and the new trail system will help residents and visitors connect with these environments while hiking, wildlife viewing, trail running, and mountain biking. The natural area is the largest, city-managed open space in Loveland, and it has been inaccessible to the public since its purchase 17 years ago.
Prospect Park Renovation Phase II, $350,000 grant to the City of Wheat Ridge
The City of Wheat Ridge will use its LPOR grant to enhance Prospect Park. Nearly 45,000 residents and visitors use the park annually, and renovating it has been a top priority for city officials. The enhancements will provide more opportunities for people of all ages, backgrounds, and abilities to enjoy the park.
River Corridor Improvements, $350,000 grant to the City of Cañon City
The City of Cañon City will make a variety of updates to enhance the experience of residents and visitors when recreating along the Arkansas River. The city will build an outdoor classroom along the river, update the existing Centennial Park play wave and construct a new "Ice House" play wave, designate an in-river play area for children, improve the existing boat take-out ramp, and add a gate system for competitive slalom paddlers.
Runyon Complex Expansion Phase I, $350,000 grant to Pueblo County
Pueblo County will add three new artificial turf baseball/softball fields to Runyon Sports Complex. In addition to building the fields, the county will use the funding to add dugouts, fencing, walking paths, bleachers, a scoreboard, a sound system, and necessary lighting. The complex currently has six fields that cater to youth of all ages, from elementary school students to college-aged. However, demand far exceeds available space, so long waiting lists for students who want to play are not uncommon.
Smith Baseball Field Improvements, $33,009 grant to the Town of Limon
Limon will invest its GOCO grant in enhancements that will improve safety and support the community's recreational activities at Smith Field, the only baseball field in Limon. The home of the Limon Badgers baseball team for decades, Smith Field needs an update to make it a more welcoming site for practices and games for youth recreational programs, high school baseball, and during summer months, adult recreational leagues.
Town of Nucla Area Improvement Project, $350,000 grant to the Town of Nucla
Nucla's GOCO grant will be invested in the construction of an arena for livestock shows, agricultural education, and rodeo competitions. The current arena was built in 1971 and has seen few renovations since. The old facility will be demolished and rebuilt, and the new space will include riding and warm-up arenas, pens for livestock, a concessions stand, a booth for judges, and bleachers.
Weber Park Baseball Field Enhancement Project, $41,200 grant to the Town of Dove Creek
Youth baseball and softball leagues are Dove Creek Recreation Department's most popular programs, and yet the department is limited in the number of games and events it can host due to poor conditions at the existing field. Dove Creek will invest its GOCO grant in enhancements that will improve safety and support the community's recreational activities at Weber Park, the most heavily used park in Dolores County.
Arvada Clear Creek Corridor Master Plan, $75,000 grant to the City of Arvada
The City of Arvada's grant will help the city create a plan for recreation along Clear Creek that prioritizes future park acquisitions and improvements while protecting wildlife habitat. The city will focus on improving Gold Strike Park based on feedback from the public and hopes to increase connectivity from the Ralston Creek State Recreational Trail and Olde Town Arvada.
City of Brush Parks & Recreation Master Plan, $60,000 grant to the City of Brush
GOCO funding will help the city create a roadmap for the future of parks and recreation in Brush, one of city council's top priorities for 2018. The master planning process will address funding needs and obstacles while gaining community insight into the most needed programs and facilities for adults, youth, and seniors in the community.
City of Louisville South Boulder Road Ped. & Bicycle Connectivity Feasibility Study and Plan, $75,000 grant to the City of Louisville
The City of Louisville's GOCO grant will invest in a  planning project to establish an access plan for pedestrians and bikes at key north-south connection points across South Boulder Road between Highway 42 and Via Appia in Louisville. The city's current walk score is 37 out of 100, meaning most errands require a car and the community is largely car-dependent.
Jeffco Trails Plan, $75,000 grant to Jefferson County
Jefferson County will put GOCO funding to work creating a countywide trails plan for paved and soft-surface trails. The Jeffco Trails Plan will focus on trails outside of existing county parks and explore how trails can become better connected throughout the county. The ultimate goal is to have every resident within a 10-minute walk of a park, trail, or open space.
LOVA South Canyon Trail- Part 2, $75,000 grant to the Town of New Castle
New Castle aims to fill in a 2.5-mile gap in the LoVa Trail between Glenwood Springs and the town between mile markers 109 and 111 on I-70. Before the trail can be built, New Castle must tackle the challenge of designing the most cost-effective route through highly technical topography that also gives users the best experience for bikes and pedestrians.
Plains Conservation Center Strategic Master Plan, $75,000 grant to the City of Aurora
The City of Aurora recently took on full management of the Plains Conservation Center, and wants to build a strategic master plan to create a roadmap for the center's future.  Prairie grasslands make up 40 percent of Colorado, and the Plains Conservation Center provides a venue for celebrating the land and its multi-cultural heritage. The city has plans to expand environmental education, wildlife watching, school trips, and hiking while balancing human impact with conserving the natural grasslands of the 1,100-acre facility.
Prospect Recreation & Park District Master Plan Update, $50,000 grant to Prospect Recreation and Park District
Prospect Recreation and Park District's GOCO grant will enable the district to assess current inventory, evaluate next steps for Applewood Golf Course, and develop a conceptual plan for Prospect Arena. Options will be presented at public meetings beginning in fall 2018, with plans to complete the new master plan by the end of 2019.
Shady Island River Park Planning, $30,000 grant to Gunnison County
Gunnison County aims to complete a plan for improvements to Shady Island River Park, a 12-acre property on the north side of Gunnison. A public planning process will help determine the future design and use of the area and create professional design and engineering documents. The plan will also take into account how to improve wildlife habitat along and in the river.
Town of Naturita Parks & Recreation Master Plan, $56,250 grant to the Town of Naturita
GOCO funding will help the Town of Naturita  to create its first-ever parks and recreation master plan, an important step forward in diversifying its local economy to include outdoor recreation. The plan will help determine how Naturita will develop four park properties along the San Miguel River. Each property has the potential to create access for beginner water sport enthusiasts, and could also be home to a river trail to get walkers, runners, and bikers off of Highway 141 and Highway 97.
Virginia Canyon Open Space (VCOS) Master Plan, $62,000 grant to the City of Idaho Springs
Virginia Canyon contains 400 acres of mostly undeveloped land, and social trails have been used by the mountain bike community for the last decade. Social trails are informal trails created by the public, and often are not up to safety or sustainability standards. The master planning process will design one of the first network of multi-use trails in Idaho Springs, helping to further cement the city's status as a destination community.
Cedar Ridge Elementary Playground Project, $110,000 grant to Pueblo West Metro Park and Recreation District in partnership with Cedar Ridge Elementary School
Cedar Ridge Elementary update its playground to be universally accessible. One of students' greatest concerns was that the current playground excludes children with physical disabilities, keeping their friends from fully enjoying recess. The existing playground is ADA-compliant, but doesn't offer universally accessible footing and access points to playground equipment. The new playground will rectify that, and will be the second playground in Pueblo West to be inclusive to children and families of all abilities.
Columbine Middle School School Yard, $110,000 grant to the City of Montrose in partnership with the Columbine Middle School
For 58 years, Columbine has only had two basketball hoops and a few foursquare courts, providing few opportunities for students to play outside. Eager to better serve its student population, Columbine will create the school's first true playground, based on a student-led design process. Nearly 200 students presented conceptual designs and cost estimates to their peers, school administrators, parents, and community members to bring their vision to life.
Corwin Community Park and Play Yard Initiative, $110,000 grant to the City of Pueblo in partnership with Corwin Elementary School
Corwin International Magnet School will invest its school yard grant in building the school's first playground. The revamped school grounds will serve the entire community after school hours, as the surrounding neighborhoods have no other park with equipment for children. Originally a middle school, Corwin's primary play area today is asphalt blacktop.
Madison Elementary Playground, $110,000 grant to the City of Greeley in partnership with Madison Elementary School
Most of the existing equipment at Madison Elementary School was installed when the school opened in 1963, and is not accessible by students with disabilities. Several parents played on the same equipment when they were students at Madison themselves. The new playground will have a swing set, slides, and a variety of equipment that students can climb, balance, and spin on. The playground will include four fitness stations for students' physical education classes and Healthy Hearts unit.
Project Citizen 2018, $73,766 grant to the City and County of Denver in partnership with Samuels Elementary School
Samuels Elementary School, located in south Denver, is home to a diverse student population from more than 40 different countries. This project will see the vision of Project Citizen, which began as a semester-long project in 2015 for fifth-grade students at Samuels, to fruition. A previous GOCO grant helped the school build a community garden in 2016, and the latest grant will bring the final piece of Project Citizen to life.
Shawsheen Elementary Outdoor Learning Play Yard, $110,000 grant to the City of Greeley in partnership with Shawsheen Elementary School
Shawsheen Elementary School will also invest its GOCO grant in replacing a decades-old playground. The school has plans to make the new playground ADA-accessible in addition to giving kindergarten and first grade students more age-appropriate equipment. The Title I school has fundraised $18,000 over the last two years and St. Patrick's Presbyterian Church contributed $7,200 to make the playground a reality.
Side Creek Playground Rejuvenation, $110,000 grant to the City of Aurora in partnership with Side Creek Elementary School
Side Creek Elementary in south-central Aurora will invest GOCO funding in replacing their 36-year-old playground. The surrounding community has grown by 19 percent in the last eight years, but the playground hasn't been expanded to meet the needs of an expanding student population, which leads to conflicts on the playground. The design process was led by a group of 20 students who are recognized as exemplary leaders by their teachers.
Will Rogers Wilderness, $110,000 grant to the City of Colorado Springs in partnership with Will Rogers Elementary School
The Will Rogers community has already achieved a nearly building-wide upgrade of interior infrastructure using more than 1,000 volunteer hours. GOCO funding will now help the school do the same for its outdoor campus. A majority of the playground's existing equipment was installed in 1956. The grounds have nearly no shade or grassy areas. The school's 100 Acre Wood, affectionately named by staff and students since it is the one area that does have shade and grass, served as inspiration for the Will Rogers Wilderness vision.
Great Outdoors Colorado (GOCO) invests a portion of Colorado Lottery proceeds to help preserve and enhance the state's parks, trails, wildlife, rivers, and open spaces. GOCO's independent board awards competitive grants to local governments and land trusts, and makes investments through Colorado Parks and Wildlife. Created when voters approved a Constitutional Amendment in 1992, GOCO has since funded more than 5,000 projects in urban and rural areas in all 64 counties without any tax dollar support. Visit GOCO.org for more information.