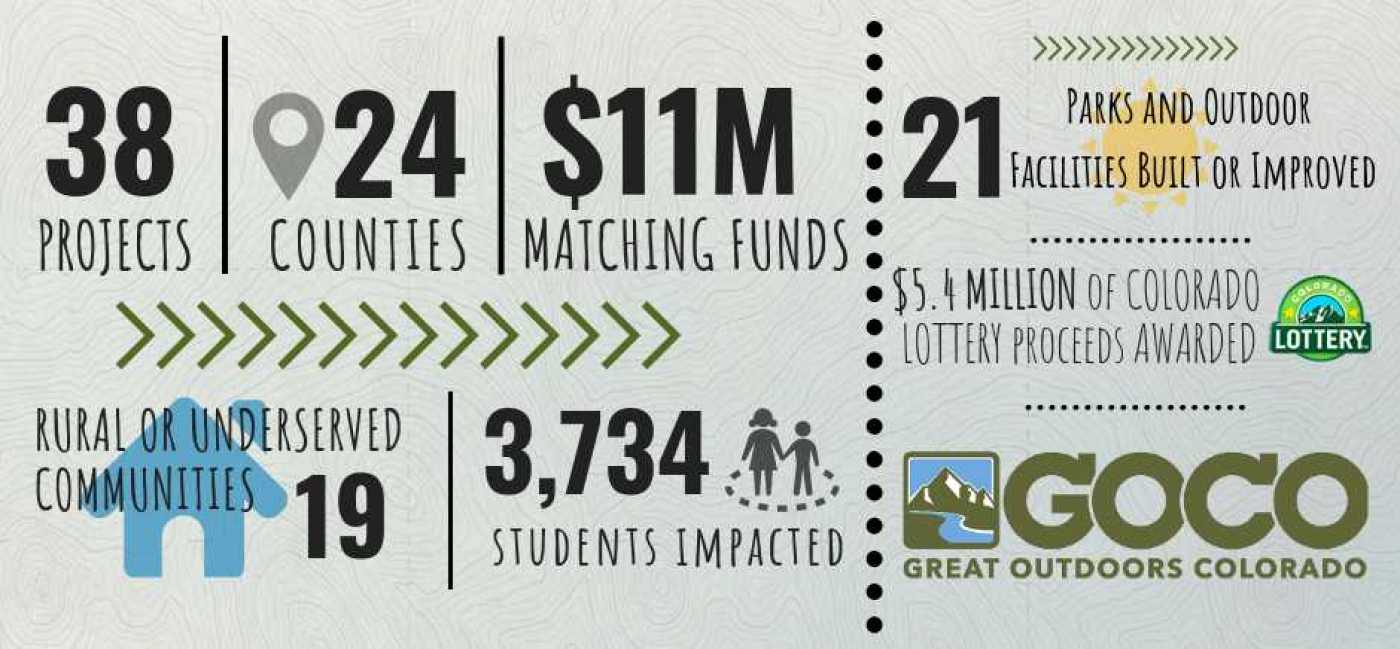 DENVER - Today the Great Outdoors Colorado (GOCO) board awarded $6.3 million in grants to 38 projects across the state. Communities from across Colorado competed for funding in a grant round where requests were triple of what was available.
The majority of the funding, totaling a little more than $5 million, was awarded through GOCO's Local Parks and Outdoor Recreation (LPOR) and Mini grant programs. These grants assist local governments with acquiring land for a potential park, developing and enhancing existing parks, updating park facilities, and constructing outdoor learning environments.
GOCO also awarded $520,888 in planning grants to help local governments execute a wide range of outdoor recreation planning efforts, including site-specific plans, department master plans, and strategic plans. Planning grants also help local governments gather public input and evaluate conditions to meet the outdoor recreation needs of Colorado communities.
Just over $828,000 in additional funding was awarded from the School Yard Initiative (SYI), which help schools that partner with their local governments build engaging outdoor spaces for students to learn and play. All school yards must be designed, in part, by students, and funded schools are eligible to become part of Colorado Parks and Wildlife's Schools and Outdoor Learning Environment (SOLE) program.
In total, the grants will:
Fund 38 projects in 24 counties.

Impact 19 rural or underserved communities.

Leverage more than $11 million in local matching funds.

Build or upgrade 22 local parks or outdoor recreation facilities, including 3 fairgrounds.

Build or upgrade 8 school yards and outdoor classrooms, impacting 3,734 students.

Acquire 2.2 acres of land for public use.
Local Parks and Outdoor Recreation (LPOR) & Mini Grants
Alma Riverwalk Trail and Park Construction and Design, $63,928 grant to the Town of Alma
The Town of Alma will use its GOCO funding to help design and construct the Alma Riverwalk Trail and Park. The Alma Riverwalk will provide an easily accessible trail and park for residents and visitors of all ages. The town envisions an 1,800-foot linear trail that is ADA compliant running along the Middle Fork of the South Platte River. The trail will include dock viewing areas, boardwalk bridges, and a series of inclines and landings. ADA access to parking lots, fishing areas, interpretive signs, and other neighboring trailheads will facilitate outdoor recreation for individuals of all ages and abilities.
Art Dague Pool and Waterslide Upgrades and Additions, $217,500 grant to the City of Rifle
The City of Rifle will use its LPOR funding to renovate Art Dague Pool and Waterslide (ADPW). The city will expand the existing bathhouse to add two new family changing rooms and an improved concession, admission, and staff/first aid area. New construction will also include a zero-depth-entry leisure pool with flow channel and aquatic play structure, a separate six-lane lap pool, a family whirlpool, and concrete and turf deck space with multiple shade structures. ADA upgrades, including lifts and recessed stairs, are integral elements of the new facility.
Baca County Fairgrounds Renovation Project, $350,000 grant to Baca County
Baca County will make needed improvements to its fairgrounds with the help of GOCO funding. Decades of exposure to the elements has rusted many of the fences and livestock pens, and drainage flows directly into the arena and grandstand. Wire shortages have caused blackouts in the arena. Baca County will address the critical drainage issues, replace arena materials, make improvements to fencing and lighting, and construct a new multi-use building to include participant dressing rooms, showers, and bathrooms. ADA accessibility will also be incorporated into the designs.
Breeze Park Development Phase II, $150,000 grant to the City of Craig
The City of Craig has been making improvements to Breeze Park since 2015, and with the help of the GOCO LPOR grant, it will start a second phase to include upgrades to a 35-year-old irrigation system; construction of an 820-foot, ADA concrete trail; and the addition of three 144-square-foot picnic shelters, a 720-square-foot gazebo, two shade canopies, and a 3,400-square-foot safety surface. Updates to the park are expected to encourage the nearly 4,000 residents of Craig who live within a 10-minute walk of the park to engage in outdoor activities and participate in stewardship events organized by the parks and recreation department.
Brenda Joy Bike Park Equipment Purchase, $45,000 grant to the City of Fort Morgan
The City of Fort Morgan will use its GOCO funding for trail work and the purchase of BMX-style bike park equipment at Brenda Joy Park. The city will build a half-mile, multi-use nature trail, ranging from single-track to wider areas, to include ramps, landing zones, balancing obstacles, tunnels, and raised platforms. The range of difficulty will cater to both beginner and expert riders. The city hopes its younger group will have better opportunity to grow an appreciation for biking, while older kids will enjoy the additional features and added excitement they bring.
Buffalo Track and Field Renovation Project, $350,000 grant to Logan County
Logan County, in partnership with Buffalo School District, will make updates to Merino High School's Buffalo Track and Field. To provide its students and residents with a safe, outdoor exercise venue, the county will use its GOCO funding to construct a new all-weather, eight-lane, 400-meter track. The track will include sand pits for long and triple jumps in addition to all-weather surface for high jump, pole vault, discus, and shot put. The project will also be designed to be ADA compliant and provide direct access to Merino's one-mile Fit Trail, the town's only other outdoor exercise venue. Construction of the track will save Merino students the travel costs of some of the away-from-home meets, as well as the 30-mile bus trip to use the town of Sterling's outdoor facilities.
Centennial Park Enhancement, $45,000 grant to the Town of Kersey
The Town of Kersey will use its GOCO funding for upgrades to improve residents' experience at Centennial Park. The town plans to relocate and rebuild the horseshoe pits to bring them up to current safety standards, as well as install a play structure, sidewalks, and a grass seating area. Planting trees and extending the irrigated turf to cover the new area are also included in the plan.
Coal Miners' Bucket Park Extension, $42,472 grant to the Town of Oak Creek
The Town of Oak Creek will make improvements to Coal Miners' Bucket Park. The park is an extension of the Tracks and Trails Museum, one of the town's main attractions and a reflection of its industrial history. The primary goal of this project is to build a trailhead for the park's Noon Whistle Trail, which is currently difficult to access. It is the only trail that connects to the town's main street. The presence of a formal trail head will also significantly increase the number of users. Other planned enhancements include ADA-accessibility improvements, adding electricity, and an underground irrigation system‒ making room for a fresh open space with a picnic table and updated landscaping around the park.
Cortez South Neighborhood Park Project, $350,000 grant to the City of Cortez
With its new GOCO grant, the City of Cortez will develop an 11-acre portion of the 14-acre lot where the former Montezuma-Cortez High School once sat into a full-service park, one that includes a newly constructed parking lot, concrete walking trails, benches, picnic tables, grills, a water fountain, and bike racks. The park will feature a nature-themed playground equipped with a log crawl tunnel, balance beams, challenge ropes, and stepping form rocks. The project will also include a multi-purpose ball field, a street course skate park, two bike parks, lawn games, park shelters, and a community gathering space. Designs will also be ADA compliant, providing an inclusive and accessible outdoor recreation experience for all.
Del Norte Riverfront Project Phase II, $350,000 grant to the Town of Del Norte
The GOCO grant will help the Town of Del Norte with its Del Norte Riverfront Project, a community-led effort to improve access, create recreation infrastructure, and enhance habitat along the Rio Grande. GOCO funds will be used to realize phase two of the project, which includes pedestrian river access and a whitewater play wave, allowing for rafting, paddleboarding, kayaking, and tubing. Additionally, improvements to the river habitat and streambanks will be made through the design and shaping of stable channel structures. Grant funds will also be utilized to build a new ADA-accessible picnic area complete with a covered shelter, tables, benches, and recycling facilities, as well as for the development of bilingual signage to be installed at key areas around the park.
Holly Park Renovation Project, $214,348 grant to Montrose Recreation District
Holly Park is Montrose's oldest park. In the 43 years since its construction, few updates have been made to the park, and now, due to the its current state and size, MRD is seeing a significant drop in park use. With its GOCO funding, MRD will make several improvements to Holly Park, including adding a multi-purpose field, playground, enhanced handball courts, and colorfully painted courts to inspire creative play. Additional improvements will include the removal of unsafe and unusable elements, particularly the outdated sand volleyball and tennis courts. Grant funds will also be used to expand infield, dugout, and shade structures; provide additional parking and lighting; and update the park's irrigation system.
Land Acquisition to Complete Buchanan Park, $350,000 grant to Evergreen Park and Recreation District
The GOCO LPOR grant will help EPRD purchase 2.2 acres of private residential property in order to connect Buchanan and Bergen Parks and prevent future private development on the land. The property is in the northwest corner of Buchanan Park, with Denver's 25-acre Bergen Park to its north and Jefferson County's 1475-acre Elk Meadow Park to its south. It is the last piece of privately-owned residential property in 1,540 acres of contiguous parkland in North Evergreen. A future, updated master plan for Buchanan Park will help identify appropriate and feasible recreational uses for the land according to residents' needs.
Las Colonias Park River Recreation Upgrades, $350,000 grant to the City of Grand Junction
Grand Junction's LPOR grant will help the city further develop the 140-acre Las Colonias Park. The goal of the project is to design inlet channels to improve water flow in the Colorado River throughout the year and to revegetate the bank along the river to promote better access and safe, recreational use of the riverfront. The project's revegetation effort will help control erosion, support the native wetland habitat, and ensure the sustainability of the riverbank. The site's upgrades will also make it more suitable for outdoor education programming for local children and students of Colorado Mesa University.
Mancos' New Playground, $45,000 grant to the Town of Mancos
The Town of Mancos will invest its GOCO funds in a new park for residents on the town's north side. Currently, the only two parks in town are on the south side. This new park will be located within walking distance of one-third of the town's residents who currently have no nearby outdoor recreation sites. The park will be completely organically-managed and will include a playground, two picnic tables, a shade structure, and a grassy area. The playground equipment will be nature-themed and will incorporate educational elements for children.
Outdoor STEM Classroom & Playspace Construction, $255,000 grant to Mesa County
With its GOCO LPOR grant, Mesa County, in partnership with EUREKA! McConnell Science Museum, will build an outdoor STEM classroom and play space. EUREKA! offers a variety of weeklong summer camps that consist of educational environmental science and recreation science programs for pre-K through eighth grade. The new area will include features tied to recreation interests on the Western Slope. It will incorporate climbing features and boulders that encourage adventure play and exploration, a pollinator garden with a native plant walk, and benches that are designed for recreational skateboard use. The play space will be open and free to the public and is designed to be multi-generational to accommodate seniors, college students, and families.
Panorama Park RISES with the Community Enhancements, $350,000 grant to the City of Colorado Springs
With the help of its GOCO funding, the City of Colorado Springs will enhance Panorama Park, marking the largest neighborhood park renovation project in the city's history. In partnership with The Trust for Public Land and RISE Coalition, the city engaged in a yearlong park discovery process, designed to gather input from the public and then develop conceptual designs for a park that would inspire safe, outdoor recreation and play. So far, ideas have included the following additions to the park: fitness stations, walking loops and paths, active play equipment, sports fields, bilingual signage, native grass, trees and weather protection, and a community plaza space for events and activities. These features illustrate the desire for a park that offers spaces for families and neighbors to gather, recreate, and play.
Pitkin County Healthy Rivers Whitewater Park, $350,000 grant to Pitkin County
Pitkin County will use its GOCO funding to provide safe and improved access to its Healthy Rivers Whitewater Park. Currently, heavily vegetated areas along the riverbank and changing water levels make access to the park difficult. In an effort to engage multiple recreation users, Pitkin County, in partnership with the Town of Basalt, will use the GOCO grant to create emergency access routes, river-viewing platforms, an elevated boardwalk to encourage exploration and education, and a raised pedestrian table crossing. Additional improvements include restrooms and changing rooms to accommodate increased demand and park usage.
River Park Phase 2 Construction, $350,000 grant to the Town of Breckenridge
With its GOCO LPOR grant, the Town of Breckenridge will begin the second phase of its River Park project. The first phase, which was partially funded by GOCO, wrapped up in fall 2018. River Park is an inspired, artfully designed and constructed, nature-based environment for visitors to Breckenridge as well as residents of the neighborhoods along the Blue River. The park's mountain, meadow, and river theme complements the surrounding landscape.
The second phase of construction will create an ADA-accessible fisherman's landing next to a fishing hole on the Blue River for children of all ages, a beginner bike loop for toddler and preschool children, a log climber area and playground, and a custom fish-climbing structure. Other additions will include slackline posts, grassy spaces for additional areas of play, parking, signage, and trailhead access.
San Miguel County Fairgrounds and Regional Park Outdoor Arena Renovations and Upgrades, $157,103 grant to San Miguel County
San Miguel County will use its GOCO grant to help upgrade the existing Outdoor Arena at the San Miguel County Fairgrounds & Regional Park (SMCFRP) in Norwood. This unique rural facility has served the community for decades and requires repair in order to ensure a safe public venue for equestrian training, practices, and events. In order to meet demands placed on the outdoor arena, this project includes replacing fencing and footing and renovating the existing structure to improve drainage. Reliable footing, and its ability to drain quickly, are critical to equestrian events. The benefits of these improvements include increasing economic activity for the community, inviting locals to participate in major events, and supporting local clubs.
Soda Springs Park Phase 1 Redevelopment, $293,658 grant to the City of Manitou Springs
The City of Manitou Springs will use its GOCO grant to redevelop Soda Springs Park, the city's historic park dating back to the mid-1800's. The park's west side, which was used as a staging area for dirt and debris during the Waldo Canyon floods of 2012 and 2013, now sits barren and unused. Proposed improvements include adding natural boulders and a beach zone by Fountain Creek, as well as a small plaza, a climbing net, nature exploration area, and plants. The improvements will revitalize the west end of the park, encouraging families and residents to recreate there.
The Farm Recreation and Community Gathering Area, $44,540 grant to the Town of Frederick
The Town of Frederick will invest its GOCO funds in an outdoor recreation area in the Johnson Farm neighborhood, nicknamed "The Farm." The new space will be built on an existing four-acre lot located within walking distance of 1,700 town residents. Planned features include a basketball court, pickleball court, four-square space, gaga ball pit, and picnic area. The new park will provide safe access to unstructured recreation opportunities for both children and adults.
Yuma County Fairgrounds Upgrades, $350,000 grant to Yuma County
GOCO funds will help Yuma County make improvements to its fairgrounds. The livestock building has not been updated in several years and is in need of repairs. The new construction will include a pre-engineered metal building to increase the current building envelope by 12,500 square feet. The livestock building will be open-air on one side and will include a relocated, larger animal wash area with proper drainage. Additional improvements include larger, ADA-compliant restrooms with showers. Renovations to the livestock building will better equip the facility to host various events throughout the year, including the Yuma County Fair, and will allow for a better user experience for 4-H, Future Farmers of America, and community members.
Planning Grants
Cal‐Wood Lodge Renovation Planning Project, $36,150 grant to Boulder County
Boulder County's grant will help address how to add physical capacity to the lodge at Cal-Wood in Jamestown. Cal-Wood provides outdoor and environmental education experiences for Colorado youth and their families. Cal-Wood secured the services of George Watt Architecture in September 2018; the firm will provide a schematic design, design development, construction documents, permitting submittals, and process administration, among other services.
The vision for the lodge includes an 800-square foot addition to the dining hall that will seat 50 additional students. The addition of a well-stocked, organized gear closet will help Cal-Wood break down barriers for low-income youth and families to participate in outdoor adventure. The project also aims to decrease Cal-Wood's carbon footprint.
Estes Valley Open Space and Outdoor Recreation Plan, $66,000 grant to the Town of Estes Park
The Town of Estes Park, in partnership with Estes Valley Land Trust, received a planning grant to create the Estes Valley Open Space and Outdoor Recreation Plan, outlining ideas for conserving land and wildlife habitat near Rocky Mountain National Park. The project will bring together local conservation and recreation groups, local government, federal government, and other interest groups to define conservation and outdoor recreation success for Estes Valley over the next 20 years. Specific goals of the plan are to develop a set of open space and outdoor recreation priorities that drive decision making on spending conservation and recreation-related public funding, and to create maps that show high-priority conservation areas as well as outdoor recreation land priorities.
Fruita Parks, Health, Recreation, Open Space and Trails Master Plan $65,000 grant to the City of Fruita
Fruita's planning grant will help the city create an updated master plan to meet the changing needs of the community. Nearly 10 years have passed since Fruita adopted its current Parks, Open Space and Trails Master Plan. The 2019 Master Plan process will engage the community as the city examines existing conditions of its outdoor recreation assets and recreation programming. The city will identify needs for additional trails, parks, and open space areas and will research additional recreational opportunities and amenities.
Managing Growth on Colorado's Front Range Mountains, $75,000 grant to Clear Creek County
Clear Creek County received a GOCO grant in support of the NOCO PLACES 2050 partnership. Short for Northern Colorado People, Land, Access, Conservation, Ecosystems, Sustainability, NOCO PLACES includes Boulder, Clear Creek, Gilpin, Jefferson and Larimer Counties; Colorado Parks and Wildlife; the Arapaho and Roosevelt National Forests (ARNF); the National Park Service; and business, nonprofit and environmental communities. The partnership formed to develop a regional "All Lands Master Plan" for unified management of local, state, and federal public lands to meet growing user demands across the region for the next 30 years.
This work will include local recreation and natural resource stewardship plans at a county level, a regional recreation and natural resource stewardship plan that includes the ARNF, and a forest plan update for the ARNF. These plans will include strategies to share in the management, infrastructure- development, and maintenance of public lands for better and more efficient stewardship of natural resources and public lands.
Park and Recreation Master Plan Update, $75,000 grant to the City of Fort Collins
The City of Fort Collins' planning grant will help the city produce an updated, comprehensive master plan to serve as the guiding document for the development of a growing parks and recreation system. The plan aims to provide vision, goals, and clear objectives to ensure the system serves the community's needs. The plan will identify existing and needed facilities; build out strategy, design standards, and guidelines; set park design process; consider special interest group requests; assess funding sources; and establish key metrics for implementation.  
Project Wild Nature Connection Research, $72,488 grant to the City of Lafayette
This planning grant for the City of Lafayette will help Nature Kids/Jóvenes de la Naturaleza (NKJN), a $10 million collective impact project funded in part by GOCO's Generation Wild program, conduct a youth-and-nature research study to assess the effect of nature-based learning and activities on the outcomes of children in primary and secondary school settings. Researchers will produce a publishable, mixed methods analysis of evidence-based research results that can be shared with and replicated by other communities and organizations. NKJN is the largest community scale project in the country connecting youth to nature and the outdoors.
Supporting the Next 100 Coalition's Colorado Network, $75,000 grant to Summit County
Summit County's grant will help create a plan for the Next 100 Coalition's Colorado Network. Six organizations in the coalition – Big City Mountaineers, cityWILD, Continental Divide Trail Coalition, Environmental Learning for Kids, Hispanic Access Foundation, and Protégete – are based in or have a presence in Colorado. These core members have joined with several dozen other organizations in Colorado to work towards policies and programs that drive diversity, equity, and inclusion in parks, public lands, and the outdoor industries.
Keystone Policy Center will work with Colorado coalition members to create a statewide asset map of organizations working on diversity and inclusion in the outdoors, establish the overall vision for the Colorado Network, and facilitate planning to put three statewide projects into action over the next year, effectively growing and activating a committed Colorado coalition.
Town of Carbondale Aquatic Facility Master Plan, $56,250 grant to the Town of Carbondale
The GOCO planning grant awarded to the Town of Carbondale will help the town hire a consultant to produce an aquatic facility master plan. This master plan will help garner community-wide support for either the renovation or replacement of the John M. Fleet Pool, the municipal pool that is more than 50 years old.
Using public outreach and public opinion data, planners will aim to create a comprehensive master plan guided by the community's collective vision about the desired pool's amenities, design, and location. The plan will also address funding and cost scenarios, operations and maintenance considerations, a fundraising plan, and financial feasibility analyses.
School Yard Initiative (SYI) Grants
Bessemer Academy Playground, $110,000 grant to the City of Pueblo in partnership with Bessemer Academy
Bessemer Academy will invest its GOCO funds into building the school's first playground in its 135-year history. The playground will be universally accessible in order to welcome students and people of all abilities, making it the first of its kind in the area. Outside of school hours, members of the public will be able to use the playground, making it an asset to both the school and the community as a whole.
Explore Elementary Outdoor Play and Learning Space, $108,760 grant to the City of Thornton in partnership with Mapleton Public Schools
Explore Elementary will use its SYI grant to build an outdoor space at its new facility, which is currently being built. This playground will be the first of its kind for the school and the surrounding community. The school's current playground, and all of the playgrounds in the Mapleton area, provide limited opportunity for unstructured play. Members of the public will have access to the space outside of school hours, and other schools in the area plan to utilize the outdoor classroom.
Nisley Elementary Playground, $110,000 grant to the City of Grand Junction in partnership with Nisley Elementary School
Nisley Elementary will invest its GOCO funding in replacing the outdated playground, which has not seen significant updates since the school's opening in 1958. The new playground will be equipped with a universally-accessible play and learning area. Several of Nisley's students are not able to use the current playground due to its lack of accessibility for people with physical limitations. Planned features include a swingset, slides, a climbing structure, sensory panels, and fitness stations. The school yard will also include an area for outdoor learning with painted maps of the United States and Colorado; native trees and plants; and quiet, shaded areas for reading and studying.
North Arvada Middle School Obstacle Course Park, $110,000 grant to the City of Arvada in partnership with North Arvada Middle School
North Arvada Middle School will use GOCO funds to build an outdoor obstacle course on school grounds. Before the recent addition of a community garden, the only outdoor amenities at the school were a basketball court, gravel track, and two four-square courts. North Arvada offers no school-sponsored sports teams, so the obstacle course will provide needed outdoor play opportunities for students.
Oak Grove Elementary Playground Renovation Project, $110,000 grant to Montrose County in partnership with Oak Grove Elementary School
Oak Grove Elementary's playground equipment is decades-old, difficult to access, and considered unsafe. Using its SYI grant, the school will replace its old playground with a new, universally-accessible play area and outdoor learning space, welcoming children of all abilities. The goal of the project is to create a natural space where all students and community members are inspired to play, explore, and learn outside.
Ouray School ADA-Accessible Playground, $110,000 grant to the Town of Ouray in partnership with Ouray School
GOCO funds will be invested in upgrading the Ouray school's current playground, which is nearly 30 years old.  The existing playground equipment is outdated, considered unsafe, and not accessible to students with disabilities. Funds will also help build a new outdoor learning area within the play yard. Planned features include swings (including an ADA-accessible bucket swing), blacktop for games like four square, a gaga pit, an artificial turf open play field, a quiet nature zone with shade structures, and a freestanding outdoor classroom and stage.
Ricardo Flores Magon Academy Outdoor School Yard, $110,000 grant to Adams County in partnership with RFM Academy
Ricardo Flores Magon Academy is in the process of building a new school, scheduled to open in Fall 2020. Currently, the academy is operating at the site of Berkeley Gardens Elementary School, which was built in 1906 and is in need of significant repairs. The school will use GOCO funds for a play yard at the new building, which will serve the academy's students as well as the community as a whole. Planned features include traditional playground equipment, a multi-purpose play field, a soccer pitch, a basketball court, nature play structures, and an outdoor classroom.
Warren Tech Outdoor and Environmental Education Classroom, $63,030 grant to the City of Lakewood in partnership with Warren Technical High School
Warren Technical High School will use its SYI funding to expand on an existing outdoor education center. Warren Tech provides students with the opportunity to learn trades and earn college credit while still in high school, and many of its programs have an outdoor learning focus. This expansion will give students more opportunities to develop career-building skills outside.
Planned features for the expansion include an outdoor kitchen, walking trail with native plants and educational signage, a chicken coop, and a shaded picnic area. Students will use these spaces as part of classroom activities and during recreation time, and members of the public will have access to certain spaces outside of school hours.
Great Outdoors Colorado (GOCO) invests a portion of Colorado Lottery proceeds to help preserve and enhance the state's parks, trails, wildlife, rivers, and open spaces. GOCO's independent board awards competitive grants to local governments and land trusts, and makes investments through Colorado Parks and Wildlife. Created when voters approved a Constitutional Amendment in 1992, GOCO has since funded more than 5,200 projects in urban and rural areas in all 64 counties without any tax dollar support. Visit GOCO.org for more information.