FOR IMMEDIATE RELEASE – 4/7/2016
Contact: Rosemary Dempsey, 303-226-4530, rdempsey@goco.org or Laura Cardon, 303-226-4531, lcardon@goco.org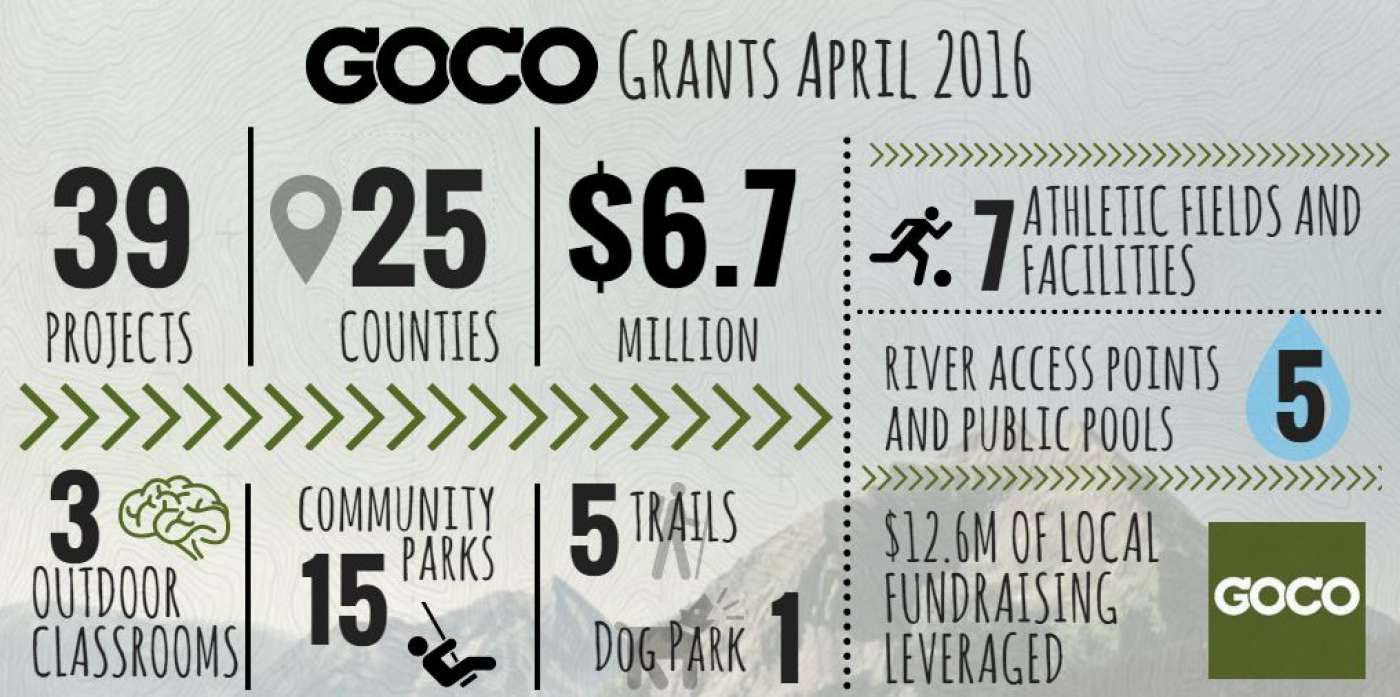 DENVER – The Great Outdoors Colorado (GOCO) Board awarded nearly $7 million in funding for 39 projects across the state today. Projects include community parks and trails, school playgrounds and outdoor classrooms, and facility upgrades for organized sports.
The April board meeting marked the first year of annual grant cycles for the local government grant program, which includes local parks and outdoor recreation (LPOR) grants, mini grants for projects with total budgets of $60,000 or less, and planning grants for master and strategic plans. The move to annual grant cycles allows grantees to begin projects earlier in the construction season.  
The vast majority of funded projects will affect rural or underserved communities, with 26 counties across the state represented. In total, GOCO funding will:
Construct or refurbish 12 local parks.

Create three outdoor elementary school classrooms.

Build five water recreation points, including river access, public pools, and an interactive water feature.

Upgrade seven athletic fields and facilities.

Create 10 master plans for new parks, trails, and collaborative efforts to get kids outside.
Grant details are as follows:
ADAMS COUNTY
Bennett Community Playground, $350,000 grant to the Town of Bennett in partnership with Bennett School District
The playground at Bennett Elementary School has been a natural recreation hub in the community, functioning as a de facto town park at its location adjacent to community ballfields and trails. But the 23-year-old playground is unsafe and doesn't meet ADA-accessibility standards or Bennett's vision for a healthy, active community. GOCO funding will help construct a new playground, outdoor classroom, and grass field, as well as improve pedestrian access.
Big Dry Creek Recreation and Restoration Master Plan, $75,000 grant to the City of Thornton in partnership with Adams County
Streambed erosion has compromised wildlife habitat and the floodplain surrounding Big Dry Creek, and the City of Thornton will craft a plan to restore streambanks and plan for future passive recreation needs. This project is the first phase of floodplain restoration in the corridor, and will also incorporate plans to increase accessibility throughout the 296 acres of open space currently conserved. Public meetings will begin in fall 2016, with the plan being finalized in mid-2017.
ALAMOSA COUNTY
Alamosa City Ice Rink and Multi-use Facility, $350,000 grant to the City of Alamosa
The ice rink at Carroll Park in Alamosa is so dilapidated that building an entirely new facility is the most viable option for the city. The current rink has no concrete base or chillers, sitting directly on uneven dirt that citizens have not-so-lovingly dubbed "the swamp."
GOCO funding will enable the city to install chillers on top of a concrete base, creating a facility with a predictable ice hockey season that can be used the other six months of the year for the fair, spring and summer sports, and other community events. Most importantly, the facility's new location will create a walkable and bikeable hub for recreation in Alamosa and the greater San Luis Valley, one of the lowest income regions of the state.
ARAPAHOE COUNTY
Nome Park Renovation, $350,000 grant to the City of Aurora in partnership with the Trust for Public Land
More than 4,000 Aurora residents live within a 10-minute walk of Nome Park, but most are driving up to an hour to visit "good parks" that meet their recreational needs. The City of Aurora, in partnership with the Trust for Public Land (TPL), has envisioned a complete transformation for the outdated and underused park, with plans to double the playground and create more community gathering spaces, a new fitness zone and loop path, and a 50-plot community garden.
The park is adjacent to Aurora Central High School, a student population with a 69 percent free and reduced lunch rate. The project has also engaged this often-forgotten demographic to give teens ownership and their own space in the park.
River Run Park at Oxford, $350,000 grant to the City of Sheridan
River Run Park is within walking or biking distance of more than 100,000 residents, and will ultimately provide the only river access in the area. Community families have prioritized natural play areas as a high priority for the project, and GOCO funding will build a nature-themed playground and seating overlooking the river in addition to pedestrian paths and native landscaping.
BOULDER COUNTY
Flatirons Meadows Park Master Plan and Construction Documents, $75,000 grant to the Town of Erie
The Town of Erie will develop a master plan and construction documents for Flatiron Meadows Park, a 23-acre site adjacent to a future K-8 school. The plan will create an integrated campus and park connected to Erie's town-wide trail system. GOCO funding will allow the town to begin the planning process in time to leverage a developer agreement for initial site work.
CHAFFEE COUNTY
Riverside Park Playground, $140,000 grant to the City of Salida
Riverside Park is Salida's most popular park, but the playground hasn't been updated in over two decades. The equipment is not only outdated, but unsafe and unable to meet the needs of resident and visiting families. GOCO funding will bring the playground up to ADA standards, expand the size of the playground, and replace outdated and unsafe equipment with pieces hand-selected by the community.
Inspire Chaffee County Outdoors, $75,000 grant to Chaffee County
Despite the abundant outdoor recreation opportunities in Chaffee County, a significant portion of the population does not regularly get outside, and the Inspire Chaffee County project will identify barriers and communities of greatest need. The project will learn from Lake County, a pilot community for GOCO's $25 million Inspire Initiative and will engage a 13-member coalition of diverse statewide and local partners.
CLEAR CREEK COUNTY
Clear Creek Greenway, Idaho Springs Segment, $150,000 grant to the City of Idaho Springs
The Clear Creek Greenway is a 35-mile stretch of the Peaks to Plains trail, a vision to construct a continuous trail from Loveland Pass to Adams County. This project will plan for a 2.6-mile section of pedestrian and bike access along Clear Creek in Idaho Springs, a much-demanded but currently non-existent section of trail.
Currently, pedestrians and cyclists must compete with traffic along Idaho Springs' busiest street, and in many places, cannot easily access Clear Creek. The planning grant will produce shovel-ready construction drawings, help secure funding for construction of the trail segment, and build momentum for completing more gaps in the Clear Creek Greenway.
Tom Bennhoff Lake Trail, $338,132 grant to the Town of Georgetown
Another trail gap will be closed in Georgetown, building on the success of a previous GOCO planning grant. The new GOCO grant will enable the town to construct the final piece of the Tom Bennhoff Trail around Georgetown Lake. The project will replace a hazardous informal user trail that has contributed to erosion and degraded habitat along the lake. Completing the eastern side of the trail will improve access for anglers and local students in addition to other local and visiting users.
DENVER COUNTY
Leveraging a framework for change, $100,000 grant to the Trust For Public Land on behalf of the Metro Denver Nature Alliance (mDNA); multi-county grant
The newly formed mDNA is an emerging partnership of organizations determined to address the growing disconnect between youth and nature. mDNA includes the Denver Museum of Nature & Science, Denver Zoo, Denver Botanic Gardens, the Nature Conservancy, and many other organizations eager to establish a methodology for measuring the group's impact on communities throughout the metro area.
Samuels Project Citizen 2016, $33,060 grant to the City and County of Denver on behalf of Samuels Elementary School
Samuels Elementary serves a diverse, low-income population with a large number of refugee families. GOCO funding will construct a shaded outdoor classroom and expand the community garden. The community garden currently has a three-year waiting list but continues to have an enormous impact on the community. The garden produced 278 pounds of fresh fruits and vegetables for the school cafeteria and donated an additional 237 pounds to a local food bank in the last year. Those numbers will double with the addition of 15 new plots.
EL PASO COUNTY
Manitou Springs Baby Splash Pool, $80,500 grant to the City of Manitou Springs
In Manitou, the existing splash pool for the city's youngest swimmers is 44 years old, with unsafe and grossly inefficient structural challenges. GOCO funding will allow Manitou to accommodate up to 40 children; the larger pool means new swimming classes for babies and preschool children and their parents. The GOCO grant will also build a kid-friendly entry to the pool and update plumbing.
Ellicott School District Sports Field Expansion, $343,913 grant to El Paso County on behalf of Ellicott School District
In Ellicott, the school district partnered with El Paso County to receive funding for new sports fields. The current fields are at capacity, and expanding the fields will impact the more than 1,000 students at the shared elementary, middle, and high school campus.
The school district site also serves as a community gathering place in this rural, unincorporated area of El Paso County. Many families of students come from nearby Schriever Air Force Base, and the school district serves a diverse, low-income population; 70% of students are on free and reduced lunch.
County Fairgrounds Outdoor Recreation Improvements, $275,000 grant to El Paso County
In another rural El Paso community, the county fairgrounds will receive a facelift to incorporate more outdoor recreation options. Located just south of Calhan, the county intends to create a year-round hub for residents across the county. GOCO funding will construct an open-air pavilion, playground, splash pad, shade and landscaping, and picnic tables in addition to bringing electricity to the fairgrounds campground, improving the dirt race track, and upgrading accessibility to the entrance.
FREMONT COUNTY
Rouse Park Pickleball Courts, $91,534 grant to the Cañon City Metropolitan Recreation District
Cañon City will use GOCO funding to convert two unusable tennis courts into pickleball courts for its rapidly increasing local league, which grew from six to 90 players in the last three years. The tennis courts have been closed since 2012 due to their condition, and Cañon City realized an opportunity to expand outdoor recreation options for its residents.
GARFIELD COUNTY
Community Sports Park, $347,245 grant to the Town of New Castle
GOCO funding will form a new park with a playground, two tennis courts, two pickleball courts, and a trail connecting to surrounding neighborhoods. The project will support the town's LiveWell Colorado Healthy Eating Active Living (HEAL) efforts by providing easier access to outdoor recreation for residents, a majority of whom live within walking distance of the park.
City of Glenwood Springs Parks, Recreation and Open Space Master Plan Update, $40,000 grant to the City of Glenwood Springs
The city is updating its parks, recreation, and open space master plan to better address residents' needs. The new master plan will create a vision moving forward for how the city builds and maintains its parks, trails, open space, and recreational programming.
GRAND COUNTY
Raffety Park Development, Phase 1, $335,000 grant to the Town of Granby
The Town of Granby will add much needed infrastructure and amenities to Raffety Park, including a playground, pickleball courts, fitness stations, an environmental education classroom, picnic areas, and a loop trail. The park is adjacent to East Grand Middle School and Indian Peaks Charter School, neither of which has a suitable playground or outdoor classroom. Improving the park will affect more than 400 students and will provide walkable access to a high-quality park for thousands of residents.
GUNNISON COUNTY
Gunnison Dog Park, $40,000 grant to the City of Gunnison
More than half of Gunnison residents are dog owners, and a new dog park was identified as a top priority by community members in a recent master planning process. Loose dogs currently interfere with sports games on the adjacent fields, and dog waste has become an issue as well.
The 4.5-acre property is centrally located and will be Gunnison's first designated, off-leash dog area. GOCO funding will build perimeter and interior fencing, a dog wash, shade and seating, and an internal trail system that connects to town-wide trails previously funded by GOCO.
JEFFERSON COUNTY
Clement Park Interactive Water Feature, $350,000 grant to Foothills Park and Recreation District
The existing fountain at Clement Park, located in unincorporated southwestern Jefferson County, is 28 years old, needing frequent repairs or getting shut down altogether for weeks at a time. GOCO funding will enable Foothills Park and Recreation District to construct an interactive feature with a wading pool to provide a free opportunity for community families to escape the heat of summer.
Carmody Park Redevelopment, $350,000 grant to the City of Lakewood
Playground equipment installed in 1974 and other amenities at Carmody Park are in desperate need of upgrades. GOCO funding will build a new playground and picnic pavilion in addition to improving park infrastructure. With over 20,000 residents within one mile of the park, this project will provide much-needed walkable outdoor recreation. Most importantly, the new playground will be universally accessible and was designed with the help of local students, creating a place for students of all ages and abilities to play outside.
KIT CARSON COUNTY
Stratton Town Park Improvement Project, $130,000 grant to the Town of Stratton
Stratton parents currently have to drive to a different town to find the closest park with safe playground equipment. GOCO funding will not only install new playground equipment but will also make the playground ADA accessible. Despite being well below the state average income, a large portion of the project's matching funds were raised through grassroots efforts; the Friends of the Stratton Playground raised over $5,000.
Kit Carson County Fairgrounds Enhancement Project
The Kit Carson County Fairgrounds, located in Burlington, are used nearly every day of the year, despite unsafe sidewalks, deteriorating restrooms, and outdated electrical circuits. The fairgrounds play host to multiple youth organizations, including 4-H, Future Farmers of America, Boy Scouts, and equestrian clubs, but multiple parts of the site's infrastructure are failing. Breakers are regularly tripped during events for these organizations, interrupting activities as the lights go out.
Improving the facilities will not only serve the thousands of residents that use the fairgrounds as their community center, but would also be a major boost to the area's economy.
LA PLATA COUNTY
Sunnyside Elementary School, $44,164 grant to the City of Durango in partnership with Durango School District 9-R and Sunnyside Independent Parent Teacher Association
Like many rural schools, Sunnyside is a community hub for nearby residents. The elementary school is the only community park within 11 miles, houses a branch of the Durango Public Library, and often hosts meetings and events for community groups. GOCO funding will install an outdoor classroom, shade structures, a music garden, and playground equipment suitable for children of all ages. This project will replace 17-year-old equipment; students fundraised more than $8,000 and designed the new playground.
Durango Softball Complex and Tennis Courts, $350,000 grant to the City of Durango in partnership with Fort Lewis College
At Fort Lewis College, a dilapidated sports complex will be given new life. Current lighting is not energy efficient, restrooms have been closed for eight years after a water main break, scoreboards don't work, softball fields aren't up to college sport standards, and the tennis courts have been closed for more than 20 years.
GOCO funding will redevelop the entire complex, upgrading the three softball fields with new scoreboards and dugouts as well as making infrastructure updates to lighting and electricity, plumbing, irrigation, and sod. Three new lighted tennis courts will be constructed, building the only courts with lights in the city.
MESA COUNTY
Palisade Skate Park, $10,000 grant to the Town of Palisade
The Palisade Skate Park was closed in 2014 due to vandalism and safety concerns, but citizens banded together to raise $5,000 for necessary repairs. After seeing how much the community valued the skate park, the town decided to expand and rebuild the park. GOCO funding will support the design and public outreach process, including multiple hands-on youth sessions to give kids and teens ownership and curb vandalism.
MONTEZUMA COUNTY
Cottonwood Park Enhancement Project, $41,866 grant to the Town of Mancos
Cottonwood Park is centrally located but currently underused due to its complete lack of amenities. The park has two picnic tables and one trash can; GOCO funding will install seating, signs, and bear-proof trash cans as well as bring trails up to ADA standards. In addition to resurfacing existing trails, two new trail segments will be built for those who do not want or are unable to complete the one-mile loop.
MONTROSE COUNTY
Montrose Community Recreation Center Park Phase II Outdoor Facilities, $350,000 grant to Montrose Recreation District
GOCO funding will complete a one-mile perimeter trail, six pickleball courts, two climbing boulders, and a half-acre multi-use field. The project will also plant native grasses and shrubs along Dry Cedar Creek to prevent erosion along the streambank.
OTERO COUNTY
Melon Field, $350,000 grant to the City of Rocky Ford in partnership with the Foundation for Rocky Ford Schools
GOCO funding will install an all-weather track, a new turf football field, and lighting at Melon Field. The current facility is over 40 years old and unable to host track meets, while student athletes regularly injure themselves on the field and spectator numbers dwindle. Bleachers are unsafe and are not handicap-accessible, while bathrooms are more than 200 yards from the field.
OURAY COUNTY
Ouray Hot Springs Pool Project, $275,281 grant to the City of Ouray
The Ouray Hot Springs are a major economic driver for the rural southwestern Colorado town, and aging infrastructure has made renovating the iconic pools a major public priority. The existing pools are leaking, filtration systems are not working correctly, and pool sections aren't properly separated to maintain different water temperatures.  
GOCO funding will help completely renovate the facility, building five new pools: a hot pool, shallow kids pool, deeper activity pool with a climbing wall, slide pool, and eight-lane lap pool. The distinct pool areas will cater to a wider variety of age and activity groups, making the pool better suited to meet everyone's needs.
PARK COUNTY
Community Field, Playground, and Fitness Trail, $184,275 grant to Park County on behalf of Lake George Charter School
The Lake George area is grossly underserved when it comes to parks, and the hundreds of children in this rural, low-income community have simply done without a high-quality place to play outside. GOCO funding will install new playground equipment, a turf field, an outdoor classroom and community gathering space, new safety surfacing, and a trail with fitness stations.
RIO GRANDE COUNTY
Faith Hinkley Memorial Park Phase II, $70,000 grant to the City of Monte Vista in partnership with the Monte Vista Community Fund
The city partnered with the Monte Vista Community fund to develop Faith Hinkley Memorial Park, the only veteran's memorial in the San Luis Valley. The park is an extension of Bill Metz Elementary School's playground, and GOCO funding will add shade structures, restrooms and plumbing, seating, and trash receptacles throughout the park. Adding park amenities will better serve visitors, local families, and area veterans and their loved ones.
ROUTT COUNTY
Stockbridge Park River Access and Streambank Stabilization, $47,500 grant to the City of Steamboat Springs
Stockbridge is already a popular Steamboat park, but without formal river access the riverbanks are compromised and users face unsafe conditions when trying to get in the water. GOCO funding will construct formal river access for rafters, kayakers, tubers, paddleboarders, and anglers. The project will build a 10-foot wide access point with proper grading, steps and toeholds, erosion control, and will create an eddy for safe boat takeout.
SUMMIT COUNTY
Fremont Pass Recreation Path Planning Project, $75,000 grant to Summit County in partnership with Lake County
Summit County partnered with Lake County and Climax Molybdenum Company to construct a paved pathway traversing Fremont Pass. The recreation path will ultimately connect Summit and Lake counties for thousands of pedestrians and cyclists, who currently battle it out with cars on Highway 91. The path will also connect both counties' trail systems.
Frisco Trails Master Plan, $50,000 grant to the Town of Frisco
Frisco is also looking to give a vision for trail connectivity some structure and will create a comprehensive trails plan for the town with their GOCO grant. The town partnered with Summit County Open Space and Trails and the Dillon Ranger District to secure GOCO funding.
The project is a top priority for Frisco residents, who identified bikeable trails as the most highly used amenity in town. The town's trails also host millions of visiting Coloradans each year.
WELD COUNTY
Skyview School of STEM Outdoor Classroom $44,755 grant to the Town of Windsor on behalf of Skyview School of STEM
Skyview will use its GOCO grant to create an outdoor classroom in an unused drainage area that is currently overgrown. The project will create a 45,000 square foot outdoor classroom with benches, walking paths, and study centers for hands-on STEM learning for the entire community.
Town of Severance Parks Master Plan, $30,000 grant to the Town of Severance
GOCO funding will enable the town to create its first-ever master plan for future park, trail, and open space development as well as program creation and expansion.  
The master plan process will set priorities and identify how to best serve residents' needs for trail connectivity, bike and pedestrian access, community parks and athletics fields, or a new community recreation center. The planning process will also inform the town's decision around creating a Parks and Recreation Department.
These grants support Governor John Hickenlooper's Colorado the Beautiful initiative by identifying and filling critical gaps in connectivity for trails and open spaces, and GOCO's new "Protect, Connect, Inspire" strategic plan, which focuses on land conservation, access to parks and trails, and enabling youth to get outdoors.
Great Outdoors Colorado (GOCO) invests a portion of Colorado Lottery proceeds to help preserve and enhance the state's parks, trails, wildlife, rivers and open spaces. GOCO's independent board awards competitive grants to local governments and land trusts, and makes investments through Colorado Parks and Wildlife. Created when voters approved a Constitutional Amendment in 1992, GOCO has since funded more than 4,700 projects in urban and rural areas in all 64 counties without any tax dollar support. Visit goco.org for more information.