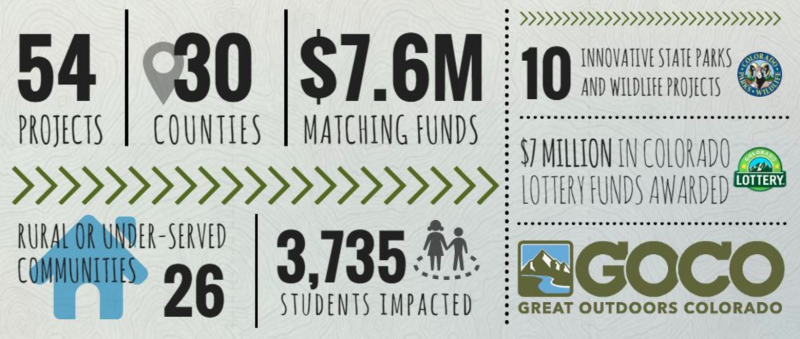 DENVER - The Great Outdoors Colorado (GOCO) Board awarded $7 million in grants at its meeting in Fort Morgan on Thursday.
The majority of the funding, totaling $5.5 million, was awarded through GOCO's Local Government grant programs that fund local parks and outdoor recreation (LPOR) and planning projects. In addition to building or upgrading outdoor recreational facilities of all sizes and types, these grants also help local governmnents engage the public and strategically plan future projects.
Nearly $1 million in additional funding was awarded from the School Yard Initiative (SYI), which help schools that partner with their local governments to build engaging outdoor spaces for students to learn and play. All school yards must be designed, in part, by students, and funded schools are eligible to become part of Colorado Parks and Wildlife's Schools and Outdoor Learning Environment (SOLE) program.
The final program to award funding was a new grant program born out of a longstanding partnership between GOCO and Colorado Parks and Wildlife (CPW), the Director's Innovation Fund.
The program creates a funding source for one-time, innovative projects that would not otherwise receive funding from either organization. CPW receives half of GOCO's funding each year for statewide programs, wildlife, and state parks through an annual investment proposal, however many innovative, smaller projects fall outside current funding parameters.
In total, GOCO funding will:
Fund 54 projects in 30 counties.
Impact 26 rural or underserved communities.
Leverage more than $7.6 million in local matching funds.
Build or upgrade 27 local parks or outdoor recreation facilities.
Renovate 9 school yards.
Fund 10 innovative projects from state parks and wildlife field staff.
Funded projects are listed in alphabetical order by grant program.
Colorado Parks and Wildlife Director's Innovation Fund - 98,863 total funding
ADA-Accessible Shuttle at Barr Lake State Park, $20,000 grant to Barr Lake State Park
Barr Lake State Park will invest $20,000 from GOCO to purchase an ADA-accessible shuttle to expand wheelchair access for birdwatching and other wildlife viewing at the park. The new shuttle will be the third free shuttle at Barr Lake and the volunteer-led program will enable users of all abilities to enjoy everything the state park has to offer.
Castlewood Canyon Nature Pass, $700 grant to Castlewood Canyon State Park
Castlewood Canyon State Park partnered with the Parker Task Force for its Nature Pass program pilot, hoping to engage 100 new families in connecting with the outdoors. The $700 grant from GOCO will provide seed money for free day passes to the park. Families will also be provided with a backpack with snacks, water, information about the park and CPW, a calendar of events at Castlewood Canyon, and self-guided hike directions.
Chuck Lewis State Wildlife Area Phase III Stewardship Project, $14,000 grant to Chuck Lewis State Wildlife Area
Increase in public use of Chuck Lewis State Wildlife Area near Steamboat Springs, where thousands of Coloradans visit each year to hike, hunt, fish, and picnic, has led to the degradation of the riverbank. To protect wildlife habitat and ensure future public use of the property, the $14,000 GOCO grant will stabilize the riverbank with new vegetation and install rock structures to re-direct water flow and decrease sediment. The restoration project is critical to ensure future habitat for wildlife and the future of public access.
Effects of Recreation and Energy Development on Wildlife, $6,008 grant to CPW Resource Stewardship Unit
Lone Mesa State Park is the last state park to remain largely undeveloped, presenting a unique and urgent opportunity to study the long-term effects of outdoor recreation on wildlife. The study will count the dozens of wildlife species that call the park home with motion-triggered wildlife cameras and photography, providing a pre-development baseline for the park.
The project is a collaboration between CPW's Resource Stewardship Program, Research Unit, Southwest Regional Office, and Lone Mesa State Park.
Elizabeth Deer Management PRogram, $9,415 grant to CPW Wildlife Area 5
CPW wildlife officers have partnered with the Town of Elizabeth to launch an innovative urban deer management program, which GOCO funding will help expand. The program invites local hunters to qualify for bowhunting within town limits through a rigorous testing process, ultimately donating more than half of harvested meet to local food banks. Last year, over 1,100 pounds of venison were donated in an area where nearly one in four residents have had vehicle collision with deer.
Frying-Pan Arkansas and Voluntary Flow Management Program Watershed Model and Interpretive Signs, $8,640 grant to Arkansas Headwaters Recreation Area
The staff at AHRA not only manages one of the most popular outdoor recreation destinations in the country, but are also charged with educating the public about the area's resources. The GOCO grant will help AHRA staff make informational signs and a display model of the Arkansas River and its watershed; both are critical tools in teaching the public where their water comes from and how water is managed for human and wildlife needs.
Outdoor Wilderness Lab, $20,000 grant to CPW Northwest Regional Office
Outdoor Wilderness Lab, or OWL, provides low-income students with what is often their first opportunity to experience the outdoors. Students leave OWL having experienced a life-changing education they would not otherwise be provided in a normal classroom setting. GOCO funding will allow all sixth graders to participate in OWL and provide the program with momentum to raise funds to expand to other middle schools, ultimately bringing the program to every school in Mesa County School District 51.
Plains Sharp-Tailed Grouse Infrared Flight Survey, $10,000 grant to CPW Wildlife Area 3
Current survey methods for the Plains Sharp-Tailed Grouse consist of wildlife staff driving established routes with designated stops to listen and look for birds, severely limiting the accuracy of the count. An infrared flight survey will allow CPW to more accurately and effectively manage the species, which it is also charged with monitoring for federal agencies. The new survey will also greatly decrease the staff time currently expended on surveying the birds.
Riparian Zone Footbridge, $8,800 grant to Rifle Gap State Fish Hatchery
Rifle Gap State Fish Hatchery, visited by more than 10,000 Coloradans each year, will invest $8,800 from GOCO to build a new footbridge across East Rifle Creek. The existing footbridge is dangerous and inaccessible by wheelchairs, but connects the hatchery parking lot with a trail system reaching neighboring Rifle Gap State Park. The new footbridge will be wider and ADA-compliant, upgrading this highly-used piece of infrastructure and ensuring visitor safety.
Wildlife Canine Officer, $2,000 grant to Northeast Regional Office
GOCO funding will go toward training Cash, a black Labrador Retriever puppy donated by a local hunting kennel and named for Johnny Cash. The dog in black will be trained to detect a number of species, helping wildlife officers more effectively manage vulnerable species such as boreal toads and black-footed ferrets. Cash will also help his human counterpart with community outreach to educate the public about natural resources and the importance of protecting wildlife.
Local Parks and Outdoor Recreation (LPOR) - $5.3M total funding
2017 Pickleball Court Project, $108,000 grant to the City of Cortez
Cortez residents of all ages are rapidly picking up pickleball, a game that combines elements of tennis, badminton, and ping-pong and is widely regarded as the fastest-growing sport in the nation. GOCO funding will enable the City of Cortez to build six new courts in Centennial Park. to expand programming opportunities and playing time for pickleball players, who have raised $3,000 for the new courts themselves.
Centennial Park Tennis/Pickleball Court Project 2017, $240,000 grant to the City of Salida
In Salida, the Peak to Peak Pickleball Club and Salida Tennis Club have teamed up, raising $10,000 to renovate aging tennis courts to accommodate both highly popular sports. GOCO funding will restripe the courts in addition to installing windscreens, a practice backboard, and basic amenities like restrooms and parking. The courts will be the first public courts in an area where facilities are in high demand.
Charmar Park Renovation, $319,760 grant to the City of Gunnison
GOCO funding will upgrade Charmar Park in Gunnison, one of the oldest and most popular parks in Gunnison County. The City of Gunnison County will invest GOCO funding in updating the playground, opening up access to the creek, adding a nature trail, and building five pickleball courts at the three-acre park.
Glenwood Springs Elementary Play and Outdoor Learning Spaces, $147,177 grant to the City of Glenwood Springs
The city and Glenwood Springs Elementary School have teamed up to revitalize the school's playground, conveniently located downtown. The GOCO grant will install play equipment and an outdoor learning space to benefit students as well as families living nearby. Over 150 students were involved in the master planning process, presenting their ideas to the Roaring Fork School's executive team and board members.
Hot Sulphur Springs Revitalization Project, $153,876 grant to the Town of Hot Sulphur Springs
Hot Sulphur Springs will invest its GOCO grant to improve two parks in town. At Pioneer Park, GOCO funding will improve campgrounds, update the aging disc golf course, and repair trail bridges.
Town Park is Hot Sulphur Springs' most popular park, and GOCO funds will update the playground, athletic facilities, barbeque pit, and sprinkler system in addition to adding shade and other landscaping. GOCO funding will repair skating rink infrastructure, add sand to the volleyball court, and resurface tennis and basketball courts.
Las Animas School Multi-Purpose Field and Outdoor Learning Environment, $198,693 grant to the City of Las Animas
GOCO funding will help the City of Las Animas revamp to middle school's outdoor campus, transforming an unusable sticker patch into a recreational hub for students and the community. The project will also leverage Colorado Health Foundation funds to build a walking path and the first playground equipment at the middle school, while the GOCO grant will focus on creating opportunities for outdoor learning while mitigating irrigation issues on the field.
Little Salt Wash Park Expansion, $135,000 grant to the City of Fruita
GOCO funding will help the City of Fruita acquire property that has remained a private in-holding in the middle of Little Salt Wash Park for the last 40 years. The park is often overcrowded and greatly needs room to grow. The $135,000 GOCO grant will enable the city to seize this opportunity to purchase the five-acre property, ultimately expanding one of Fruita's most popular parks.
Memorial Park Bridge Project, $73,200 grant to the Town of Silverton
The Town of Silverton will put GOCO funding to work to rebuild the pedestrian bridges accessing Memorial Park. Both bridges have been condemned and closed to the public, leaving park goers no choice but to attempt to access the park by walking down Highway 550. The GOCO grant will enable the town to replace the decades-old bridges with longer-lasting, safe bridges that give the public better access to the popular park.
Mountain View Adventure Park, $224,061 grant to the City of Cripple Creek
Cripple Creek will invest its GOCO grant in creating Mountain View Adventure Park on a property the city dedicated to parks development five years ago. The project will build several miles of trail, a disc golf course, sledding hill, adventure playground, dog park, BMX track, and picnic shelter in addition to installing infrastructure like parking and benches.
Nature Play, Adaptive Sports, and Habitat Enhancement at Broomfield Open Lands, $350,000 grant to the City and County of Broomfield
GOCO funding will help Broomfield build a 15-acre nature play and education facility accessible by children and adults of all ages and social, physical, and intellectual abilities. The park overlooks McKay Lake and will include nature play features constructed of natural materials that can be used by children and families and create a close-to-home space to connect with nature.
North Conejos Activity Complex, $350,000 grant to Conejos County
Conejos County partnered with the North Conejos School District to invest GOCO funding to construct a Colorado High School Activities Association-sanctioned track, replacing the original dirt track installed in the 1960s. Students played an important role in the planning process, engaging in math, science, and writing assignments to design and voice support for the track.
Nottingham Park, $350,000 grant to the Town of Avon
Nottingham Park is surrounded by thousands of year-round residents and the Town of Avon will put GOCO funding to work improving its most heavily-used two acres. The project will replace a 20-year-old playground that no longer meets safety codes with both traditional and nature-themed play equipment and will relocate the existing bike path to improve the park's traffic flow and decrease conflicts between playground users and bicyclists passing through.
Oxbow Park, $350,000 grant to the Town of Breckenridge
The Town of Breckenridge will invest its GOCO grant to add the first amenities to Oxbow Park, which is adjacent to housing for hundreds of year-round residents. The project design was spearheaded by children and their families and will create new access to the Blue River with a kids fishing hole; install natural play elements like rocks, boulders, and rope structures; and build a new bridge over the river to connect the park to surrounding trails.
Palisade Skate Park Phase I Build, $150,000 grant to the Town of Palisade
Palisade will put GOCO funding  to work at the town's skate park. The vision for the park took shape through an extensive planning process previously funded by GOCO. Local high school and middle school students helped design the park, incorporating their own artwork into the project and fundraising for the project. The new park will cater to skaters of all skill levels, demolishing the 20-year-old skate park and building a concrete bowl along with other skate features, benches, and landscaping.
Peetz School Playground Project, $195,000 grant to the Town of Peetz
The playground equipment at Peetz Elementary School is decades old and showing its age. Though unsafe and past its useful life, the playground still serves as a community hub for recreation and social gatherings. GOCO funding will help install new, engaging playground equipment based on design wish lists from students at the school. Construction is slated to finish by the end of the summer.
Pine River Library Park, $255,000 grant to the Town of Bayfield
Bayfield has partnered with the Pine River Library to turn under-utilized space into an engaging, ADA-accessible park for youth. The library already serves as a hub for young people with extensive before- and after-school programming.
The project will construct a nature-themed playground, a picnic area, a multi-purpose court for sports, an outdoor classroom, two shade structures, pedestrian bridges, and an irrigated turf field.
Routt County Fairground Improvements, $350,000 grant to Routt County
The county fairgrounds in Hayden will get a $350,000 boost from GOCO to enhance ADA-accessibility, improve pedestrian traffic patterns, build a pedestrian bridge, add a sand volleyball court, and add nine full-service RV campsites. The fairgrounds are an important regional asset, serving 33,000 people each year.
South Park Baseball and Soccer Fields, $350,000 grant to the South Park Park and Rec District
South Park Park and Recreation District will invest the school district's soccer and baseball fields with GOCO funding. The project will upgrade the fields to comply with Colorado High School Activities Association and Little League regulations, meaning players will no longer have to travel over 50 miles for games and practices.
Town Park Playground Renovation Project, $349,241 grant to the Town of Crested Butte
A historical shipwreck discovered by Crested Butte divers is the inspiration for Mary Yelenick Playground at the Crested Butte Town Park, but after 30 years the "Splinter Ship" is ready for an upgrade. The playground's design will include an authentic replica of the Whydah, a real pirate ship that sank in 1717, and will be ADA-accessible.
Venezia Park Universally Accessible Playground, $350,000 grant to the City of Colorado Springs
The City of Colorado Springs' project at Venezia Park will be part of the first new park construction in 25 years in the city, bringing southern residents their first universally accessible playground. The GOCO grant will build a one-of-a-kind playground where every piece of equipment is accessible by the 70,000 Colorado Springs residents with physical, emotional, or cognitive disabilities.
Westminster Station Park, $350,000 grant to the City of Westminster
GOCO funding will help the City of Westminster build a new park next to the station serving RTD's B-Line commuter rail. The project will build a nature-based playground with a water play area, connect to the regional Little Dry Creek Trail, add pedestrian access near the creek, and install basic amenities such as lighting, landscaping, and restrooms at the 33-acre park.
Mini LPOR - $226,000 total funding
Alisha Adkins Memorial 4-H Park Playground Upgrade, $18,000 grant to Jackson County
In partnership with Jackson County 4-H, the county will invest GOCO funding in upgrading the Alisha Adkins Memorial 4-H Park just outside of Walden by replacing the aged, wooden playground structure with new equipment and safety surfacing. The park has been a popular destination for Jackson County children and families for more than 20 years, and its proximity to the Jerelin Wattenberg Center at the Jackson County Fairgrounds make it a recreation retreat for those participating in livestock shows and other community events.
Basham Park Revitalization Project, $45,000 grant to the City of Creede
GOCO funding will help the City of Creede upgrade Basham Park, replacing the currently damaged gazebo with an improved structure, transforming unsafe gravel paths with stone pavers, and providing a more welcoming gathering place for local school district activities, classes, science camps and summer day camps, and a range of other community events.
Chipeta Park Improvement Project, $45,000 grant to the Town of Poncha Springs
The Town of Poncha Springs will invest GOCO funding to upgrade Chipeta Park, the most popular park in Poncha Springs that is  part of a broader vision to create an inviting "Town Square" area for residents. Chipeta Park equipment has not been updated in over 30 years, and the GOCO grant will improve the playground and add basketball and pickleball nets, disc golf baskets, a bike rack, benches, and other features.
Falcon Dog Park, $45,000 grant to El Paso County
GOCO funding will help build a dog park at Falcon Regional Park after more than 70% of area residents selected a dog park as their top priority during the master planning process.  The 10-acre property will provide space for residents, visitors, and dogs to exercise and socialize, and the county hopes to reduce off-leash or uncontrolled dogs running loose in regional and neighborhood parks. Falcon Dog Park will be the first public dog park in central/eastern El Paso County.
Surface Creek Trail Improvement, Connection, and Extension, $28,000 grant to the Town of Cedaredge
GOCO funding will help the Town of Cedaredge carry out the first phase of an effort to improve and extend Surface Creek Trail. The trail, which is already popular with residents, will be extended and widened, and drainage improvements will increase the trail's safety and year-round usability. Hazardous trees will be mitigated and uneven surfaces repaired.
Wallace Park Gazebo, $45,000 grant to the City of Victor
The City of Victor will put GOCO funding to work to add a gazebo to Wallace Park, the central gathering place for the city's outdoor events. Of the city's 400 residents, 90% live within a walkable distance to the park, which currently has no sheltered picnic areas. The new gazebo will match the local Victorian architectural style and accommodate eight picnic tables, offering residents the ability to host outdoor community and private events.
Planning - $432,000 total funding >>
City of Delta Parks and Recreation Master Plan, $75,000 grant to the City of Delta
With GOCO funding, the City of Delta will be able to hire a professional consultant to coordinate an extensive public input and stakeholder engagement process driving the development of its first master plan. The master plan will help parks and recreation staff members balance opportunities for expansion with ongoing maintenance needs of existing facilities with key partners' input.
Colorado River Access and Recreation Improvement Planning, $75,000 grant to the Town of Parachute
The Town of Parachute will invest GOCO funding in a planning process that will explore recreation opportunities and ecological improvements in and along the Colorado River. The project will provide a comprehensive examination of various improvements that can be made to the Colorado River to both enhance its environmental sustainability and create opportunities for outdoor recreation and public access.
Cozens Ranch Open Space Fraser River Corridor Master Plan, $65,000 grant to the Town of Fraser
GOCO funding will help the town the Town of Fraser to create a master plan for the Fraser River corridor. The project will assist with research on the impact of recreation on the 120-acre Cozens Ranch Open Space. The master plan will also address the potential for environmental education opportunities and lay the groundwork for habitat restoration on the Fraser River.
Kane Ranch Open Space Master Plan, $30,000 grant to El Paso County
El Paso County develop a master plan for the 495-acre Kane Ranch Open Space located just east of the City of Fountain.  With the help of GOCO funding, the master plan will outline existing conditions, reflect community feedback, and prioritize potential improvements to be made over the next five to 10 years, including new sustainable recreational facilities and cultural services.
Lake County Open Space Initiative (LCOSI) Ecosystem Management Plan, $67,000 grant to Lake County
GOCO funding will be put to work in Lake County to help the LCOSI assess the county's open space properties as a single ecosystem and guide future actions to manage them. The updated management plan will address changing conditions of open space, new partner and community objectives, and evolving management strategies to produce an actionable management plan for long-term, county-wide use.
McNamara Park, Town of Walden, $15,000 grant to the Town of Walden
The Town of Walden will invest its GOCO grant in planning upgrades to McNamara Park, a one-acre, centrally located town park. The town's vision for the park is to develop a design that makes it safe, attractive, and usable by residents of all ages. The planning grant will help prepare a site-specific master plan and cost estimates in order to effectively pursue upgrades to the park in the near future.
Parks, Recreation, Open Space, River, and Trails Master Plan, $75,000 grant to the City of Steamboat Springs
GOCO funding will help Steamboat Springs update its parks, recreation, open space, river, and trails master plan to assess recreational usage, needs, and impacts. Population growth and the first-ever listing of the Yampa River as a 303(d) impaired water body by the Colorado Department of Public Health created urgency for the new plan.
Site Plan - Overland Trail Recreation Area Expansion, $30,000 grant to the City of Sterling
The City of Sterling will create a site plan for Overland Trail Recreation Area with the help of GOCO funding. The project will help Sterling plan the expansion of 125 acres of river-bottom land adjacent to the South Platte River and the existing recreation area. The recreation area already offers quality outdoor recreation experiences, and the county will consider how to extend that to the rest of the area, possibly by adding a more formal trailhead and additional parking and by creating new fishing ponds with the support of Colorado Parks and Wildlife.
School Yard Initiative - $990,000 total funding >>
Arickaree School Playground, $110,000 grant to Washington County in partnership with the Arickaree School
Arickaree School, which serves a 638-square-mile area in southeastern Washington County, will invest GOCO funding in a shaded outdoor classroom with picnic tables, a large play structure, a swing set, new basketball hoops, volleyball equipment, blacktop repairs, benches, and fresh landscaping. Outdated and unsafe equipment will be removed, and a new natural play area with boulders, trees, and native grasses will replace a currently bare and uninviting space.
Arrowhead Elementary School Playground Renovation Project, $110,000 grant to the City of Aurora in partnership with Arrowhead Elementary School
Arrowhead Elementary School has envisioned a new outdoor learning and play space to replace the current playground, which is 22 years old, not ADA compliant, and in need of replacement. GOCO funding will help build outdoor teaching and gathering areas, a brightly colored multi-use area for sports and class use, an area for xeriscape and native plants, and ADA-compliant playground equipment.
Crawford Elementary School's Community Playground Renovation Project,  $110,000 grant to Adams County in partnership with Crawford Elementary School
Crawford Elementary School will partner with Adams County to invest its $110,000 grant award in reviving its outdoor play space and creating an environment conducive to learning. The school and its playground are a community hub, providing a safe place where students and others in the community can be active and engaged in the outdoors. The new school yard will include a quarter-mile trail, natural climbing and balancing structures, and additional swing sets, and an outdoor classroom will allow teachers to take classes outside for learning in nature.
Edison Park at Venetian Village, $110,000 grant to the City of Colorado Springs in partnership with Edison Elementary School
At Edison Elementary, much of the existing playground equipment is 60 years old and does not meet current safety or ADA compliance standards. GOCO funding will revamp the student-designed playground, which will include new equipment, boulders for climbing, two outdoor learning areas, and a shade structure. The new school yard will be called Edison Park at Venetian Village to honor the city's heritage of Italian homesteaders.
Forest Green at the Academy for Advanced and Creative Learning, $110,000 grant to the City of Colorado Springs in partnership with the Academy for Advanced and Creative Learning
AcademyACL, a K-8 charter school in central-west Colorado Springs, will put GOCO funding to work updating transforming its outdated playground into a space for students to play, create, and learn, in a natural setting. The school's current playground was only designed for students through fifth grade, and many pieces are over 50 years old. The project will build an outdoor classroom, grassy space, small caves, a walking bridge, an elf village created by grassy mounds and shade structures, and a butterfly garden with a quiet seating area.
Orchard Avenue School Yard Initiative, $110,000 grant to the City of Grand Junction in partnership with Orchard Avenue Elementary
The City of Grand Junction partnered with Orchard Avenue Elementary School to replace outdated playground equipment, some of which was installed in 1960, and enhance its garden. None of the existing play areas is ADA compliant, and many of the original structures have either been removed or will soon be removed. GOCO funding will add a learning garden, a rock and mineral garden, a greenhouse, fitness stations, paths, and new play structures.
South Lakewood Elementary School Playground, $110,000 grant to the City of Lakewood in partnership with South Lakewood Elementary School
Serving 520 students in kindergarten through sixth grade, South Lakewood Elementary School is one of Colorado's leading providers of special education programs. It will invest its GOCO funding in an upgrade of its outdated playground, which currently does not engage students, particularly the increasing number of students with Autism Spectrum Disorders.
New playground components will include a play structure, climbing wall, basketball hoops, walking path, and community garden, as well as an outdoor classroom with shade structures and boulder seating.
The Mancos Elementary Playground Redesign Project, $110,000 grant to the Town of Mancos in partnership with Mancos Elementary School
GOCO funding will help rebuild the playground at Mancos Elementary School; the new playground design was developed with the help of a student task force, which worked closely with the school community and a landscape architect to create a vision. Proposed improvements include digging and water features, boulders, new equipment, and an outdoor classroom along the Mancos River. The project will safely integrate the Mancos River and the adjacent Riverwalk trail into the school campus.
Weldon Valley Preschool Playground Transformation 2017, $110,000 grant to Morgan County in partnership with Weldon Valley Preschool
Weldon Valley Preschool serves three communities—Orchard, Goodrich, and Weldona—with the area's only playground for preschool-aged children and their families. The playground presents several safety hazards, and the school will invest its GOCO funding in transforming the playground into a natural playscape with outdoor learning centers. New playground components will include an outdoor classroom, new play equipment such as swings and slides, and boulders and other natural materials for climbing.
Great Outdoors Colorado (GOCO) invests a portion of Colorado Lottery proceeds to help preserve and enhance the state's parks, trails, wildlife, rivers, and open spaces. GOCO's independent board awards competitive grants to local governments and land trusts, and makes investments through Colorado Parks and Wildlife. Created when voters approved a Constitutional Amendment in 1992, GOCO has since funded more than 4,900 projects in urban and rural areas in all 64 counties without any tax dollar support. Visit GOCO.org for more information.