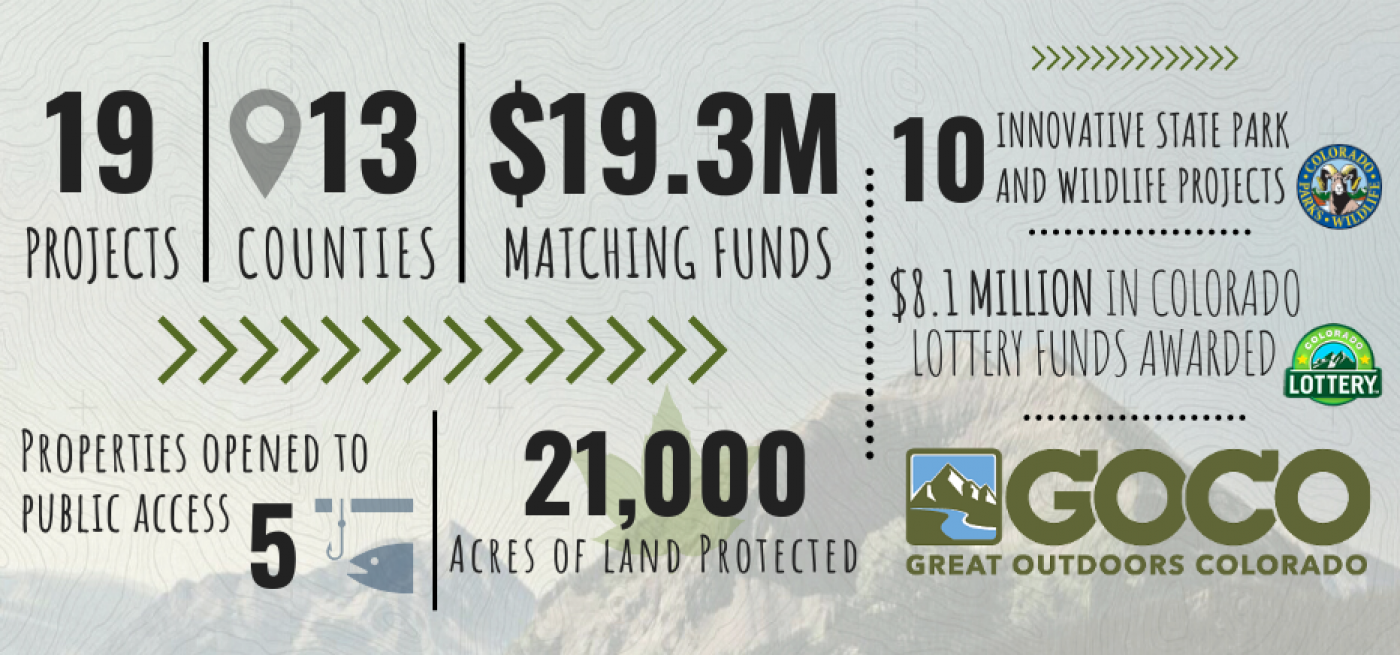 DENVER – Today the GOCO board awarded $8.1 million in funding to 19 projects across the state, with grants awarded from the Special Opportunity Open Space (SOOS), Conservation Easement Transaction Costs, and Director's Innovation Fund (DIF) programs.
The majority of the funding, totaling $7,763,775, was awarded through GOCO's  Special Opportunity Open Space grant program, which funds high-value conservation projects that seek funding beyond the $1 million maximum request amount set in GOCO's ongoing Open Space grant program. These projects will help give outdoor recreationists places to play and enjoy scenic views, protect wildlife habitat, safeguard the state's water supply and watersheds, and sustain local agriculture.  
Another $215,000 was awarded through GOCO's Conservation Easement Transaction Costs program, which aims to remove financial barriers associated with transaction costs and expand the amount of land conserved statewide, especially through projects that further efforts toward landscape-scale conservation and conservation on properties along waterways or containing water resources.
The remaining $149,999 was awarded through GOCO's CPW Director's Innovation Fund (DIF), a partnership between GOCO and CPW. The program is designed to fund small-dollar, innovative projects across the agency.  
In total, GOCO funding will:
Fund 19 projects in 13 counties including 3 statewide projects

Protect more than 21,000 acres of land

Conserve 5,365 acres of land along 4 national scenic byways and more than 3,500 acres along major river corridors 

Open 5 properties to public access, including hunting, fishing, river access, hiking, biking, and educational opportunities

Leverage $19.3 million in local match dollars and more than $11 million in donated land value 
Special Opportunity Open Space Grants
Coffman Ranch, $2,500,000 grant to Aspen Valley Land Trust (AVLT)
AVLT, in partnership with Pitkin County and others, will purchase the 141-acre Coffman Ranch, located less than two miles outside of Carbondale. The property features three-quarters of a mile of Roaring Fork River frontage, which will provide Gold Medal waters fishing opportunities. Local ecologists have recognized the ranch as one of the most important properties along the river to be conserved due to the health and biodiversity of its riparian areas and wetlands. The land supports habitat for deer, bald eagle, great blue heron, sandhill cranes, owls, and osprey. Portions of the ranch will remain in agricultural production, while others will be opened to the public for opportunities to access the Roaring Fork River. Looking ahead, AVLT hopes to raise funds needed to build a Conservation Learning Center for community use.
Heart of the Arkansas, $1,625,000 grant to Central Colorado Conservancy (Conservancy), in partnership with The Trust for Public Land (TPL) and Colorado Cattlemen's Agricultural Land Trust (CCALT)
TPL, CCALT, and the Conservancy will protect four ranches: Centerville Ranch, Arrowpoint Ranch, Pridemore Ranch, and Tri Lazy W Ranch. The properties boast several miles of stream and riparian corridors along the Upper Arkansas River as well as significant water rights that support agricultural production while contributing to overall watershed health. They also support high quality outdoor recreation experiences for visitors to Browns Canyon National Monument and nearby public lands along the Arkansas River. In conjunction with surrounding private and public lands, the properties create a continuous corridor of open space that serves as a seasonal migration route for big game species. The properties operate as working ranches and will continue to do so after conservation easements are in place. Conservation will ensure that these lands continue to support the local economy and sustain the area's rich agricultural heritage. 
Keystone Phase 1 Conservation Easement, $1,576,300 grant to Rocky Mountain Elk Foundation
Buffalo Horn Ranch spans 23,966 acres surrounded by thousands of acres of conserved private and public properties. This funding will support the first phase of conserving the ranch, permanently protecting 12,684 acres. Conserving the property will protect vital habitat and migration corridors for Colorado's largest elk herd, the White River elk herd, and for some of the state's largest herds of mule deer and bighorn sheep. The parcel features 69 miles of intermittent and perennial streams, including Deep Channel Creek, Price Creek, Strawberry Creek, and Twin Wash. Portions of the ranch are also open for restricted hunting access through Colorado Parks and Wildlife's Ranching for Wildlife program and through surrounding lands managed by the Bureau of Land Management. 
Laramie Foothills Mountains to Plains 2020 Expansion Project, $812,475 grant to Larimer County
In partnership with the City of Fort Collins, Larimer County will use this grant to conserve four working ranches totaling 2,893 acres in the Laramie Foothills, an important regional conservation area with rich ecological and cultural resources. The four working ranches are located adjacent to Red Mountain Open Space and the 16,000-acre Roberts Ranch conservation easement. These properties and the entire Laramie Foothills region serve as important wildlife migration corridors and offer critical habitat for elk, pronghorn, mountain lion, deer, and black bear. The area is also designated as one of high biodiversity significance by the Colorado Natural Heritage Program. The properties also boast red rock and bluff features that create a contrasting, rugged landscape, making for exceptionally scenic views. 
Tucker Open Space Property, $1,250,000 grant to Boulder County
With the help of GOCO funding, Boulder County will purchase a 322-acre property located one mile west of Nederland and convey a conservation easement to Colorado Open Lands. The property is located within Arapaho National Forest and is surrounded by several other protected lands, including Boulder County Open Space, U.S. Forest Service property, and other private conserved lands. The land provides summer habitat for elk, deer, and moose. The rich forests provide critical habitat for several species of concern, and the riparian areas from Coon Track Creek and North Beaver Creek support a vital wetland ecosystem. Once conserved, the property will be incorporated into the county's open space system and undergo management planning to accommodate appropriate passive recreation while safeguarding its rich biodiversity and ecological resources. 
Conservation Easement Transaction Costs Grants
Borrego Ranch Conservation Easement, $50,000 grant to Palmer Land Trust
Palmer Land Trust will conserve the 637-acre Borrego Ranch, a working cattle operation located in the Upper Arkansas River basin in Fremont County. The ranch's mixed conifer forests provide nesting, migratory, and habitat range for a variety of wildlife species including the ruby-crowned kinglet, black bear, elk, and mule deer. Irrigated hay meadows, diverse woodlands, and nearly 30 acres of lush wetlands add to the incredible ecosystem diversity on the property. The property lies along the Gold Belt Tour National Scenic Byway, an area valued for its rich agricultural heritage and scenic values.
Meek Ranch, $50,000 grant to Colorado West Land Trust (CWLT)
CWLT will conserve a 1,208-acre property located adjacent to Gunnison National Forest. The property is a working hay and cattle ranch that includes 500 acres of irrigated ground and willows, cottonwoods, and oakbrush. Crystal Creek and Cottonwood Creek flow for more than two miles through the ranch, creating ponds and wetland habitat for various species of wildlife, including deer, elk, bald eagles, ferruginous hawks, and sandhill cranes. Travelers on the West Elk Loop Scenic Byway along Highway 92 pass by the property and enjoy stunning vistas of Black Canyon of the Gunnison National Park, Curecanti National Recreation Area, the West Elk Mountains, and other conserved lands in the area. 
Protecting Monte Vista Working Wetlands, $65,000 grant to Rio Grande Headwaters Land Trust (RiGHT)
RiGHT, in partnership with Colorado Open Lands, will acquire conservation easements on more than 1,000 acres of exceptional wetland and foraging habitat. The conserved lands are part of a landscape-scale effort to protect local watershed health, migratory bird and big game habitat, and working agricultural lands. The project builds on a decade of conservation work and adds to more than 3,000 acres of conserved lands along the Rio Grande River. It will also protect senior water rights that support significant wetland habitat for elk, the yellow-billed cuckoo, southwestern willow flycatcher, and the greater sandhill crane, the San Luis Valley's most iconic bird.
Putt Creek Conservation Easement, $50,000 grant to Colorado Open Lands (COL)
With this funding, COL will help conserve the 4,691-acre Putt Creek parcel in northwestern Colorado. The parcel, which is part of the larger Battle Mountain Ranch, lies in the rolling plains of the Little Snake River Valley, an area characterized by wetlands, grasslands, and mixed brush. The property is also home to one of the largest greater sage-grouse "leks," or mating grounds, and is an important winter habitat for the Bears Ears elk herd, the second largest migratory elk herd in the world. Home to the largest mule deer and pronghorn herd units in the state, Putt Creek is also a part of CPW's Ranching for Wildlife program. 
Director's Innovation Fund Grants
Aerial Estimation Software for Wildlife Population Estimates, $3,554 grant to CPW
CPW will purchase software that creates maps and 3D spatial data from aerial photographs taken from the agency's Unmanned Aircraft System (UAS) drones. The UAS initiative was supported with previous DIF funds and has helped with wildlife management and data analysis. As the program has developed, so has the desire for more efficient and innovative aerial data collection. This software will allow CPW to use UAS systems to capture orthomosaic images, which are aerial photographs that are corrected to a uniform scale, providing the same lack of distortion as a map. These photos will help the agency better meet the goals of the UAS initiative. 
Bear Translocation Collars, $9,000 grant to CPW Area 8
The Glenwood Springs CPW office and Area 8 will use this DIF grant to purchase bear tracking collars as part of an ongoing effort to minimize human-bear conflicts in the Glenwood Springs region. In 2019, CPW began using a wildlife management application to track and record all bear incidents and analyze the data. Since that time, staff recorded 1,255 conflicts in the area, more than 20% of all bear incidents reported statewide. In partnership with city efforts to minimize these conflicts, CPW will purchase 10 Globalstar satellite communication collars to track the movement of select relocated bears. These findings will help determine a long-term solution for bear management in the area. 
Bosque del Oso Solar Water Wells, $25,000 grant to CPW
Bosque del Oso currently has 11 solar water wells, but only three are in operation. The functioning wells are miles apart, and the two forks of the Purgatoire River that run through the property are on opposite ends. In addition, the lake and streams are typically dry by June each year, limiting water resources for wildlife and their habitat. This funding will help CPW make improvements to four of the non-functional wells to ensure they operate properly. This will directly benefit all wildlife by creating proper access to water and will help distribute wildlife more equally across the property, enhancing hunting and viewing experiences. 
CPW Podcast, $5,500 grant to CPW
This funding will help CPW start the Colorado Outdoors podcast, an effort by the agency to tell its story and the story of the state's outdoor spaces through an accessible platform. The program will share the work happening across CPW, including topics related to parks, wildlife, trails, outdoor recreation, safety, natural resources, biology, and more. It will also be used as a communication tool to share information on pressing topics, especially during the COVID-19 crisis. 
Mueller State Park Backcountry Toilet, $18,570 grant to Mueller State Park
Mueller State Park will soon feature two clusters of backcountry campsites designed for backpackers, skiers, snowshoers, and equestrians. This funding will support the purchase of a composting toilet for one of the sites. Backcountry campgrounds do not typically feature such amenities, resulting in the need to bury human waste, a Leave No Trace principle that is not always followed. These will be the first backcountry campsites in the Southeast Region, and this project has the potential to be implemented at other parks throughout the system.
Navajo State Park Decontamination Station, $8,830 grant to Navajo State Park
This funding will support the installation of an on-demand watercraft decontamination system for invasive species. Traditionally, boats are decontaminated using hot water pressure washers, which are noisy, require frequent re-fueling, and are expensive to maintain and operate. On-demand decontamination systems use propane-fueled water heaters, which are more effective in removing invasive species by keeping the water at a consistent temperature. Navajo Reservoir is one of the highest-risk bodies of water in the state for potential introduction of invasive animals and plants. Effectively killing and removing these species from watercraft prior to launch is important to avoid long-lasting ecological damage. 
Rabbit Mountain Hunting Program, $23,478 grant to CPW
This funding will support a term hunt coordinator position under Boulder County Parks and Open Space, which facilitates the Ron Stewart Preserve at Rabbit Mountain Elk and Vegetation Management Plan and the newly approved Red Hill Elk Management Plan, which provide elk hunting opportunities to more than 100 hunters annually. The hunt coordinator has helped implement the program at Rabbit Mountain and will be essential in developing the program at Red Hill. The coordinator manages the hunt schedules, ensures the properties are safe and accessible, communicates with hunters and nearby landowners, assists with public relations, develops orientation programs, and compiles reports at the end of hunting season.
Rifle Gap State Park Hammock Camping, $24,458 grant to Rifle Gap State Park
Rifle Gap State Park will use its DIF grant to transform five campsites at the park's Pinion Campground into hammock camping sites and to purchase 16 Eagle's Nest Outfitters hammocks to loan to future campers. Hammock camping has increased in popularity in recent years, but due to previous damage to natural resources, CPW has taken a careful approach to adopting the trend at state park campgrounds. The existing five campsites will be upgraded with raised camp pads and rounded timber in three corners, allowing guests to use tents or hammocks with no impact on surrounding vegetation. 
River Watch Sondes, $10,359 grant to CPW
This funding will help CPW purchase sondes, or real-time water quality meters, for the agency's River Watch program. The program is a collaboration between CPW and Uviation World Water River Science, a nonprofit whose mission is to use technology and education to achieve water conservation impacts and create innovative programs for participation. Since 1989, River Watch has operated as a statewide, citizen-volunteer water quality program that has trained more than 3,000 people and monitored 59,000 river miles. Currently, volunteers are only able to collect data on a monthly or semi-annual basis, and the new sensors will provide consistent data for analysis. 
Steamboat Springs Interagency Grizzly Bear Committee Trash Can Partnership, $21,250 grant to CPW Area 10
The Interagency Grizzly Bear Committee (IGBC) works to develop and test trash cans that are able to withstand wear and tear from bears. These cans are the standard residential trash receptacle for many mountain communities in Colorado, and Steamboat Springs recently mandated that all residents and businesses use IGBC-certified containers. For some, the costs associated with the new program are prohibitive, and this funding will be used to purchase trash cans for those who need assistance. This initiative aims to significantly reduce these conflicts and ensure that Steamboat's wildlife stays wild. 
Great Outdoors Colorado (GOCO) invests a portion of Colorado Lottery proceeds to help preserve and enhance the state's parks, trails, wildlife, rivers, and open spaces. GOCO's independent board awards competitive grants to local governments and land trusts, and makes investments through Colorado Parks and Wildlife. Created when voters approved a constitutional amendment in 1992, GOCO has since funded more than 5,300 projects in all 64 counties of Colorado without any tax dollar support. Visit GOCO.org for more information.