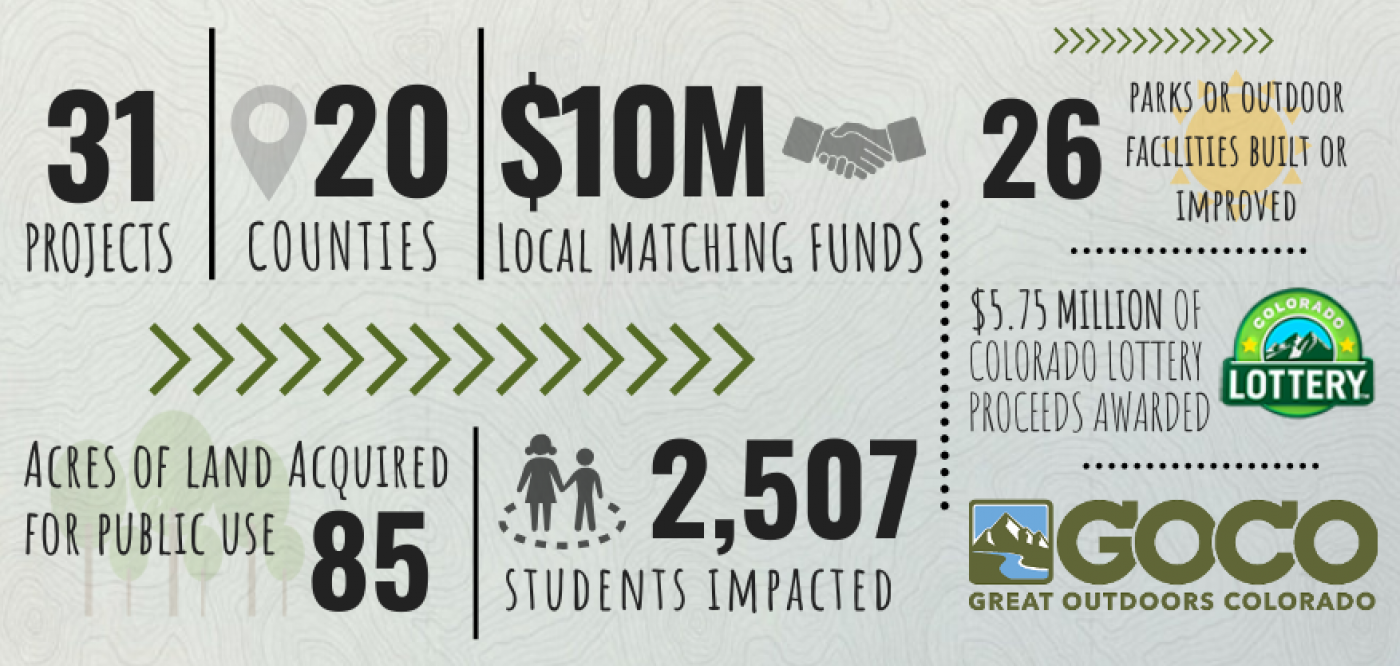 DENVER - Today the Great Outdoors Colorado (GOCO) Board awarded $5,750,000 in grants to 31 projects across the state. Communities from across Colorado competed for funding in a grant round where funding requests were triple what was available. 
The majority of funding, totaling $5,232,115, was awarded through GOCO's Local Park and Outdoor Recreation (LPOR) and Mini LPOR grant programs. These grants will help local governments acquire land for a potential park, develop and enhance existing parks, update park facilities, and construct outdoor learning environments. 
The remaining $517,885 was awarded through GOCO's School Yard Initiative (SYI) grant program, which helps schools that partner with their local governments build engaging outdoor spaces for students to learn and play. All school yards must be designed, in part, by students, and funded elementary schools are eligible to become part of Colorado Parks and Wildlife's Schools and Outdoor Learning Environment (SOLE) program, which provides field trips, family nature nights, and outdoor education training for teachers.
In total, GOCO funding will:
Fund 31 projects in 20 counties

Build or upgrade 26 local parks or outdoor recreation facilities

Build or enhance 5 school yards and outdoor classrooms, impacting 2,507 students

Acquire 85 acres of land for public use

Leverage more than $10 million in local matching funds
Local Park and Outdoor Recreation & Mini LPOR Grants
Balsam Park Enhancements, $350,000 grant to City of Greeley
With additional support from the Colorado Health Foundation, the City of Greeley will upgrade Balsam Park, adding recreation amenities to better serve the East Greeley community. One of the park's five soccer fields will be transformed into a nature play space, complete with logs and boulders for climbing, a sand area, and slacklines. Families and older residents will enjoy a .6-mile walking loop around the park's perimeter, and two shade shelters will provide space for relaxing or picnicking. 
Big Thompson River Recreational & Picnic Area, $45,000 grant to Town of Estes Park
The Town of Estes Park will use GOCO funding to make improvements to the Big Thompson River recreation and picnic area to better accommodate its residents and nearly four million annual visitors. Currently, several amenities there are in a state of disrepair. The project includes the addition of a shelter, new picnic tables, a concrete path to improve ADA accessibility, an irrigation system, and landscaping. 
Cleland Park Playground, $307,059 grant to City of Delta
The City of Delta will replace the playground at Cleland Park, which is more than 30 years old and is no longer safe for community use. The new playground will be designed with accessibility in mind, and the park's tennis courts will be repurposed as expanded parking. Planned features for the playground include a multi-layer, universally-accessible play structure; a wheelchair glider; an inclusive zip-line; swings; slides; and a music station. An accessible walkway with picnic tables and shade structures will surround the playground. 
Coal Creek Canyon Seasonal Sanitary/Storage Facility, $45,000 grant to Coal Creek Canyon Park and Recreation District (CCCPRD)
CCCPRD, in partnership with Jeffco Public Schools, will build a unisex bathroom and storage facility at Coal Creek Canyon School's ballfield. A new storage structure will house ballfield equipment and more. The new ADA-accessible restroom will serve students, youth and adult sports groups, summer athletic camps, and other groups that use the field. No restroom facility currently exists at the site, which has limited programming and event opportunities.
Crawford Sledding Slope, Parking and Access, $38,677 grant to Town of Crawford
The Town of Crawford, in partnership with the Delta County School District, received a Mini LPOR grant to transform an embankment on North Fork Montessori School into a public sledding slope. The project will create a sled staging area that features a 26-degree downslope, a new parking area, and an ADA-accessible sidewalk for easy access from the school to the hill. 
Crown Mountain Bike Park, $168,091 grant to Crown Mountain Park and Recreation District (CMPRD)
CMPRD will expand the existing BMX track at Crown Mountain Park into a full bike park, complete with features for all ages and ability levels, including a beginner-to-expert dirt jump progression track. In addition, endurance riders will enjoy a one-mile, cross-country trail complete with rolling hills, a variety of balance obstacles, and rock and wood features. GOCO funding will also support navigation signage, safety fencing, landscaping, and shade structures. The existing BMX track sees more than 100 users weekly, and the expanded park will serve families who visit the park for its wide range of recreation opportunities. 
Environmental Education Center on the Rio, $265,680 grant to Alamosa County
In partnership with San Luis Valley Local Foods Coalition, Alamosa County will build an environmental education center at Rio Grande Farm Park. The Local Foods Coalition currently uses the park to offer environmental education programs focused on healthy soil and water, river habitats, healthy food, integrative farming, and environmental stewardship. The education center will enhance programming opportunities, as its indoor classrooms will provide space for year-round lessons, a laboratory for science experiments, and a computer station for online learning. Funding will also support new restrooms and updated electrical infrastructure. 
Erie Community Park, $350,000 grant to Town of Erie
The Town of Erie will use its LPOR grant to complete the final phase of Erie Community Park. Planned amenities include a fitness challenge course, basketball courts, a bike park, a sculpture play area, outdoor reading rooms, sledding hill, a hammock lawn, and interpretive signage. This will add to existing park offerings, which include four tennis courts, four baseball fields, an event lawn, a skate park, and a multi-purpose field. The planned park features reflect the community's desire for more unstructured and passive recreation opportunities, as the park in its current state is primarily utilized by organized sports teams.
Falcon Regional Park Improvements, $350,000 grant to El Paso County
El Paso County will make enhancements at Falcon Regional Park, which opened in 2016 as a recreation resource for the Northeast El Paso County community. GOCO funding will support the next phase of park development, which includes a playground, a baseball field, a multi-purpose athletic field, an equestrian trailhead, expanded parking, and new restrooms. The playground will feature two structures: one for younger children and one for children ages five to 12. The baseball field will be regulation-size for little league and intermediate teams and include dugouts, bleacher seating, and a concrete plaza. 
Henderson Park Renovation Project, $41,300 grant to Town of Crested Butte
In partnership with Crested Butte Creative District, the Town of Crested Butte will upgrade Henderson Park. Located in the heart of Crested Butte, the 1,250-square-foot pocket park serves the town's south side residents. The park, which has provided a space for the community to recreate since it was built in the 1970s, is now in need of improvements. Partners will renovate Henderson Park into an engaging and vibrant "art park," complete with perennial gardens, artistic play features, and custom-made amenities. 
Joe Rowell Park Community Playground, $173,493 grant to Town of Dolores
With its LPOR grant, the Town of Dolores will build a new community playground at Joe Rowell Park. In 2017, the Town removed the old playground at the site, which was built in 2002 and had reached the end of its useful life. The playground will include two separate structures: one for toddler-aged children and another designed for children ages five to 12. Planned elements for the younger area include swings, slides, climbing structures, a tractor feature, and rubber surfacing. The area for older kids will include monkey bars, balance beams, a boulder climbing structure and net, a hurricane spinner, and wood chip surfacing. 
La Junta Brick and Tile Park, $350,000 grant to City of La Junta
The City of La Junta will build a community park on the two-acre Brick and Tile Company lot, complete with a universally-accessible playground, outdoor fitness equipment, picnic shelters, shade structures, sculptures created by local youth, and turf surfacing. The park will be usable for all ages, from young children to the City's growing senior population. The playground will include swings, spinners, a small zip line, and climbing structures. The swings and spinners will be wheelchair accessible, ensuring kids of all abilities have a place to play. An interactive music station and art installations, including a sculpture that will be designed by the local fifth grade class, will offer inspiration in the outdoor space.
Land Acquisition to Expand San Luis Community Park, $36,500 grant to Town of San Luis
With its Mini LPOR grant, the Town of San Luis will purchase .85 acres of land to expand its Community Park and accommodate new features. In October 2019, the Town received a $142,000 grant from Colorado Health Foundation to add a walking path around the park's perimeter and add a children's bike park. To begin construction, the Town needed to expand the park's 3.5-acre property. The acquired land will improve access to the park and provide space for additional parking. 
Missing Link for the Monument Corridor Connector, $156,920 grant to City of Grand Junction
With its LPOR grant, the City of Grand Junction and Colorado West Land Trust will acquire a 20-acre property along the Monument Corridor. Partners are planning for a future 1.5-mile trail on the property to fill the last-remaining gap in the Monument Trail. Once future funding is secured, the proposed trail will complete a 10-mile paved loop connecting the Colorado Riverfront Trail, the Lunch Loop trail system, Riggs Hill, Connected Lakes, the Audubon Trail, downtown Grand Junction, and several residential neighborhoods. 
Montrose County Severe Special Needs Adaptive Playground, $350,000 grant to City of Montrose
With the help of GOCO funds, the City of Montrose will build a universally-accessible playground at Centennial Middle School. It will be designed for those with significant cognitive and physical differences and will serve children and families from all Western slope communities. Planned features include a ramped play structure, swings, a seesaw, a music station, and picnic tables, all of which will be wheelchair accessible. The park will also have secure fencing and artificial turf surfacing to ensure safety. Montrose County School District currently serves more than 800 differently-abled students who will directly benefit from this playground. 
Mountain Heritage Park Phase 1, $41,500 grant to City of Salida
The City of Salida will use GOCO funding to begin constructing Mountain Heritage Park to celebrate the area's rich natural and cultural mountain history. The park is Salida's first interpretive mountain park and will provide the community and visitors with direct, free access to the outdoors.  The park, which will be located on the City's iconic "S Mountain," will feature a central kiosk with three Peak View Pavilions where visitors can learn about and enjoy vistas of the Ute Peaks, the Sawatch Range, and the Sangre de Cristo Range.
Naturita Town Park, $350,000 grant to Town of Naturita
The Town of Naturita will use its LPOR grant to revitalize its town park. Improvements will include moving and updating all playground equipment, enhancing the area around the San Miguel River, and resolving drainage issues. Planned features for the playground include swings, seesaws, climbing structures, a track ride, wood surfacing, and a concrete ramp to ensure accessibility. In addition, the boulder wall at the river will be restored to encourage recreational use. Drainage problems will be solved with the installation of a dry creek bed to guide water. 
Outdoor Wilderness Lab Facilities Expansion, $45,000 grant to Mesa County
Mesa County, in partnership with Mesa County Valley School District 51, will improve the County's Outdoor Wilderness Lab (OWL). Since 2012, OWL has provided Grand Valley's sixth-grade students with an outdoor classroom to explore natural resource conservation, biology, wildlife management, forestry, and frontier history. With the help of GOCO funds, a permanent outdoor classroom will be built on Gateway School's campus, featuring a concrete pad with roof cover, outdoor furniture, ADA-accessible paths, a privacy fence, and gravel paths. 
Rouse Park Playground, $157,895 grant to Cañon City Area Metro Recreation and Park District 
With its LPOR grant, Cañon City Area Metro Recreation and Park District will update the playground at Rouse Park, which was built in 1992 and is no longer safe for community use. The playground will include two structures: one designed for younger children and one for children ages five to 12. The smaller area will include a climbing structure and two side-by-side slides. The larger area will include three slides and a variety of climbing elements, including a rope bridge and baseball-themed tunnel and balance beam. There will also be a swing set with two bucket seats for younger children, as well as one wheelchair-accessible swing. 
Salida Skate Park, $350,000 grant to City of Salida
With its LPOR grant, the City of Salida will develop a 16,000-square-foot skate park in Centennial Park. The existing skate park, which is located along a busy street removed from other recreation amenities, is outdated and does not accommodate users of all abilities. The new park will feature ledges, flat bars, bank ramps, half pipes, and a large bowl. These features will be designed so that users can hit several of the structures in one run and so that skaters of all abilities can use the park simultaneously. An art wall at the park will display murals from local artists and students. Funding will also support additional lighting, shade structures, and new restrooms.
Signing the West End, $45,000 grant to Montrose County
Montrose County will install signage along eight local trails, including Shamrock Trail, Red Canyon Loop, Blue Mesa, and Dolores River. Project plans include the installation of wayfinding kiosks at trailheads and the addition of trail markers to indicate key intersections, hazards, and trail accessibility. Due to the current lack of signage, many of the County's popular trails go unused since visitors are unsure where a trail is located or the extent of its route. The County hopes that the signage project will improve access to the trails and provide a safer recreation experience.
Sombrero Marsh Environmental Education Center, $350,000 grant to Boulder County
Boulder County will make updates to Sombrero Marsh Environmental Education Center, which hosts field trips, summer camps, and community events for local youth. Enhancements will include two new gazebos, a nature play area, and expanded parking. The new parking area will be located adjacent to the center, and the surrounding security fences will be reconfigured to provide expanded public access. The nature play area will create a new recreation opportunity designed for younger children, and the gazebos will provide needed shade during summer months and shelter during inclement weather. 
The Youth Art Park, $35,000 grant to Town of Carbondale
The Town of Carbondale, in partnership with Carbondale Arts, will use GOCO funding to build the Youth Art Park, the third and final park along the town's one-mile Rio Grande ARTway. The park will feature youth-led design elements, including a slide to access the park, railroad ties along the entry point, and a climbing structure with attached ropes. A bicycle recharging station will also be installed to charge electronic devices while teaching children about renewable energy through kinetic motion. An art wall designed by local students will make for an engaging space. 
Thumb Open Space, $350,000 grant to Town of Estes Park
With its LPOR grant, the Town of Estes Park will acquire a 65-acre section of land and create Thumb Open Space. The property features two large rock outcroppings called "Thumb" and "Needle" that have been popular among climbers and hikers for years, but private ownership has hindered public access. GOCO funding will assist with the purchase of the property and the development of a publicly accessible open space, preventing future development there. Purchasing the property will also better protect its scenic and wildlife habitat values.
West Gunnison Neighborhood Park, $350,000 grant to City of Gunnison
The City of Gunnison will build a new park in the western part of the city, complete with a playground, an open space area, and ADA-accessible trails. The City purchased a 15-acre property for the park in 2015, and this funding will support initial park development. In the first phase, West Gunnison Neighborhood Park will include a nature-themed playground, an ADA-accessible walking loop with a paved trail leading to the Gunnison River, an open space parcel with ponds and rolling hills, and a restroom facility. Future phases could include an adventure play area, a pavilion, and wildlife viewing areas. 
Yuma County Fairgrounds Phase II, $130,000 grant to Yuma County
With its LPOR grant, Yuma County will implement the second phase of updates at Yuma County Fairgrounds. The first phase, which is already underway and also supported with GOCO funding, includes expanding the livestock building, adding ADA-accessible restrooms, and installing two animal wash stations. The second phase will involve updating the animal pens, installing fans and curtains, and purchasing a new cattle scale, all of which will further enhance the fair experience for workers and visitors. 
School Yard Initiative Grants
Animas Valley Elementary Playground, $110,000 grant to La Plata County
Animas Valley Elementary will implement phase two of its playground project, which includes replacing outdated playground equipment and improving the yard's layout. The nature-inspired play area will feature earth-toned equipment, including ADA-accessible swings, spin pods, a spider climbing net, roller table, and sensory fixtures. The new equipment will be placed in a way that creates a larger play zone and improves sight lines for teachers and staff. Aspen trees will be planted around the perimeter of the playground, and an ADA-accessible ramp will be installed. 
Arvada High School Learning Garden, $81,245 grant to City of Arvada
Arvada High School, with the help of nonprofit organization Big Green, will use GOCO funding to build a 2,000-square-foot learning garden to facilitate and support outdoor education programming. Students and community members provided design ideas for the project, which includes the expansion of the current pollinator garden and the addition of walking paths, including one that is ADA-accessible; garden beds; and a water feature. The learning garden will aim to attract bird and bee species and will feature modular beds and a drip irrigation system to allow for an easy-to-manage outdoor classroom while maximizing space for high yields. 
Atlas Prep 5-12, $106,640 grant to City of Colorado Springs
Atlas Preparatory School will use its SYI grant to develop Gryphon Park, a school yard at the future site of Atlas Elementary School. Project plans include the development of a playground, walking trail, and shade structures. The park's new amenities will provide Atlas Elementary School's incoming pre-K through fourth grade students with an age-appropriate play space, a designated area for outdoor learning, and safer access to the park from school grounds. Current and future students, their families, and various community members were engaged in the park's input and design process.
Kullerstrand Elementary School Playground, $110,000 grant to City of Wheat Ridge
Kullerstrand Elementary will redesign its outdated playground into a nature-inspired playspace that includes an ADA-accessible swinging bay, a sensory dome, climbing features, and enhanced play equipment for children of all ages and abilities. Additional shade structures, including trees and hedges, are included in the design, as are new bike racks, tables, and trash receptacles. Log benches and picnic tables will be installed adjacent to the playground to facilitate outdoor learning opportunities and to support Kullerstrand's robust enrichment programs. Finally, three new basketball hoops will replace the school's old metal hoops, and the four square and hopscotch areas will be repainted.
Manaugh Elementary School, $110,000 grant to Montezuma County
Manaugh Elementary School, in partnership with Montezuma County, will use its SYI grant to enhance its outdoor spaces, replace outdated playground equipment, and improve ADA access. The school's youth task force identified several opportunities to transform the play area into an engaging and dynamic setting. Phase one of the improvements include an expanded lawn area for play, an ADA-accessible fitness trail, new benches and shade structures, and new asphalt for the basketball and tetherball courts. 
Great Outdoors Colorado (GOCO) invests a portion of Colorado Lottery proceeds to help preserve and enhance the state's parks, trails, wildlife, rivers, and open spaces. GOCO's independent board awards competitive grants to local governments and land trusts, and makes investments through Colorado Parks and Wildlife. Created when voters approved a Constitutional Amendment in 1992, GOCO has since funded more than 5,200 projects in urban and rural areas in all 64 counties without any tax dollar support. Visit GOCO.org for more information.