DENVER — Saturday, Nov. 21, 2015 — Colorado Parks and Wildlife, Great Outdoors Colorado (GOCO) and the Colorado Outdoor Recreation Industry Office are teaming up to offer access to all 42 Colorado state parks with 'Fresh Air Friday,' to encourage one-and-all to enjoy the outdoors on Friday, Nov. 27, 2015.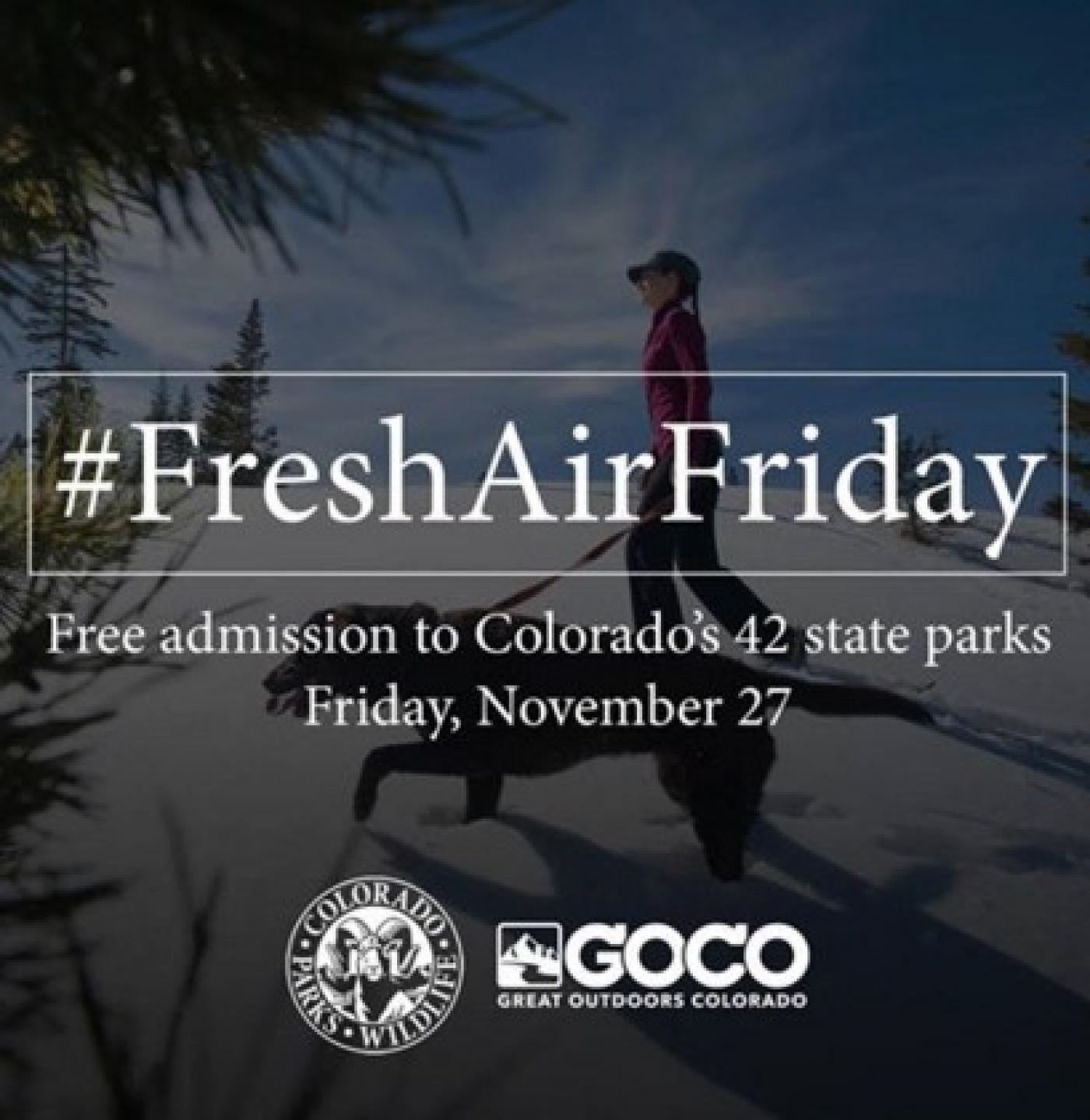 Fresh Air Friday means Colorado residents and visitors can spend the day at a state park while GOCO picks up the tab. Amazing recreation opportunities at state parks include miles of trails, scenic views, wildlife viewing and angling among others, and is a great option to the world-class shopping across the state.
"GOCO is covering the cost of access for vehicles that enter our parks. It is a wonderful gesture and demonstrates our shared vision and goals," said CPW Director, Bob Broscheid. "The last Friday of the month, commonly known as 'Black Friday' has a new designation this year in Colorado."
Colorado joins Arizona, California, Kansas and Minnesota and other states, as well as a number of outdoor recreation retailers and other businesses across the country, in encouraging people to get outdoors following the Thanksgiving holiday.
"We hope this offer inspires families in particular to make an outdoor adventure at a Colorado State Park not only a Thanksgiving tradition for their kids but a regular activity all year long," said Lise Aangeenbrug, GOCO executive director. "Outdoor experiences benefit kids in so many ways that we are committed to helping making the outdoors as accessible as possible to kids of all ages."
"On the day after Thanksgiving, we now have the choice of running around indoors or enjoying our spectacular Colorado outdoors for free," said Luis Benitez, director of the Colorado Outdoor Recreation Industry Office. "We are thrilled that GOCO is partnering with the State to ensure that every Coloradan who wants to enjoy our state parks and burn off those calories from our turkey dinners can."
Outdoor retailer REI started the trend of encouraging people to enjoy the outdoors on the day after Thanksgiving when it decided to close its doors for Black Friday.
CPW offers family-friendly activities, fun-filled adventures and opportunities to learn and try new things at state parks. Check out all there is to do at http://cpw.state.co.us/aboutus/Pages/Calendar.aspx. Find a park near you with the CPW Park Finder.
Share experiences with #FreshAirFriday on Facebook, Twitter and Instagram.
###
CPW is an enterprise agency, relying primarily on license sales, state parks fees and registration fees to support its operations, including: 42 state parks and more than 350 wildlife areas covering approximately 900,000 acres, big-game management, hunting, fishing, wildlife watching, camping, motorized and nonmotorized trails, boating and outdoor education. CPW's work contributes approximately $6 billion in total economic impact annually throughout Colorado.
Great Outdoors Colorado (GOCO) invests a portion of Colorado Lottery proceeds to help preserve and enhance the state's parks, trails, wildlife, rivers and open spaces. GOCO's independent board awards competitive grants to local governments and land trusts, and makes investments through Colorado Parks and Wildlife, including approximately $15 million a year in direct support for state parks. Created when voters approved a Constitutional Amendment in 1992, GOCO has since funded more than 4,500 projects in urban and rural areas in all 64 counties without any tax dollar support. For more information, visit goco.org.
The Colorado Outdoor Recreation Industry Office is a division of the Colorado Office of Economic Development. The office provides a central point of contact, advocacy, resources and support at the state level for the diverse constituents, businesses, communities and groups that rely on the continued health of the Colorado's booming outdoor recreation industry.