DENVER --  Governor John Hickenlooper has declared May to be "Go Play Outside, Kids!" Month in the state of Colorado.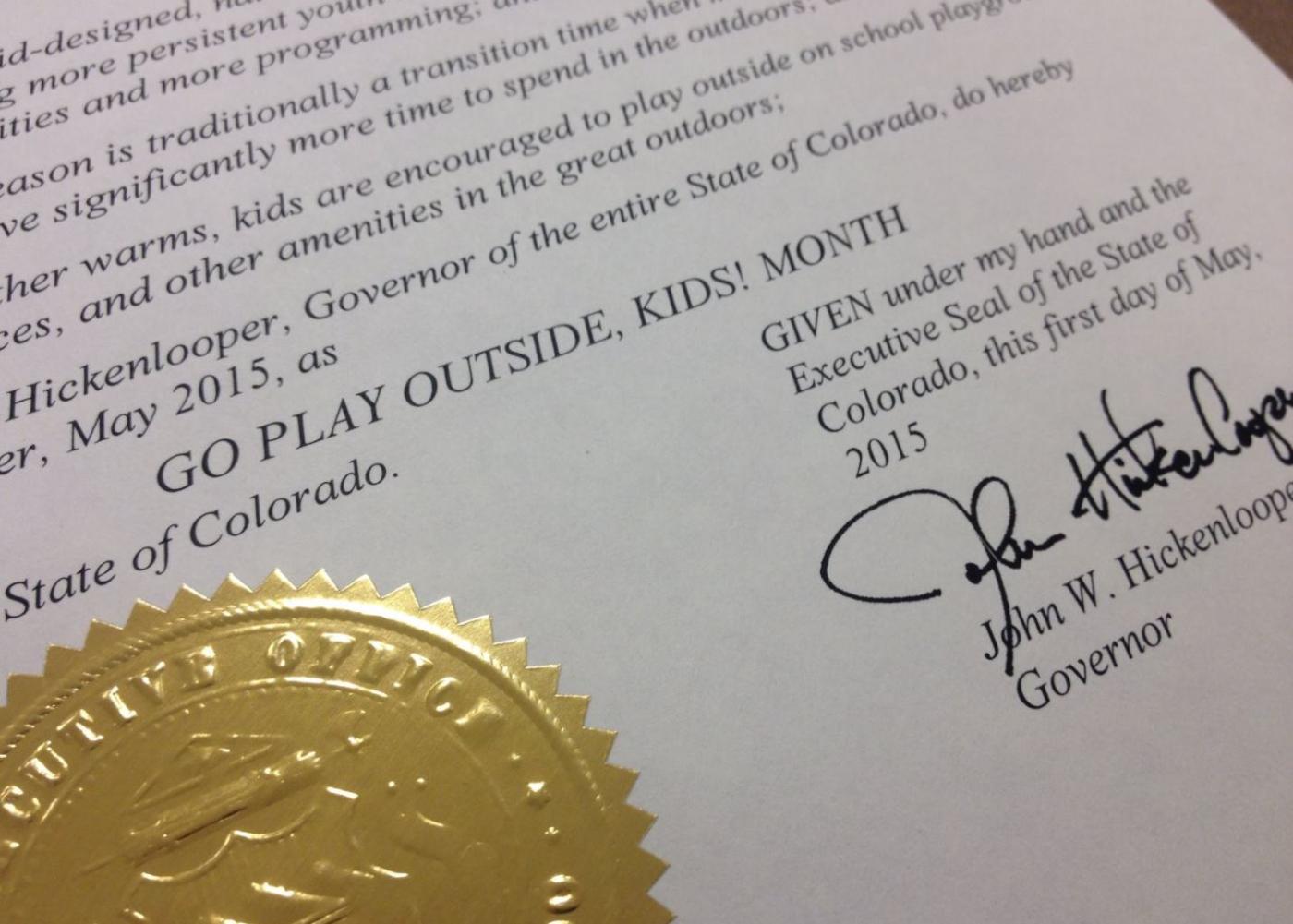 The proclamation recognizes the importance of inspiring children to spend more time outdoors, especially as they transition from school to their summer recess. It notes that kids today are spending less time outdoors and that play outside provides significant physical and mental health benefits.
The proclamation was issued in collaboration with Great Outdoors Colorado, which recently awarded six grants of $106,000 to $114,000 to Colorado elementary schools to upgrade their aging
playgrounds. The new play areas have nature-based designs and outdoor learning areas  for enhanced outdoor education. Thirty Colorado schools have now received such grants. Details are available at bit.ly/schools2015.
GOCO invests Colorado Lottery revenues in parks, trails, rivers, wildlife and open spaces through competitive grants.  For more information, visit goco.org.
The text of the proclamation is as follows:
Whereas, Colorado children today spend far less time in the outdoors than any previous generation; and
Whereas, early childhood experience in nature and the outdoors has been shown to be a major influencing factor in nurturing a lifelong lifestyle of outdoor activity and conservation advocacy; and
Whereas, research has shown that outdoor play provides significant physical and mental health benefits and that students learning in an outdoor setting have increased retention of knowledge; and
Whereas, Colorado offers 300 days of sunshine a year, and a bounty of outdoor amenities from parks  and open spaces to trail networks and river corridors in every corner of the state; and
Whereas, Great Outdoors Colorado (GOCO) continues to invest in enhancing community parks, trails and school playgrounds that provide youth and families opportunities to easy recreate outside; and
Whereas, GOCO funds kid-designed, nature-based school playgrounds and is launching an initiative aimed at inspiring more persistent youth activity outdoors through increased access to recreation areas and facilities and more programming; and
Whereas spring is traditionally a transition time when many children complete their school year and have significantly more time to spend in the outdoors,
Now, therefore be it Resolved, that I, John W. Hickenlooper, Governor of the State of Colorado, do hereby proclaim May as Go Play Outside, Kids!Month. As the weather warms, kids are encouraged to play outside on school playgrounds, parks, trails, open spaces and other amenities in the great outdoors.