DENVER – The Great Outdoors Colorado (GOCO) Board awarded the first round of funding for its new Protect Initiative on Monday, totaling $19.8 million in grants.
Larimer County will conserve more than 2,000 acres adjacent to Horsetooth Mountain Open Space; Western Rivers Conservancy will create significant public access for rural Costilla County; Prospect Park and Recreation District will acquire Applewood Golf Course to prevent its conversion to residential development; and the Trust for Public Land will conserve Trampe Ranch, an iconic working ranch that accounts for 20% of agriculture in Gunnison County.
GOCO's Protect Initiative will invest $47 million over the next three years in large-scale, once-in-a-lifetime conservation opportunities in Colorado. Projects were evaluated on conservation value, urgency, amount of matching funds pursued, and the potential for the project to serve as a catalyst for future conservation projects.
Four projects were awarded funding, ranging from suburban open space to thousands of acres of rural working ranchland. In total, 26,842 acres of land will be permanently protected from development.
Funded projects are as follows: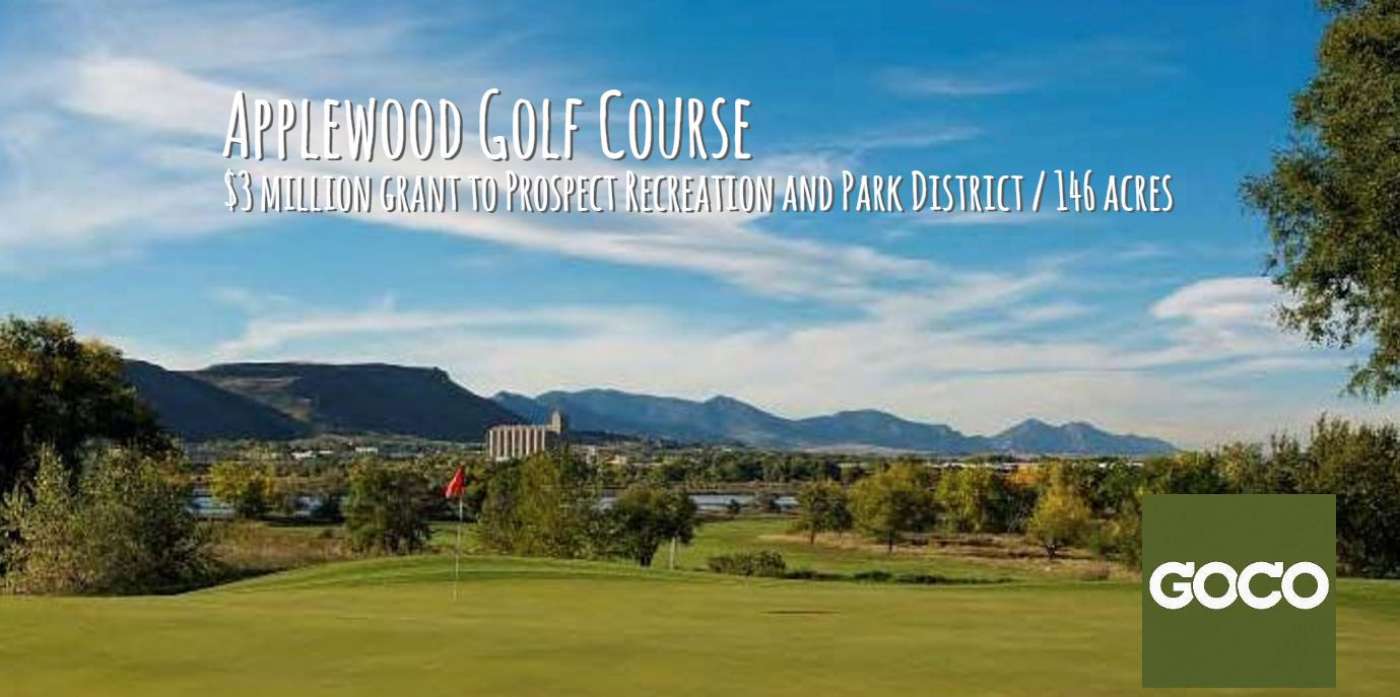 Applewood Golf Course, $3 million grant to Prospect Recreation and Park District in partnership with the Trust for Public Land
This rare tract of urban open space is in imminent danger of development, with tremendous community opposition to a recent rezoning application to develop residential homes. More than 1,000 citizens attended each developer meeting and hundreds of opposition letters were sent to Jefferson County. It is likely the property will be converted for residential use unless PRPD, in partnership with The Trust for Public Land, acquires the property by October 2016.
The project at Applewood provides opportunity for future outdoor recreation and will protect significant wildlife habitat. The property provides many animal species with access to Clear Creek, and the project is expected to create a new trail connection to the Peaks to Plains/Clear Creek Trail from West 32nd Avenue.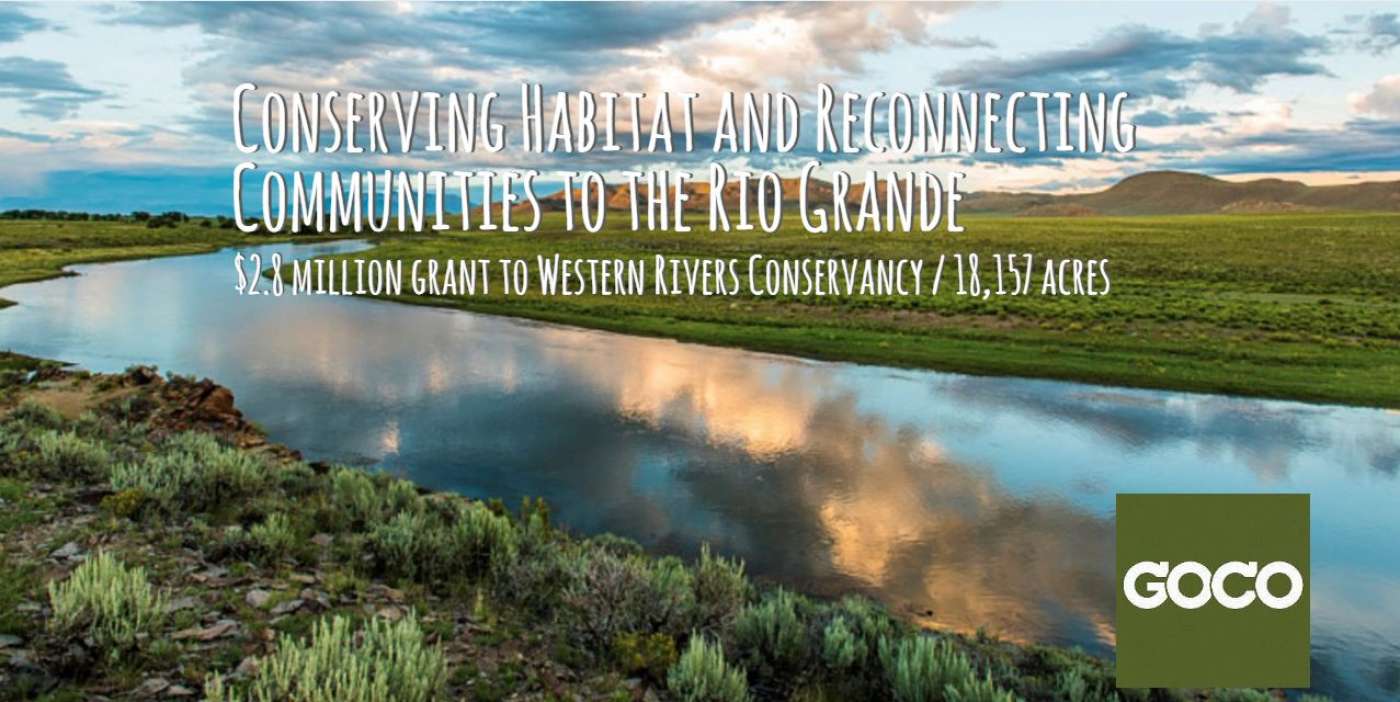 Conserving Habitat and Reconnecting Communities to the Rio Grande, $2.8 million grant to Western Rivers Conservancy
Western Rivers Conservancy partnered with Rio Grande Headwaters Land Trust, US Fish and Wildlife Service (USFWS), Costilla County, and private landowners to conserve river habitat in a way that balances wildlife needs and outdoor recreation demand.
The project includes three properties totaling more than 18,000 acres that will protect scenic vistas, senior water rights, habitat for threatened and endangered animal species, agricultural land, and more than six miles of riverfront. The conserved land falls within three federally-designated areas of priority for conservation.
Protecting water rights provides water supply for both human and wildlife populations in addition to preserving the scenic views locals and visitors love. It is estimated that Colorado loses 30,000 acres of agricultural land each year; conserving productive ranching and farming land supports sustainable food production and bolsters the economies of rural Colorado towns.
Land in Costilla County is 99% privately owned, and the community is also eager for outdoor recreation opportunities. Residents want public access not only for their own benefit, but also to attract visitors who will boost the area's economy.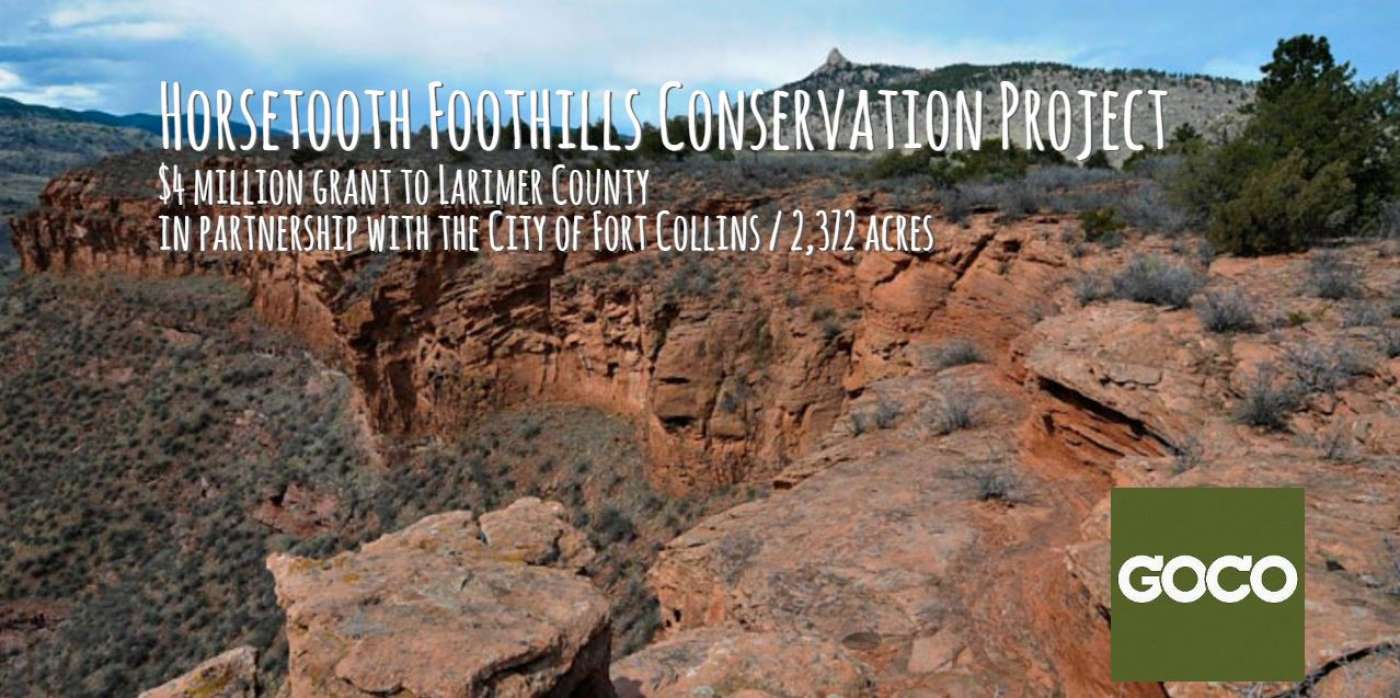 Horsetooth Foothills Conservation Project, $4 million grant to Larimer County in partnership with the City of Fort Collins
The Horsetooth Foothills Conservation Project offers the rare opportunity to conserve land that is not only connected to other public open space, but is also within minutes of a major urban area. The project will conserve nearly 2,300 acres of land in the foothills near Horsetooth Mountain Open Space.
The conservation of four separate properties will protect scenic views enjoyed by hikers, cyclists, and other outdoor recreationists in the Horsetooth area; provide a home for wildlife; and protect two miles of Redstone Creek. Hiking trails have also been proposed to alleviate pressure on the trails at Horsetooth, which are feeling the strain of more than 100,000 visitors every year.
Once finished, the project will create more than 7,000 acres of connected open space between Lory State Park, Horsetooth Mountain Open Space, Devil's Backbone Open Space, and Coyote Ridge Natural Areas.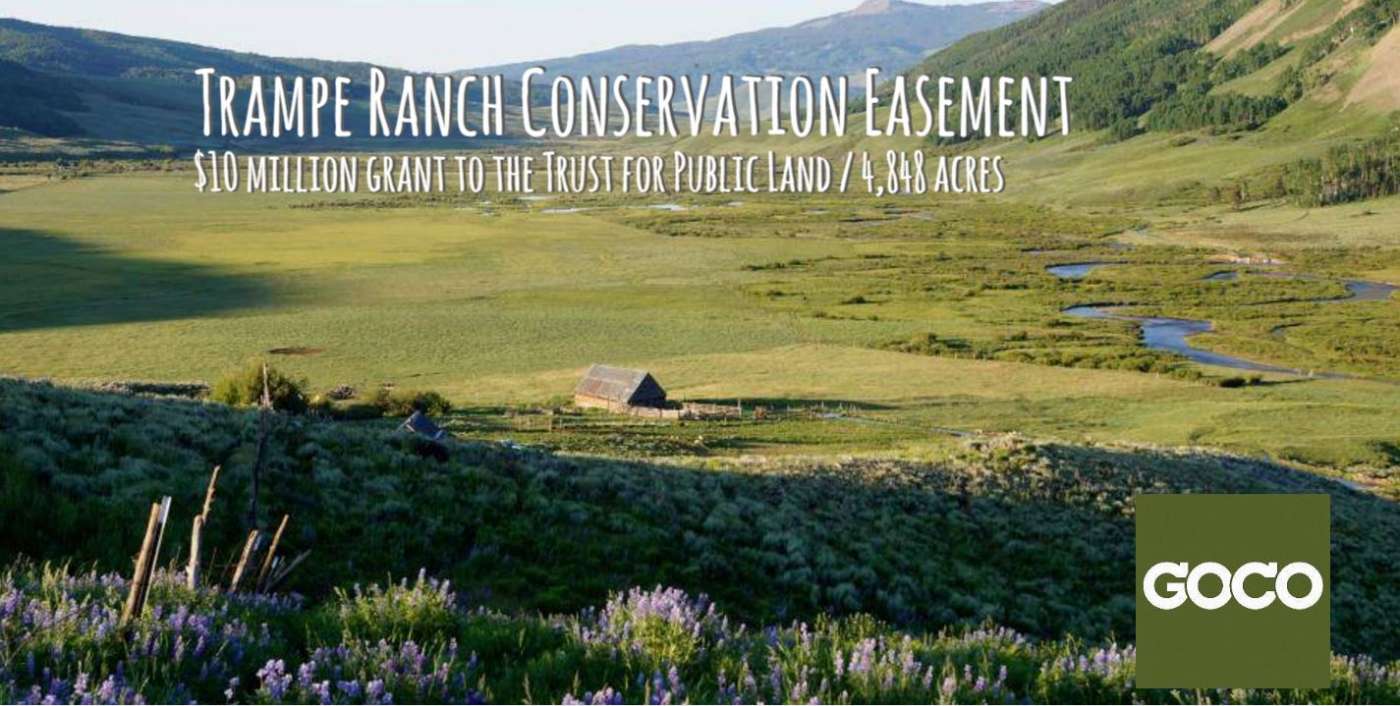 Trampe Ranch Conservation Easement, $10 million grant to the Trust for Public Land
Trampe Ranch is a working cattle ranch comprised of nearly 6,000 acres of some of the most outstanding scenery in Colorado, extending south from Gothic to Crested Butte Mountain, past Jack's Cabin and along the East River to the Home Ranch, located at the heart of the agricultural lands north of Gunnison.
The project will fulfill landowner Bill Trampe's lifelong wish to place his ranch under permanent conservation.
Trampe is a third-generation rancher who has been instrumental in the conservation of nearly 25,000 additional acres of land in the Gunnison Valley, working for the last 20 years to demonstrate the value of conservation easements to the rest of the ranching community. As one of the first proponents of easements in the valley, Trampe strongly believed his property should be one of the "last to go" to give others the first opportunity to use funding resources.
Development of Trampe Ranch would have forever altered the iconic views of Gunnison Valley and threatened the viability of other working ranches in the area. This project ensures permanent protection of important agricultural land that supports sustainable food production in addition to the scenic views enjoyed by outdoor recreationists on adjacent public lands, including Mt. Crested Butte Resort.
Great Outdoors Colorado (GOCO) invests a portion of Colorado Lottery proceeds to help preserve and enhance the state's parks, trails, wildlife, rivers, and open spaces. GOCO's independent board awards competitive grants to local governments and land trusts, and makes investments through Colorado Parks and Wildlife. Created when voters approved a Constitutional Amendment in 1992, GOCO has since funded more than 4,700 projects in urban and rural areas in all 64 counties without any tax dollar support. Visit GOCO.org for more information.