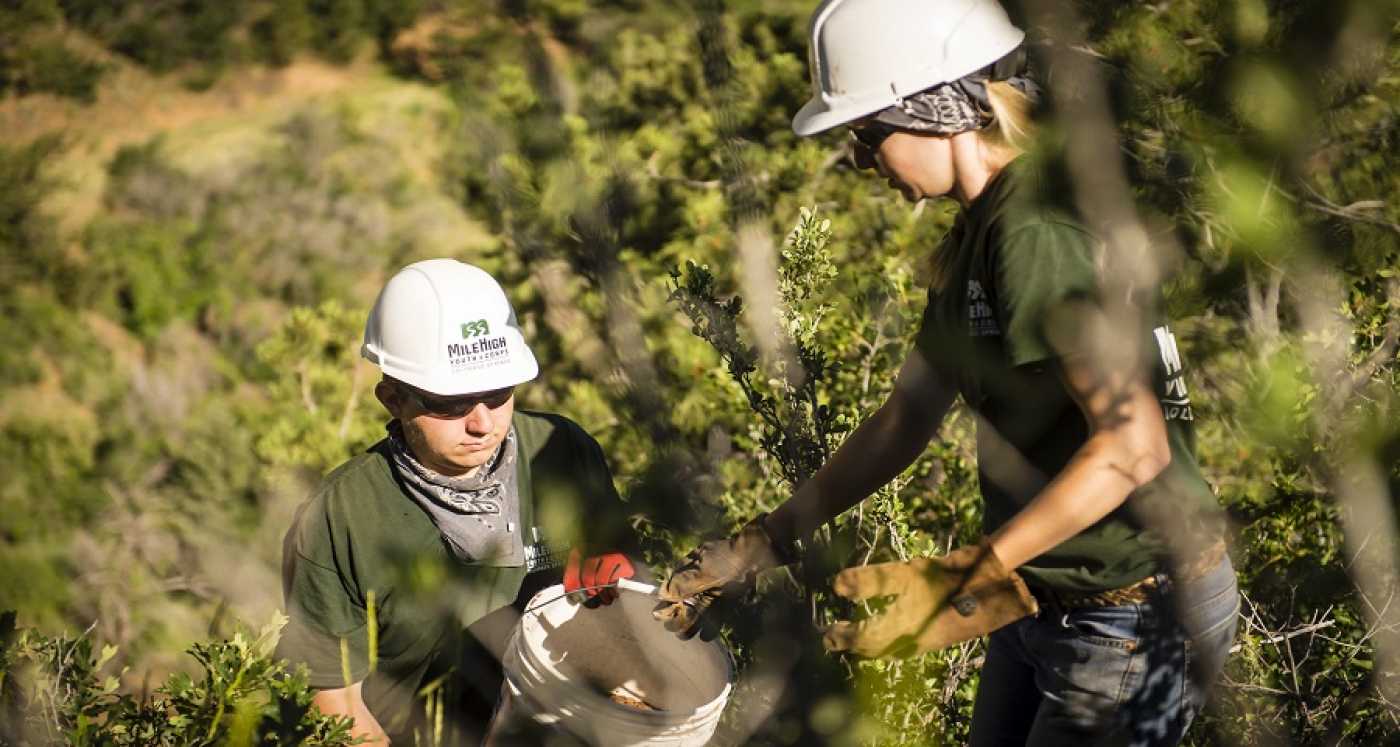 DENVER- The GOCO board has awarded $1,358,632 in funding to seven projects across the state as part of the Resilient Communities program. This funding helps grantee partners advance outdoor recreation, stewardship, and land protection work. Funded projects will respond to one-time, immediate needs or opportunities that have emerged in direct response to the COVID-19 pandemic all within the context of GOCO's five program values: resource conservation, outdoor stewardship, community vitality, equitable access, and youth connections to the outdoors.
Awarded funding will be used to:
Complete four trail projects in the San Luis Valley

Support the stewardship and restoration work of six accredited conservation service corps

Accelerate the progress of ongoing conservation projects in Southern Colorado

Continue supporting the City of Colorado Springs' ongoing work to renovate an indoor-outdoor classroom

Enhance land trust partnerships, collaboration, and evaluation efforts
Projects include:
CYCA COVID, $48,000 grant to Colorado Youth Corps Association (CYCA)*
This funding will be distributed among six accredited conservation service corps belonging to CYCA to support 15 stewardship and restoration projects happening across Colorado this summer. The projects provide job opportunities to hundreds of young people, mitigate the threat of natural disasters, and help stop the spread of invasive species.
Due to the COVID-19 pandemic, additional resources are needed to complete these projects while complying with social distancing and health protocols. Corps are facing several unforeseen expenses, including additional training for crew members, vehicles, and medical equipment. GOCO funding will support wages for seasonal staff, costs associated with vehicle leases and maintenance, and medical and sanitation supplies.
In a Time of Disruption: Community Trails Support Local Workforce, Economies, Health, and Wellness, $250,532 grant to San Luis Valley Great Outdoors (SLV GO!)
SLV GO!, a Generation Wild coalition, supports the Great Outdoors Action Team trail crews (GOATs), which are six-person teams that work on trail construction and maintenance around the San Luis Valley. With this funding, GOATs will work on four separate trail projects in San Luis, Alamosa, and Monte Vista. At Rito Seco park, crews will continue work on a new trail system and finish a connection to Batenburg Meadows, enhancing access to public lands for San Luis residents. In Alamosa, crews will complete the final portion of the Blanca Vista trail, a popular walking trail around Blanca Vista pond. In addition, to protect the surrounding wetlands, the team will build a boardwalk on nearby Alamosa Oxbow trail. Finally, in Monte Vista, crews will build the 1.2-mile Monte Vista Wetlands trail, connecting neighborhoods to local businesses.
Each of the projects will enhance recreation opportunities and provide new career pathways for Valley residents. Trails and open spaces are vital to community vitality during uncertain times, and new employment opportunities are essential for those facing layoffs and low upward mobility in current jobs. Beyond the pandemic, SLV GO! hopes to continue the GOATs program and explore new trails and recreation projects.
Keep It Colorado Remote Monitoring, $155,000 grant to Keep It Colorado*
GOCO funding will be distributed to land trusts through Keep It Colorado to explore remote monitoring technologies and processes, which, in addition to providing a safe option for this year, could reduce costs and increase efficiency for stewardship into the future. Funding will support technology that provides aerial or satellite imagery of conserved properties, software that can detect landscape changes, staff time associated with implementation, consultants to boost land trust capacity during implementation, and project analysis and administration.
Local Land Trust Sustainability and Mergers in the Time of COVID: Partnering for Community Conservation, $230,000 grant to Colorado Open Lands (COL)*
With this funding, COL will merge with Clear Creek Land Conservancy (CCLC) and Southwest Land Alliance (SLA), absorbing both organizations' conservation easements and operations. The two land trusts have been working to protect Colorado's natural areas since the 1980s and have collectively conserved more than 13,000 acres of land. Once the mergers are complete, COL will be tasked with monitoring these conserved properties with the help of dedicated stewardship funding of approximately $700,000 from CCLC and SLA.
COL will also use GOCO funding to enhance its partnerships with additional land trusts, including the Animas Conservancy in Durango, which faces financial constraints and is no longer able to operate. COL will monitor and steward its properties to avoid its easements becoming orphaned and evaluate options regarding the land trust's future.
CWLT: Merging in Response to Pandemic, $55,300 grant to Colorado West Land Trust (CWLT)
This funding will help facilitate a merger between CWLT and Black Canyon Land Trust to create one entity under the CWLT name. The two organizations have worked closely for years on conservation projects, and due to the COVID-19 pandemic, have evaluated their partnership and determined a merger is the best solution to streamline work and conserve resources.
A working group made up of board members from both organizations will guide the merger. Collectively, the two land trusts hold 550 conservation easements, protecting more than 120,000 acres of land across six counties. The merger will reduce costs and yield operating efficiencies. Saved staff time can now be focused toward advancing the organization's mission and serving the community.
Prospect Lake Beach House Renovation, $316,100 grant to City of Colorado Springs
GOCO funding will support the City of Colorado Springs in its ongoing work to renovate Prospect Lake Beach House in Memorial Park. The new beach house will feature indoor and outdoor learning spaces, a fire pit area with boulder seating, an indoor great room for community gatherings, and ADA-compliant beach access. The classroom spaces will prove especially useful during the pandemic, as Catamount Institute and other outdoor programming providers plan to host small group classes to supplement homeschooling and remote learning.
Memorial Park is located adjacent to downtown Colorado Springs, the Hillside neighborhood, and southeast Colorado Springs, where most homes are densely packed and have little yard space. Many residents face significant barriers to the outdoors, including lack of transportation, awareness of nearby resources, and culturally relevant programming. Program providers will work to cultivate relationships with community members and could provide employment opportunities in the future.
Southern Colorado Community Resiliency Project, $303,700 grant to Palmer Land Trust
This funding will support Palmer Land Trust's Southern Colorado Community Resiliency Project, which aims to expand outdoor recreation opportunities and protect agricultural lands. The COVID-19 crisis has amplified the need to accelerate progress and increase operational support for the effort.
Palmer will hire two conservation program managers. One position will be located in Colorado Springs and will support three critical community recreation projects, including the Ring the Peak Trail project, the Front Range Trail project, and the Mueller State Park Expansion project. The second conservation program manager will be located in Pueblo and will lead the outreach and community development aspects of the Bessemer Farmland Conservation Project and the Pueblo Community Conservation Initiative, both concentrated on protecting critical agricultural lands and local food production. Funds will also be used to open a land trust office in Pueblo to help expand the organization's support, capacity, and impact on conservation projects across Southern Colorado.
*The GOCO board awarded funding for these projects on June 29, 2020. All others were awarded August, 4, 2020.
Great Outdoors Colorado (GOCO) invests a portion of Colorado Lottery proceeds to help preserve and enhance the state's parks, trails, wildlife, rivers, and open spaces. GOCO's independent board awards competitive grants to local governments and land trusts, and makes investments through Colorado Parks and Wildlife. Created when voters approved a constitutional amendment in 1992, GOCO has since funded more than 5,300 projects in all 64 counties of Colorado without any tax dollar support. Visit GOCO.org for more information.