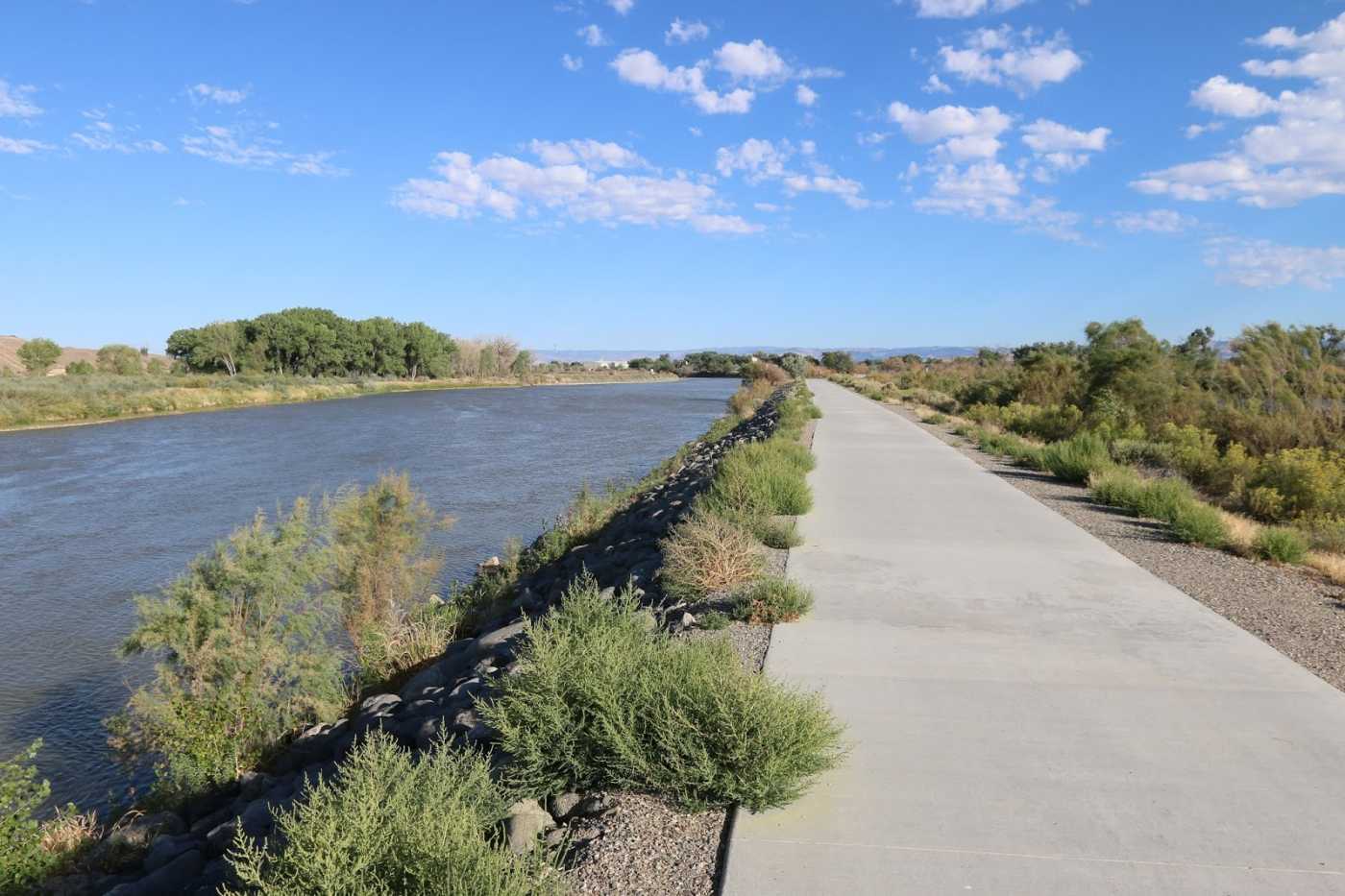 Photo of the Kokopelli Section of the Colorado Riverfront Trail
There's a lot of fanfare around grant awards, but what happens after the ceremonial checks are presented and the reporters have published their articles? Our partners get down to business.
For 26 years, GOCO has improved Colorado's great outdoors with the help of Colorado Lottery proceeds. We've invested more than $1.2 billion in proceeds in 5,200 projects to improve the lives of Coloradans across the state.
After projects are awarded funding, grant recipients have about two years to make their projects happen. In May, six projects closed, representing over $2.2 million in GOCO investments into local communities across the state. Scroll to see if one's near you:
Eagle Valley Elementary School International Baccalaureate (IB) and Community Play Yard
$100,000 grant to the Town of Eagle
With its GOCO grant, the Town of Eagle updated Eagle Valley Elementary School's playground. A youth task force, consisting of preschool through fifth-grade students, collaborated on the project's design and fundraising. The improved play space includes an outdoor classroom equipped with bilingual signage, climbing boulders, fallen trees, bear caves, and a learning garden. The project received strong community support and acquired matching funds from community fundraising events, local businesses, Colorado Parks and Wildlife, and Eagle Valley High School. Read on about Eagle Valley's new play space >>
Kokopelli Section of the Colorado Riverfront Trail
$2,000,000 grant to the City of Fruita
The City of Fruita invested its GOCO Connect grant into the addition of 4.15 miles to the Colorado Riverfront Trail (CRT). The Kokopelli section of the CRT extends the system from its previous terminus in Fruita‌, to the Loma community. In addition to connecting Loma with the rest of the Riverfront Trails, the Kokopelli Section also provides one of the missing links to the 360-mile Grand Loop—​ the Tabeguache, Paradox, and Kokopelli trails that connect Grand Junction and Montrose to Moab, Utah. Take a closer look at the new Kokopelli Section of the CRT >>
Orchard Avenue School Yard Initiative
$110,000 grant to the City of Grand Junction
Orchard Avenue Elementary School partnered with the City of Grand Junction to update and enhance the school's playground. Students and parents were invited to collaborate on the project's design, which includes a greenhouse, rock and mineral gardens, play structures, a walking path, and fitness stations. The new play yard also offers programming by Colorado State University's Extension Office, Dig In Camp, Grand Junction Gem & Mineral Club, and Mesa County Health Department. Read more about the playground >>
Cerise Park Invasive Species Removal
$27,000 grant to the City of Montrose
With its GOCO grant, the City of Montrose employed youth corps crews from Western Colorado Conservation Corps to cut and stack brush, chip wood, and spray pesticides on 11 acres of Cerise Park. The crew's work to remove invasive Russian Olive along the river will improve safety for river users and recreationalists. Additionally, by reducing the number of invasive plants, native species can thrive, benefitting the diverse populations of wildlife found at Cerise Park. Learn about Colorado Youth Corps Association >>
 
Weber Park Baseball Field Enhancement Project
$40,819 grant to the Town of Dove Creek
The Town of Dove Creek used its GOCO grant to make improvements to the town's centrally located baseball field. Project improvements included the removal of existing infield gravel, laser grading, planting seed, installing a sprinkler system, and adding specialized infield dirt. The upgraded field will provide the town with a fun and safe venue to host baseball games, as well as support the community's recreational activities at Weber Park, the most heavily used park in Dolores County. Get information on GOCO's local government grants >>
Pineries Open Space Trails & Forest Restoration Project
$21,000 grant to El Paso County
Mile High Youth Corps (MHYC), in partnership with El Paso County, used its GOCO funding to perform trail maintenance, noxious weed removal, and forest management activities in a nine‐acre area within Pineries Open Space. MHYC's work also included clearing trail corridors, constructing trails, and reducing potentially dangerous ladder fuels. The restoration project aims to improve the area's habitat by providing healthier ground cover and preventing soil erosion. Read more about the Pineries Open Space Trails & Forest >>