There's a lot of fanfare around grant awards, but what happens after the ceremonial checks are presented, the reporters have published their articles, and the interviews are over? Our grantees get down to business.
GOCO is funded completely by Colorado Lottery proceeds and has invested in more than 4,900 projects in all 64 counties to build parks and trails, protect wildlife, conserve land, and improve outdoor amenities like campgrounds and athletic fields. Read our annual report for more information >>
Each year, we award funding through competitive grant programs to local governments and land trusts. GOCO also invests half of its funding in Colorado Parks & Wildlife.
Grantees are typically allowed about two years to complete and close out projects. In July, eight projects wrapped up, investing roughly $740,000 of Colorado Lottery proceeds in communities across the state. Keep scrolling to see if one is near you: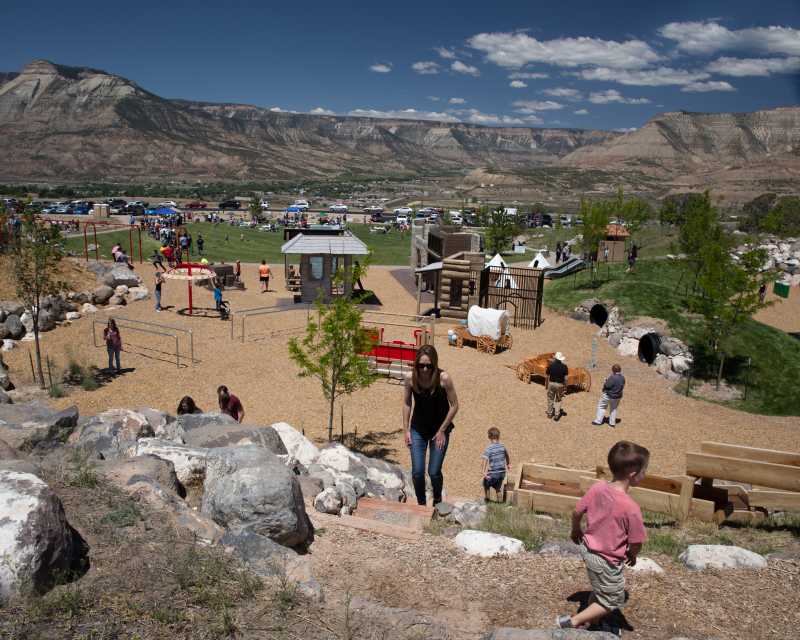 Battlement Mesa Community Park Playground Equipment
The Parachute/Battlement Mesa Park and Recreation District was awarded a $193,540 GOCO grant to construct a 23,000-square foot, Western-themed playground complete with Old West facades and structures. This playground is located within the Battlement Mesa Community Park. Learn how to apply for a GOCO local government grant >>
Durango Geology Overlook
GOCO awarded a $45,000 grant to the City of Durango to help fund an outdoor classroom on the Fort Lewis College rim. This classroom provides an optimum vantage point to overlook Durango's unique geology. Fort Lewis College, local schools, recreational users, and visiting geologists will all be able to take advantage of this classroom. Learn more about GOCO's local government mini grants >>
Little Salt Wash Park Expansion
GOCO invested $131,829 to help fund a five-acre expansion of Little Salt Wash Park in the City of Fruita. The park was already heavily used for a wide range of youth sports, events, and recreational activities, and often exceeded capacity when heavily programmed. The expansion added to the field area and parking, will improve traffic flow, and opens up potential for future projects in the park. Watch a webinar to learn how to apply for a local government grant >>
Northeast Metro Inspire Coalition Planning
Commerce City put a $100,000 planning grant to work as part of GOCO's Inspire Initiative. The coalition aims to connect over 27,900 youth in neighborhoods in Commerce City, Aurora, and Denver to the outdoors. The overarching goal is to develop programming that sparks change in how local youth and their families value spending time outdoors, experiencing nature, and creating excitement. The program will work strongly with the local communities and the Boys and Girls Clubs of Metro Denver to address the needs of local youth to make a truly lasting impact. Learn more about GOCO's Inspire Initiative >>
Boulder Open Space Water Sharing Feasibility Analysis
The City of Boulder Open Space and Mountain Parks Department was awarded a $50,000 conservation excellence grant to study and outline ways public land managers can optimize their water rights to benefit surrounding ecosystems and agriculture. A hired consultant analyzed existing water rights and provided recommendations for how water-sharing principles can be improved to protect natural resources. The Open Space and Mountain Parks Department produced a report for other land managers across Colorado to use. See the proposal here >>
Riverside Park Playground
The City of Salida employed a $140,000 GOCO grant to replace the playground at Riverside Park, the town's most popular and visible park. The new playground equipment replaced old equipment that was worn down from years of heavy use. Input from students at a local elementary school was used in the design process. Take a look at GOCO's local government grant webinar >>
Schultz Cattle and Elk Ranch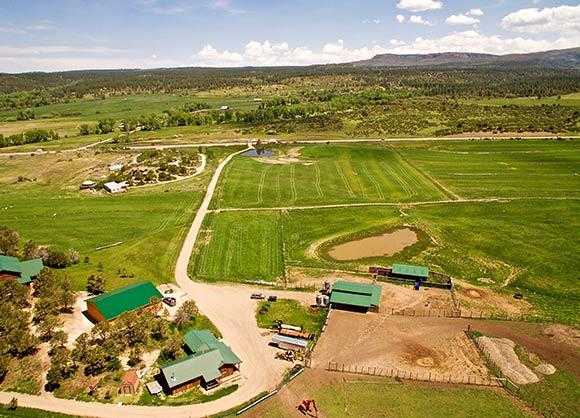 The Montezuma Land Conservancy used a $46,000 transaction costs grant to help fund a conservation easement on the 225-acre Schultz Cattle and Elk Ranch. The property plays a vital role in sustaining local wildlife as it serves as habitat for bald eagle, black bear, elk, mountain lion, mule deer, and turkey. Elk and deer herds use the property as a migration corridor to travel north/south between conserved acreage and the Menefee Mountain Wilderness Study Area. The ranch contains irrigated grazing land and farmland with water rights designated as Farmland of Statewide Importance by the Natural Resources Conservation Service. The landowner provided the matching funds. Learn more about the Schultz Cattle and Elk Ranch >>
Town of Severance Parks Master Plan
The Town of Severance created its first Parks Master Plan with the help of a $30,000 GOCO planning grant. Strong public participation and input from school districts, library districts, and other towns helped create a framework for future park development, trail and open space development, and program expansion. Learn how to apply for a GOCO planning grant >>