FOR IMMEDIATE RELEASE 
Contact:   Rosemary Dempsey, 303-226-4530, rdempsey@goco.org or
                Laura Cardon, 303-226-4531, lcardon@goco.org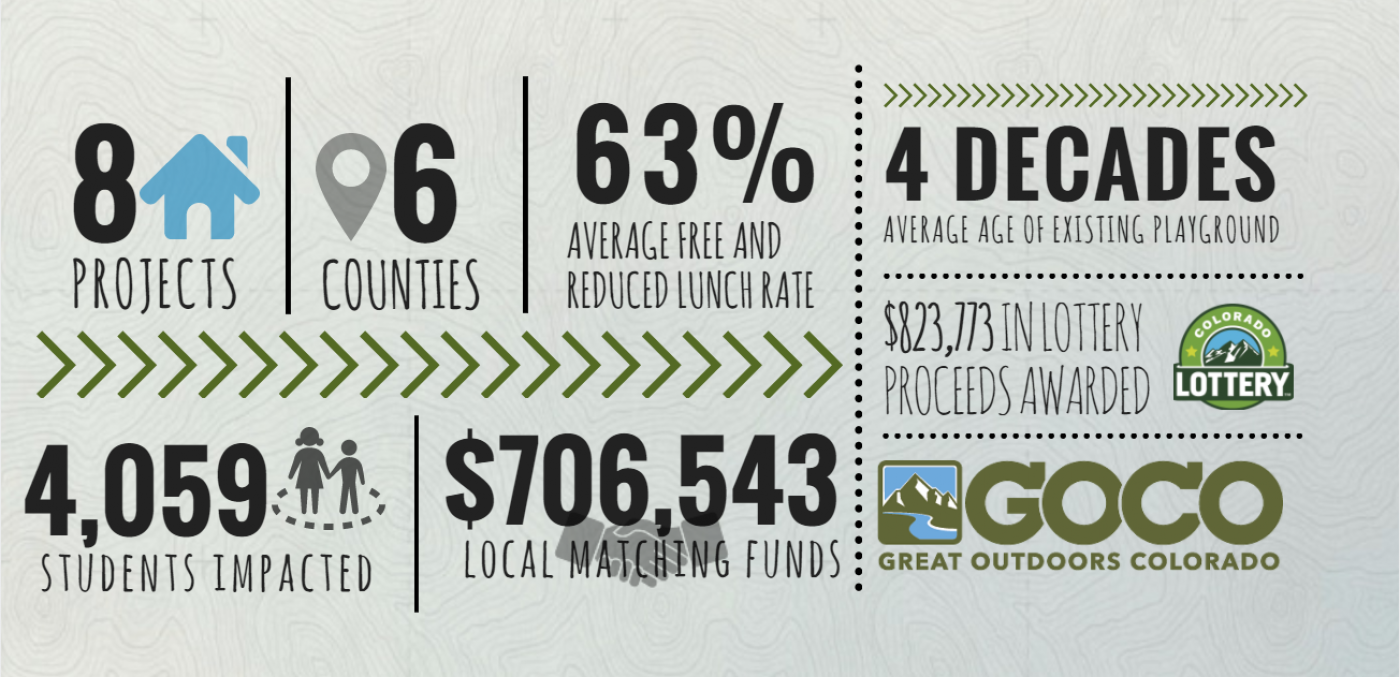 DENVER – The Great Outdoors Colorado (GOCO) Board awarded $823,773 on Thursday to help eight Colorado schools build new playgrounds.
The grants are part of GOCO's annual School Yard Initiative (SYI). Schools apply in partnership with their local governments for funding to build outdoor spaces where kids enjoy unstructured play and outdoor learning. All school yards must be designed, in part, by students.
Funded schools are also eligible to become part of Colorado Parks and Wildlife's Schools and Outdoor Learning Environment (SOLE) program that provides field trips, family nature nights, and outdoor education training for teachers. All SYI-funded school playgrounds serve their entire communities since projects remain open outside of school hours.
The 2018 SYI grants will serve 4,059 students across six counties in Colorado. The eight schools funded have an average free and reduced lunch rate of 63%, well above the state average of 42%. The grants will help replace playgrounds that are, on average, 40 years old and will leverage more than $700,000 in local match funding.
The 2018 SYI schools are as follows:
Cedar Ridge Elementary Playground Project, $110,000 grant to Pueblo West Metro Park and Recreation District in partnership with Cedar Ridge Elementary School
Cedar Ridge Elementary update its playground to be universally accessible. One of students' greatest concerns was that the current playground excludes children with physical disabilities, keeping their friends from fully enjoying recess. The existing playground is ADA-compliant, but doesn't offer universally accessible footing and access points to playground equipment. The new playground will rectify that, and will be the second playground in Pueblo West to be inclusive to children and families of all abilities.
Columbine Middle School School Yard, $110,000 grant to the City of Montrose in partnership with the Columbine Middle School
For 58 years, Columbine has only had two basketball hoops and a few foursquare courts, providing few opportunities for students to play outside. Eager to better serve its student population, Columbine will create the school's first true playground, based on a student-led design process. Nearly 200 students presented conceptual designs and cost estimates to their peers, school administrators, parents, and community members to bring their vision to life.
Corwin Community Park and Play Yard Initiative, $110,000 grant to the City of Pueblo in partnership with Corwin Elementary School
Corwin International Magnet School will invest its school yard grant in building the school's first playground. The revamped school grounds will serve the entire community after school hours, as the surrounding neighborhoods have no other park with equipment for children. Originally a middle school, Corwin's primary play area today is asphalt blacktop.
Madison Elementary Playground, $110,000 grant to the City of Greeley in partnership with Madison Elementary School
Most of the existing equipment at Madison Elementary School was installed when the school opened in 1963, and is not accessible by students with disabilities. Several parents played on the same equipment when they were students at Madison themselves. The new playground will have a swing set, slides, and a variety of equipment that students can climb, balance, and spin on. The playground will include four fitness stations for students' physical education classes and Healthy Hearts unit.
Project Citizen 2018, $73,766 grant to the City and County of Denver in partnership with Samuels Elementary School
Samuels Elementary School, located in south Denver, is home to a diverse student population from more than 40 different countries. This project will see the vision of Project Citizen, which began as a semester-long project in 2015 for fifth-grade students at Samuels, to fruition. A previous GOCO grant helped the school build a community garden in 2016, and the latest grant will bring the final piece of Project Citizen to life.
Shawsheen Elementary Outdoor Learning Play Yard, $110,000 grant to the City of Greeley in partnership with Shawsheen Elementary School
Shawsheen Elementary School will also invest its GOCO grant in replacing a decades-old playground. The school has plans to make the new playground ADA-accessible in addition to giving kindergarten and first grade students more age-appropriate equipment. The Title I school has fundraised $18,000 over the last two years and St. Patrick's Presbyterian Church contributed $7,200 to make the playground a reality.
Side Creek Playground Rejuvenation, $90,007 grant to the City of Aurora in partnership with Side Creek Elementary School
Side Creek Elementary in south-central Aurora will invest GOCO funding in replacing their 36-year-old playground. The surrounding community has grown by 19 percent in the last eight years, but the playground hasn't been expanded to meet the needs of an expanding student population, which leads to conflicts on the playground. The design process was led by a group of 20 students who are recognized as exemplary leaders by their teachers.
Will Rogers Wilderness, $110,000 grant to the City of Colorado Springs in partnership with Will Rogers Elementary School
The Will Rogers community has already achieved a nearly building-wide upgrade of interior infrastructure using more than 1,000 volunteer hours. GOCO funding will now help the school do the same for its outdoor campus. A majority of the playground's existing equipment was installed in 1956. The grounds have nearly no shade or grassy areas. The school's 100 Acre Wood, affectionately named by staff and students since it is the one area that does have shade and grass, served as inspiration for the Will Rogers Wilderness vision.
Great Outdoors Colorado (GOCO) invests a portion of Colorado Lottery proceeds to help preserve and enhance the state's parks, trails, wildlife, rivers, and open spaces. GOCO's independent board awards competitive grants to local governments and land trusts, and makes investments through Colorado Parks and Wildlife. Created when voters approved a Constitutional Amendment in 1992, GOCO has since funded more than 5,000 projects in urban and rural areas in all 64 counties without any tax dollar support. Visit GOCO.org for more information.